NCCC Success Story
Biomedical Engineering - B.S.
Automation Engineering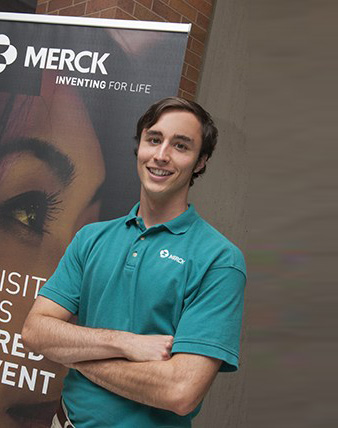 Hometown
Long Beach, Mississippi
Degree programs
B.S. Biomedical Engineering
Year of graduation
2020
Place of employment
Merck, North Wales, Pennsylvania
Job Title
Automation Engineering Co-op
Work Responsibilities
I worked on a variety of different projects. For most of my co-op, I wrote programs for lab instruments using LabVIEW, prepared and ran sterile bioreactor experiments, operated our automated lab system, built and 3D printed custom pieces for our instruments, and did various other small jobs. Part of why I loved my co-op was because I got the chance to do so many different types of work each day and get a taste of what I'm interested in after graduation. At the end of my co-op, I was independently running the whole automated system and even teaching other full time scientists how to use it.
How my career relates to my degree from RIT/NTID
I learned and grew an incredible amount from my co-op. My classes helped prepare me, but there is nothing like getting experience as an actual engineer in the field. I got solid programming experience and even left with a certification in LabVIEW. I learned how to look at something broken and figure out how to fix it, which is a something I love to be able to do. Along with the technical skills I learned, I also learned a lot that will help me when I start my career. With a big company like Merck, I was able to see multiple other areas in the company besides my own and get a better idea of what I might be interested in doing after graduation. I feel much more confident now working with people who are much older than me, which is something I couldn't learn in classes but will have to do when I start working. My major will be a great base to build on for whatever I do after graduation, whether that be working in industry or pursuing my interests in electrical engineering as a master's degree. I also look forward to seeing other potential fields before I graduate thanks to my future co-ops.
Advice
My advice would be to go in willing to learn anything, adapt, and advocate for yourself the right way. Some companies might not know how to work with someone who is deaf or hard-of-hearing. You can help them by reasonably explaining what helps you excel and being understanding of when they've done as much as they can to meet those needs. Don't be nervous to befriend your coworkers just because they're older than you or have been at the company longer than you. Having good connections at work will make your time there much more fun and will help if you want to work there later in the future. Work hard and do your best, because you're not impacting what your boss thinks of just you. If you are the first co-op from RIT/NTID at a company and do a great job, you're going to make them much more likely to keep recruiting and supporting other hard of hearing and deaf people. Take every opportunity to learn new skills during your co-op, since these can help you find more work in the future. Lastly, being active outside of work is super important. You might be in a new place with nobody you know during your co-op, but you'll have a much better time if you get active and involved in the community you're living in.