NCCC Success Story
Computer Integrated Machining Technology - AOS
Computer numeric control (CNC) operator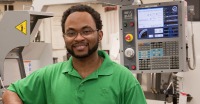 Hometown
Baton Rouge, Louisiana
Degree programs
A.O.S., Computer Integrated Machining Technology, 2016
Year of graduation
2016
Place of employment
Place of employment Cyromech, Syracuse, New York
Job Title
Computer numeric control (CNC) operator
Work Responsibilities
Some of my responsibilities were to use blueprints to create precision products on the CNC machine. I set controls; inspected machines; and scheduled maintenance and repair to ensure operation, quality standards and correct specifications.
How my career relates to my degree from RIT/NTID
I learned much about blueprints, following directions, working on several products at once and how to use a variety of other machines: HASS lathe, manual lathe and mill and turning machines. My co-op gave me relevant work experience and helped me develop my knowledge and skills. At RIT/NTID, I learned time management, assertiveness, persistence and to work with deadlines. These skills helped me to succeed on co-op and will help me succeed in life as well. I appreciate the experience I got on the CNC mill machine because that was really valuable on my co-op. And, I have accepted a full-time job with Cryomech for after graduation.
Advice
Be responsible, be prepared, be assertive, be persistent and don't give up. Fight for what you believe in and don't let anything or anyone get you down. Maintain a positive attitude and stay motivated. Stay safe and avoid risky behavior. Most of all, grab your opportunity.