NCCC Success Story
Communication - BS
Sports Journalist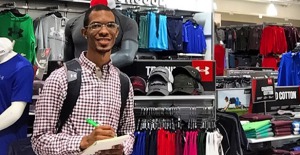 Hometown
Staten Island, New York
Degree programs
B.S., Communication
Year of graduation
2013
Place of employment
Blasting News, New York, New York
Job Title
Sports Journalist
Work Responsibilities
As a sports journalist, I write stories, research articles, and report news on sports business for Blasting News. The sports business topics include, but are not limited to, ticket sales, stadium contracts, marketing and advertising, media, endorsement and sponsorship deals. In addition to news writing and reporting, I am responsible for publishing high quality news and content on the web, verifying sources, fact-checking articles and promoting the news to the readers through social media (Facebook, Twitter and Google+). I use my search engine optimization (SEO) skills to place keywords in order to increase search engine traffic and I use my skills in social media marketing to disseminate information to consumers across the nation.
How my career relates to my degree from RIT/NTID
My degree in Communication has helped me prepare for a career in communication, media and journalism. Communication courses such as visual communication, professional writing and introduction to journalism and senior thesis, all helped me develop my writing, research and analysis capabilities. Thanks to senior thesis—this course is one of the leading reasons I discovered my passion for sports journalism. I landed an internship with Total Sports Live in Philadelphia, Pennsylvania, writing stories and covering news of collegiate and professional sports on a local and national level. Some of the most valuable skills I learned from journalism courses at RIT involved managing complex information, researching articles from various sources, telling relevant and engaging stories to readers through social networks, and developing connections with colleagues, all of which apply to my current job as a journalist. I truly enjoy covering business and finance news about sports and I am passionate about being a reporter specializing in sports business. Although today's journalism business is fiercely competitive, I enjoy serving the readers by writing stories and reporting news on the side of sports business.
Advice
While at RIT, whichever field you choose to study, I strongly encourage you to get as much experience as you can as far as getting several internships, getting involved in activities and community and more. Getting much experience can take you to wherever you want to go in the real world. I personally believe that college is the best time of your life—just live, learn, love it and, most importantly, enjoy it. Good luck!