NCCC Success Story
Mechanical Engineering - MECE-BS
Campus Intern, R&D and Engineer/Technician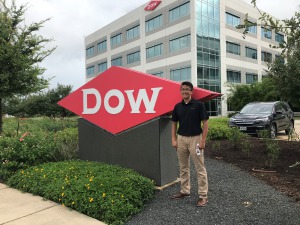 Hometown
Wildwood, Missouri
Degree programs
Bachelor of Science in Mechanical Engineering (MECE-BS)
Year of graduation
2021
Place of employment
Dow, Inc.
Job Title
Campus Intern, R&D and Engineer/Technician
Work Responsibilities
Engineer - Study, observe and understand the characterization of polymer plastics.
Technician - Plastic film testing on various machines, such as tensile, secant, puncture, dart impact, and tear (ASTM Lab). Retratech is my plastic film focus, which includes testing shrinkage time.
Data Analyst - Collect data from the testing machines, observe and analyze the graphing to assist customers for their research purposes.
Film Preparation - Responsible for cutting plastic film appropriately to assist other technicians in testing on various machines. Understand the method for cutting specific requests on machines.
Currently on co-op with Dow for three projects: Retratech Shrink Tester, Dart Impact of films at controlled friction and Evaluation of a custom-designed biaxial creep tester.
How my career relates to my degree from RIT/NTID
I was an undeclared major until I chose to be a mechanical engineer because I followed my childhood dream and my love of vehicles and aerospace. I realized mechanical engineering has several branches such as research and development (R&D;). I decided to try R&D; since I love to learn various pieces of information and apply them to my world. My career at Dow has been incredible because I am able to dig deep into information about plastics. I also enjoy investigating methods to reduce plastics such using hemp plastic or using plastic for recycling or energy savings. I love science, math, and engineering, and Dow provided a space for me to explore science and engineering. It allowed me to integrate my knowledge and experience to apply in the world.
Advice
My advice to any students, is to BE YOURSELF and don't let others take control over you and your life/dream. Follow your passions. Go exploring and strive for more opportunities and adventures and never stop. Continue to make yourself and the world better. Make mistakes--it is better to be imperfect than perfect. My father told me if you desire to be perfect, then you're not learning anything.