NCCC Success Story
Packaging Science - BS
Logistics Control Packaging Specialist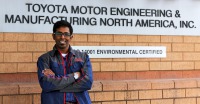 Hometown
Richardson, Texas
Degree programs
B.S. Packaging Science
Year of graduation
2012
Place of employment
Toyota Motor Engineering and Manufacturing North America, Inc., Erlanger, Ky.
Job Title
Logistics Control Packaging Specialist
Work Responsibilities
I'm responsible for developing and implementing changes in packaging, packaging systems and processes for current projects all the while following Toyota standards. I am responsible for developing packaging on parts in standard containers that achieves packaging and logistics cost reductions per vehicle on North America's new models. I bring to my job a strong packaging focus and a commitment to continuous improvement.
How my career relates to my degree from RIT/NTID
I really believe that my degree from RIT/NTID and the co-op program helped me to find my job with one of the greatest companies in the world. I graduated prepared to work in the package engineering, development, structural design and logistics areas in the industry. My training included how to use engineering tools and understand the packaging concepts for all kind of parts. The fact that I had learned how packaging can impact many areas, such as logistics, quality, workability, appearances, materials and cost is very important to my job at Toyota. I know how to analyze the problems that arise and how to use the tools to countermeasure those issues. I also learned about packaging technology, the core of packaging jobs, and the importance of managing the time and priorities of the projects as precise as possible. RIT/NTID not only prepared me for my career, it prepared me for life outside of my career because of the support from the professors, staff members and my peers.
Advice
Work hard and always be persistent. I believe that success is measured not in never failing, but in rising up every time we fail. Take advantage of every opportunity that come to you.