Doug Peacock Scholarship provides student support to branch out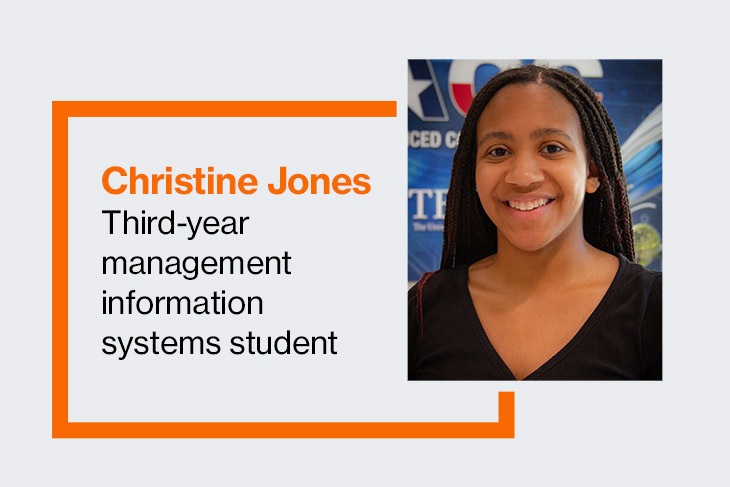 Christine Jones, a third-year management information systems student from Inkster, Mich., was awarded the Doug Peacock Scholarship. The scholarship helps underrepresented students at RIT.
What were the deciding factors in choosing RIT for undergraduate?
I chose RIT for undergrad because I wanted to be in an environment where I could study management information systems (MIS) and American Sign Language (ASL). There are a lot of opportunities to use ASL outside of class. I was also enticed by the co-op requirement since it allows students to obtain professional experience before graduating.
What is the Doug Peacock Scholarship?
The Doug Peacock Scholarship is funded by TransDigm Group Inc., a leading global designer, producer, and supplier of highly engineered aircraft components, and goes out yearly to a cohort of five first-year students in Saunders College of Business, Kate Gleason College of Engineering, and the College of Engineering Technology who demonstrate financial need.
How did it feel to be awarded the scholarship?
When I received the scholarship, I was extremely surprised and excited. My academic advisor had nominated me for it but couldn't tell me until I was awarded the scholarship. I was also really happy because that sort of made me realize that I had somebody on campus looking out for me and my achievements.
How has receiving the Doug Peacock Scholarship influenced your time at RIT?
Receiving the scholarship has allowed me to focus more of my time on extracurricular activities and being involved on campus rather than picking up extra hours at work out of necessity.
What are your career goals after graduation?
I am not entirely sure what my career goals after graduation are. Right now, I'm interested in some sort of data analyst role or a position that applies the project management skills I've learned.
Topics