Jonathan Hopkins retires after a long career of interpreting and inclusion
Long-standing interpreter raised visibility and created safe spaces for people of color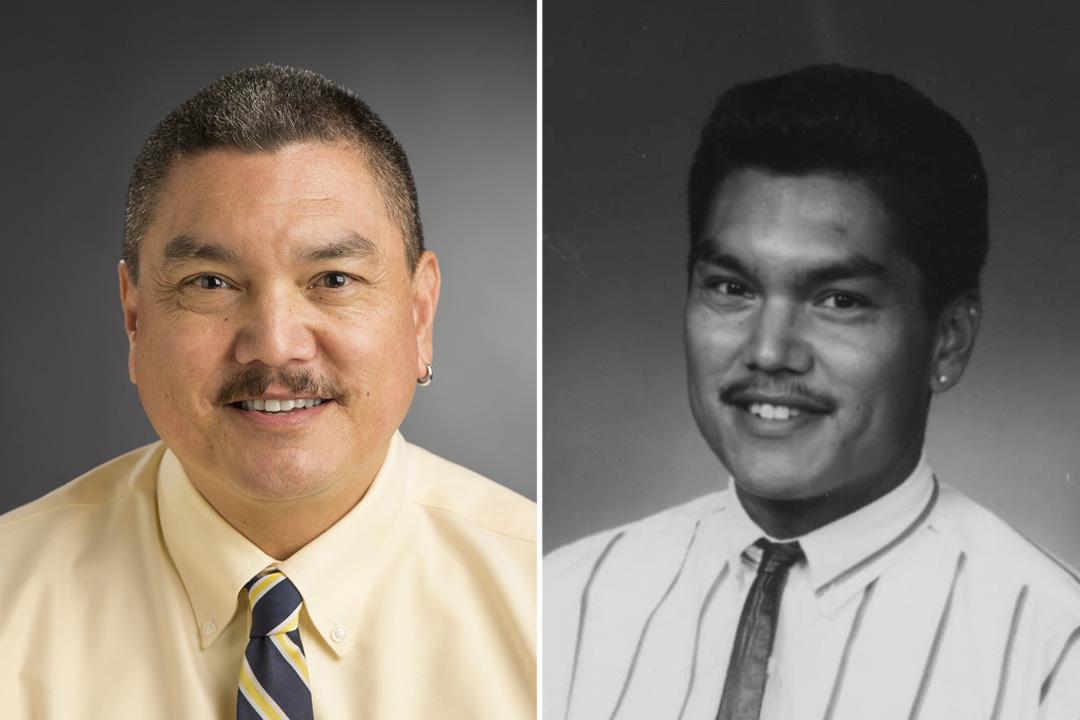 Jonathan Hopkins, a beloved member of the interpreting team for the College of Art and Design, has retired. But many others know Hopkins from his work as an interpreter for a wide range of activities at RIT including sports games and practices, stage performances, Native American events, and art classroom sessions. In 1988, RIT offered Hopkins a position as an interpreter before his graduation from NTID's Interpreter Training Program, and he has spent the following 34 years at RIT.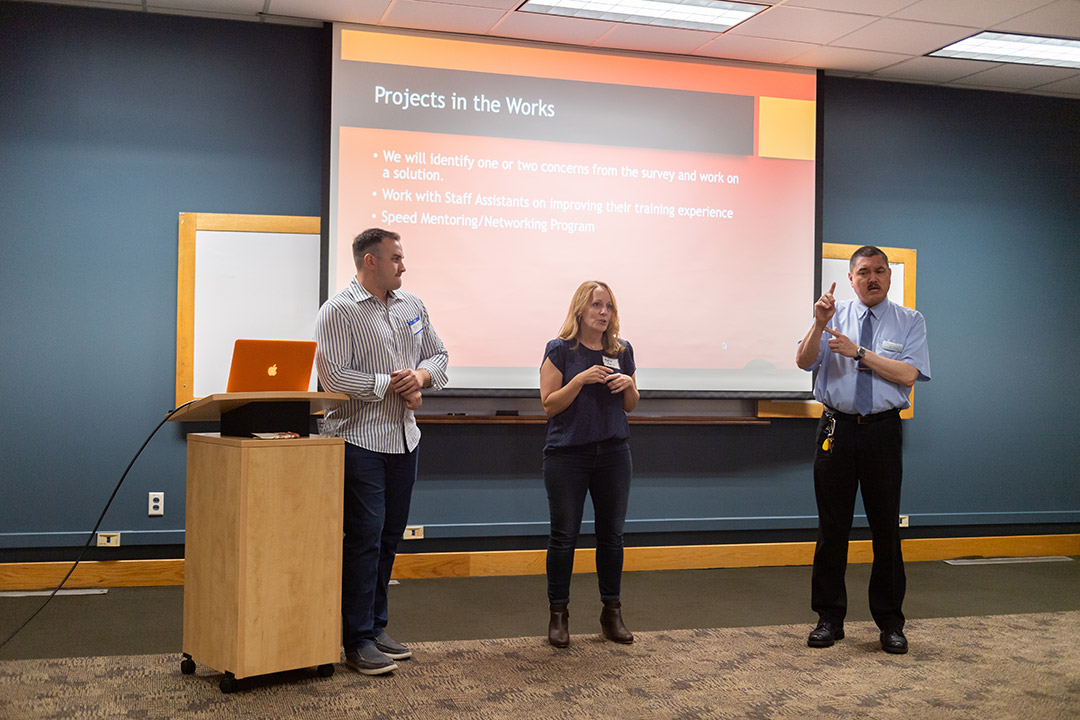 Mike Guinto
As a Tlingit Native American, Hopkins has worked to provide students, faculty, and staff of color a sense of belonging and community on campus. He has participated in, led, and helped develop many organizations for people of color on and off campus, especially Native Americans and deaf and hard-of-hearing people. And, by interpreting for a variety of activities, he has made them all more accessible.
Hopkins reflected on his career.
What drew you to interpreting, and eventually to RIT/NTID?
I first became interested in American Sign Language when I was about 10 years old at a summer camp in Maine. There were several deaf campers and we all learned how to fingerspell the alphabet and some basic sign language. After returning to the same camp every summer and making friendships with several deaf campers for over 10 years, I became much more proficient in ASL.
When I entered college, I learned that my first major wasn't a good fit. My advisor asked me if I had any other interests, hobbies, or skills, and I told them that I knew ASL. They suggested that I look into some ITPs (Interpreter Training Programs). I applied and was accepted to seven Interpreter Training Programs, with my top three being Gallaudet University in Washington, D.C.; Northeastern University in Boston; and RIT/NTID.
After visiting Gallaudet and Northeastern, and upon arriving at NTID, I noticed one major difference, and that was the number of deaf students and people at RIT/NTID who were using ASL. The minute I entered the college's administration building, I was greeted with ASL on every floor. I knew then that this was the place for me. Unbeknownst to me, Rochester, N.Y., has the largest deaf population per capita. This is where I would stay and make some deep, meaningful connections and earn a living for 34 years.
How has being Native American impacted your work at RIT?
I was the first Native American hired in my department and, I believe, one of the first at NTID. This has had a tremendous impact on me personally and professionally. Being able to navigate a work environment where you are the only one is admittedly a struggle. I remember growing up going into places like department stores and being carefully watched and monitored because they thought I was going to steal or shoplift. I was very aware of not being trusted. I had that same feeling when I was first hired here as a full-time employee, but not because I was going to steal or shoplift. The feeling was more of, "Who is this Native American we just hired?" At that time, there were only three other interpreters of color in our department.
That's when the professional impact "kicked in." As a former student, I was always involved with organizations here at NTID such as Ebony Club, Latin American Deaf Club, Black Awareness Coordinating Committee, and Latin American Student Association. I became Ebony Club advisor and was increasingly involved with many other organizations on campus for underrepresented students. I was elected as NTID's chair for its Affirmative Action Advisory Committee, which led me to establish and chair the Department of Access Services Pluralism Committee. I also became the Registry of Interpreters for the Deaf Region 1 Representative for Interpreters and Transliterators of Color.
I realized we needed more Native American representation on campus and discovered that the number of Native American students on campus was shockingly low. I met with these students, and we established the Native American Student Association and RIT's American Indians of Science and Engineering Society chapter. I became the advisor to both organizations. I also established and co-chaired the Native American Faculty and Staff Association for several years, and helped found the first all-Deaf Native American organization, known as the Intertribal Deaf Council. And, most recently, I helped to establish the NTID Diversity Group.
What are some of your fondest memories of connecting with students?
My fondest memories would be when we held our very first Native American social and worked with the Native American Student Association members to make it happen. If you've never been to a Native American social, then you're missing out on some great fun. However, the work that goes on behind the scenes is tremendous. From getting the date and time of the event, to getting a room reserved, and then contacting all the vendors, singers, and dancers, and reaching out to all the Native American communities, and making it a success — that all requires a lot of work. But seeing the community come together and support the students and seeing the looks on the students' faces when it was all done.... priceless. Remember, the students are the reason why we are all here. Seeing their success means that we have been successful. That's key to any university.
Topics