2013 Metaproject 03, AREAWARE
June 7, 2013
Senior Industrial Design Students
Faculty: Josh Owen
Developed by RIT associate professor Josh Owen in 2010 as an industrial design course with an industry partnership placing student output into a global venue, "Metaproject" is now running in its third generation. This year, the partnership is with world-renowned avant-garde accessories manufacturer, Areaware. The course results will be juried and then shown during design week in New York City in May of 2013. RIT will publish a case study book which chronicles the methodology and output from the course, shedding light on the design process. The "Design is One" philosophy exposed by the Vignelli Center for Design Studies will be overlaid into the conversation, linking the work thematically to the Vignelli Center.

Photography: Elizabeth Lamark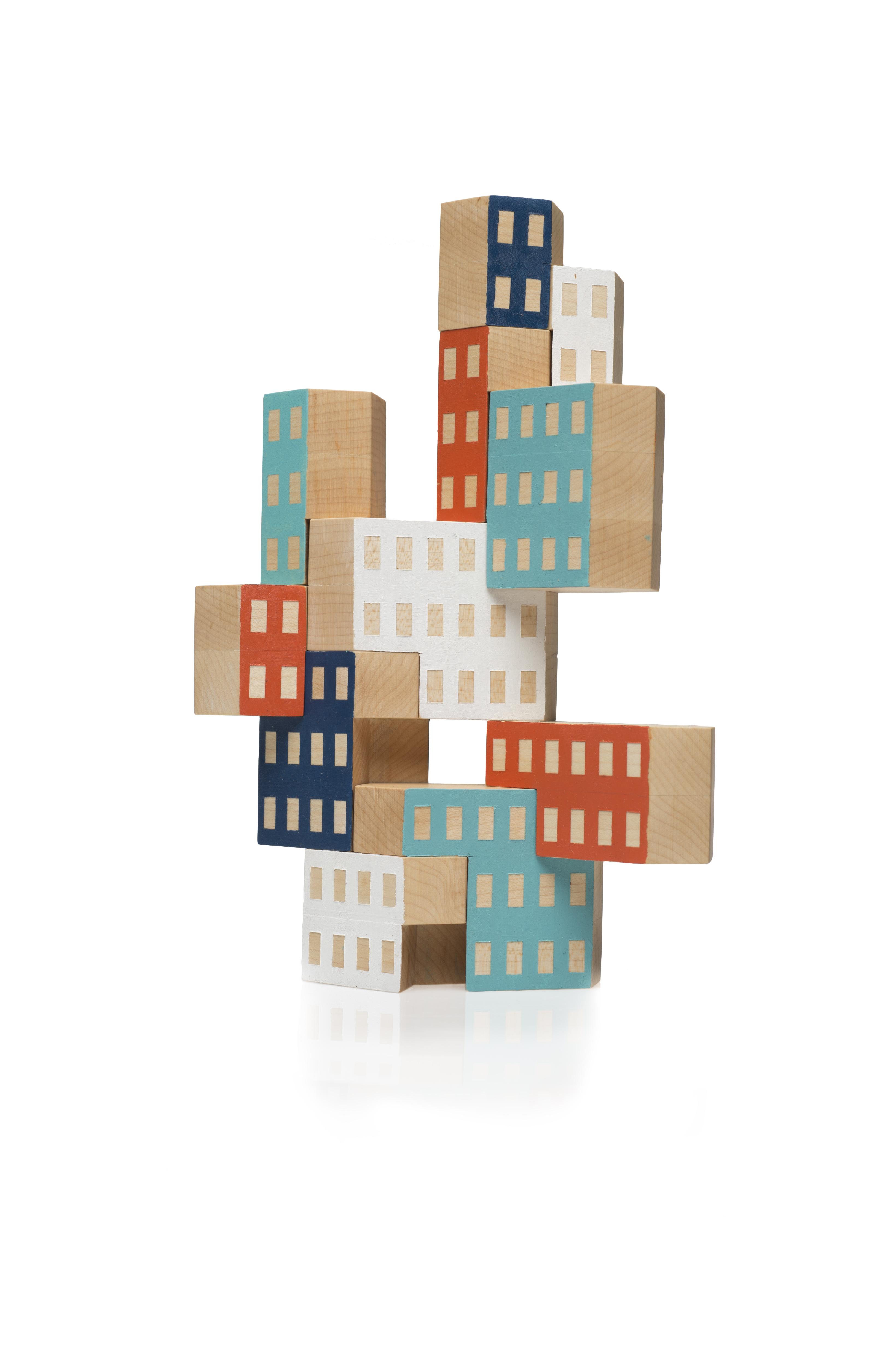 BLOCKITECTURE

JAMES PAULIUS



Context: Blockitecture is a toy that allows users to enhance their understanding of physical laws by using their creative and imaginative processes. Hexagonal blocks nest together in various formations, allowing them to counterbalance each other and create unique cantilevers found in modern and contemporary architecture.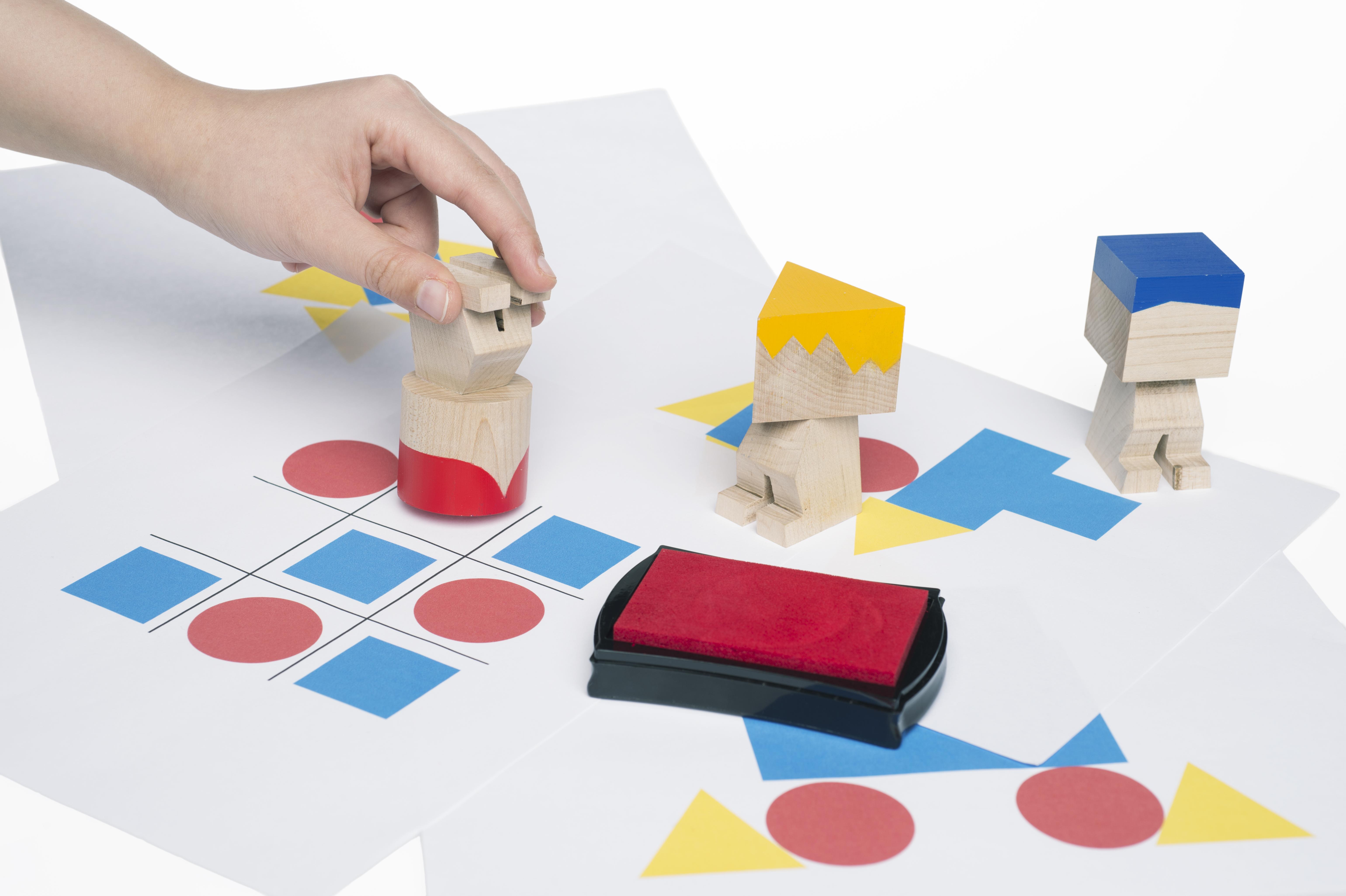 SHAPUZI

JAY LIU



Context: My goal was to design an object for everyone, allowing them to explore creativity through mark making and stamping. The story behind the Shapuzi's diversity is that every Shapuzi wants to be one-of-a-kind, and so they mold their head into a shape that makes them different from each other. They can function as a shaped stamp and a photo/paper holder.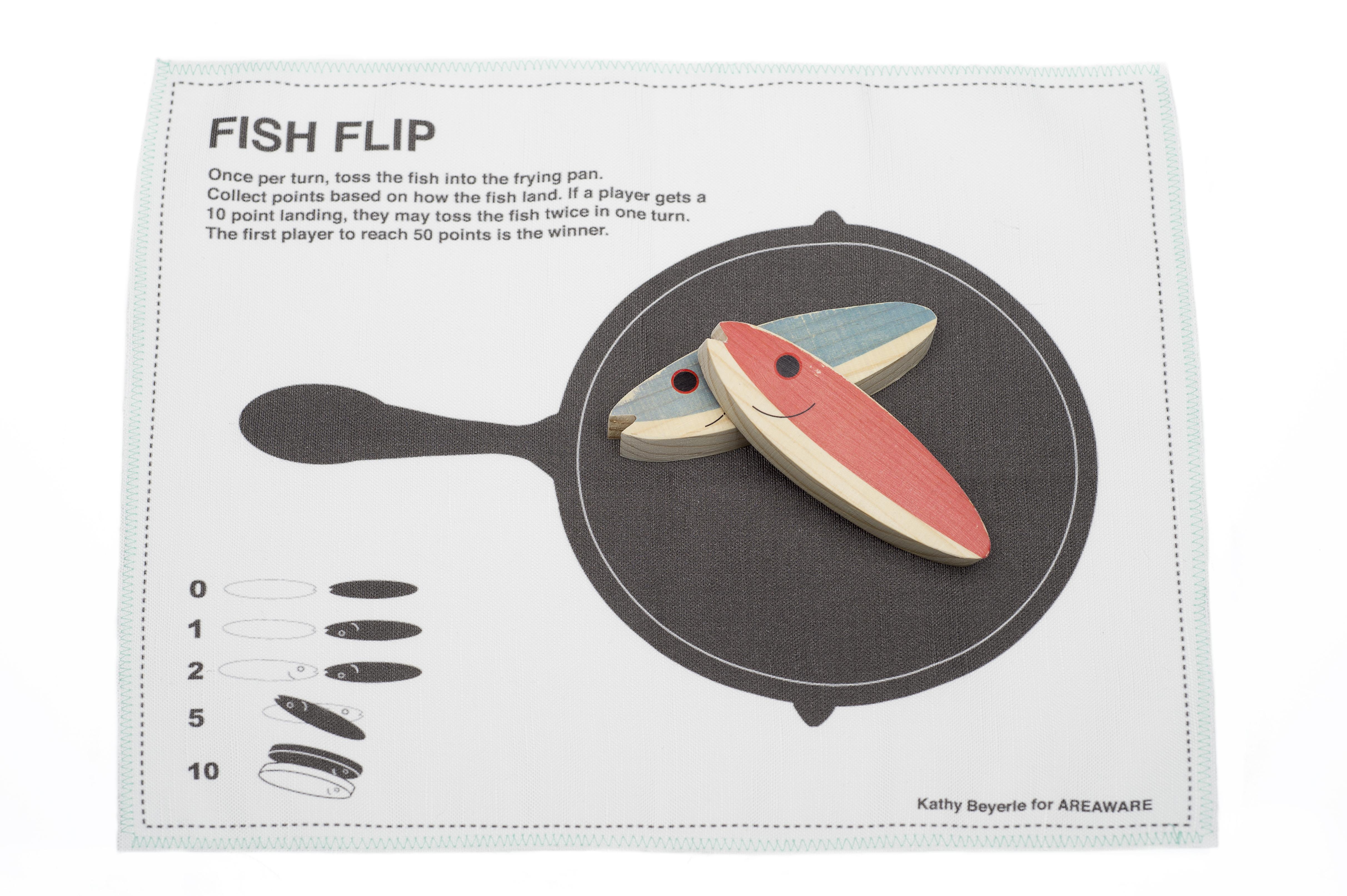 FISH FLIP

KATHARINE BEYERLE



Context: I wanted to design a rule based game that was created by the random act of throwing objects onto a playing field and then tallying points based upon a designated set of visual outcomes. I drew inspiration from the classic game of backgammon. Fish Flip is simple to setup and play anywhere due to it's scale and understandable use for people of all ages. The cloth playing board is laid out and two wooden fish are thrown to land into a graphic image of a frying pan. Points are counted based on the orientation of the fish when they land. The first person to reach 50 points is the winner.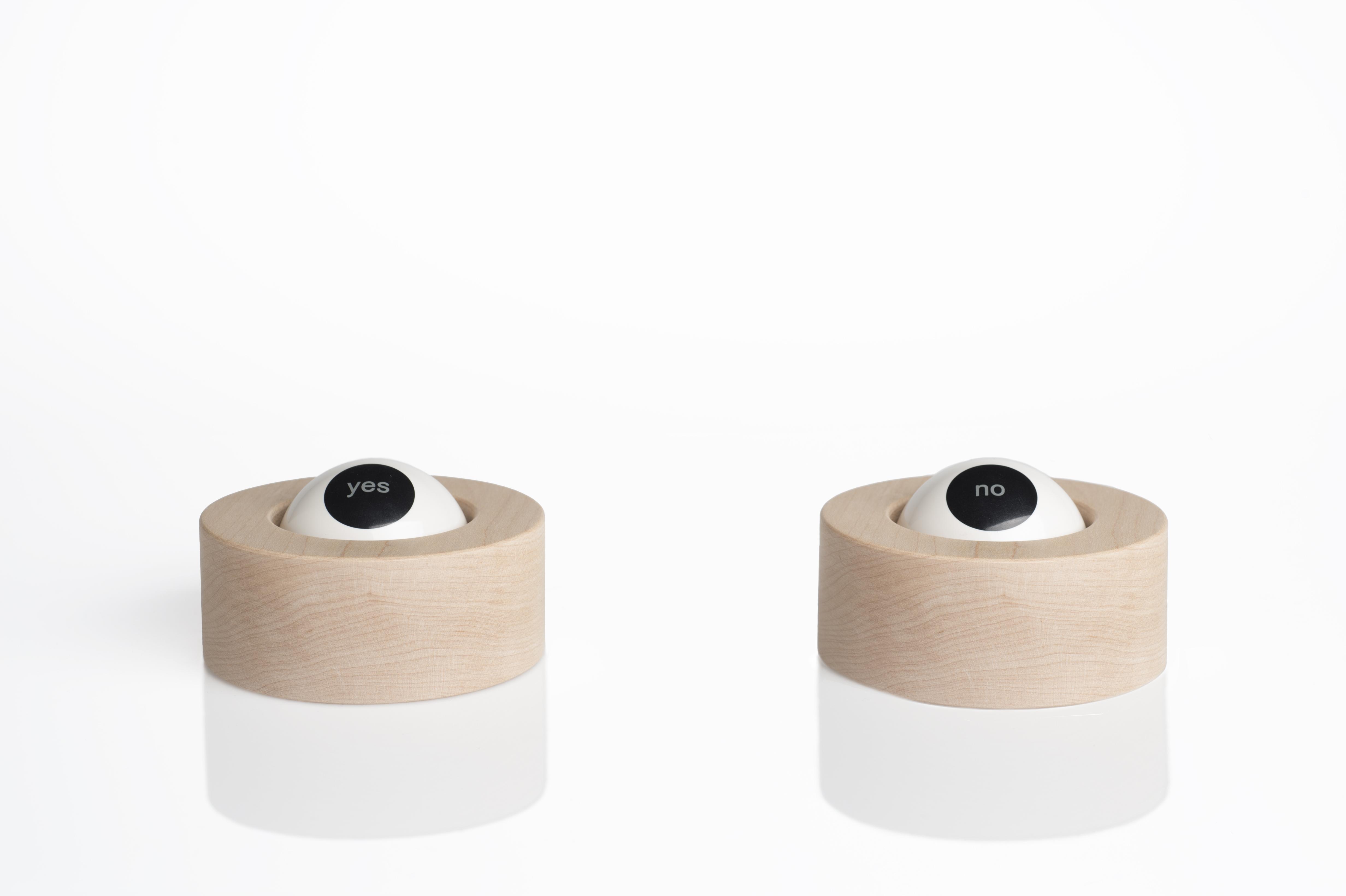 EYE KNOW

JACLYN JACOBSON



Context: The Eye Know was inspired by the randomness of a fortune-telling device along with the metaphor of the all seeing eye. Eye Know is a personal fortune-telling device. This toy can be used by children and adults for personal use at home or as a desktop fidget. Eye Know also functions as a centerpiece for group games.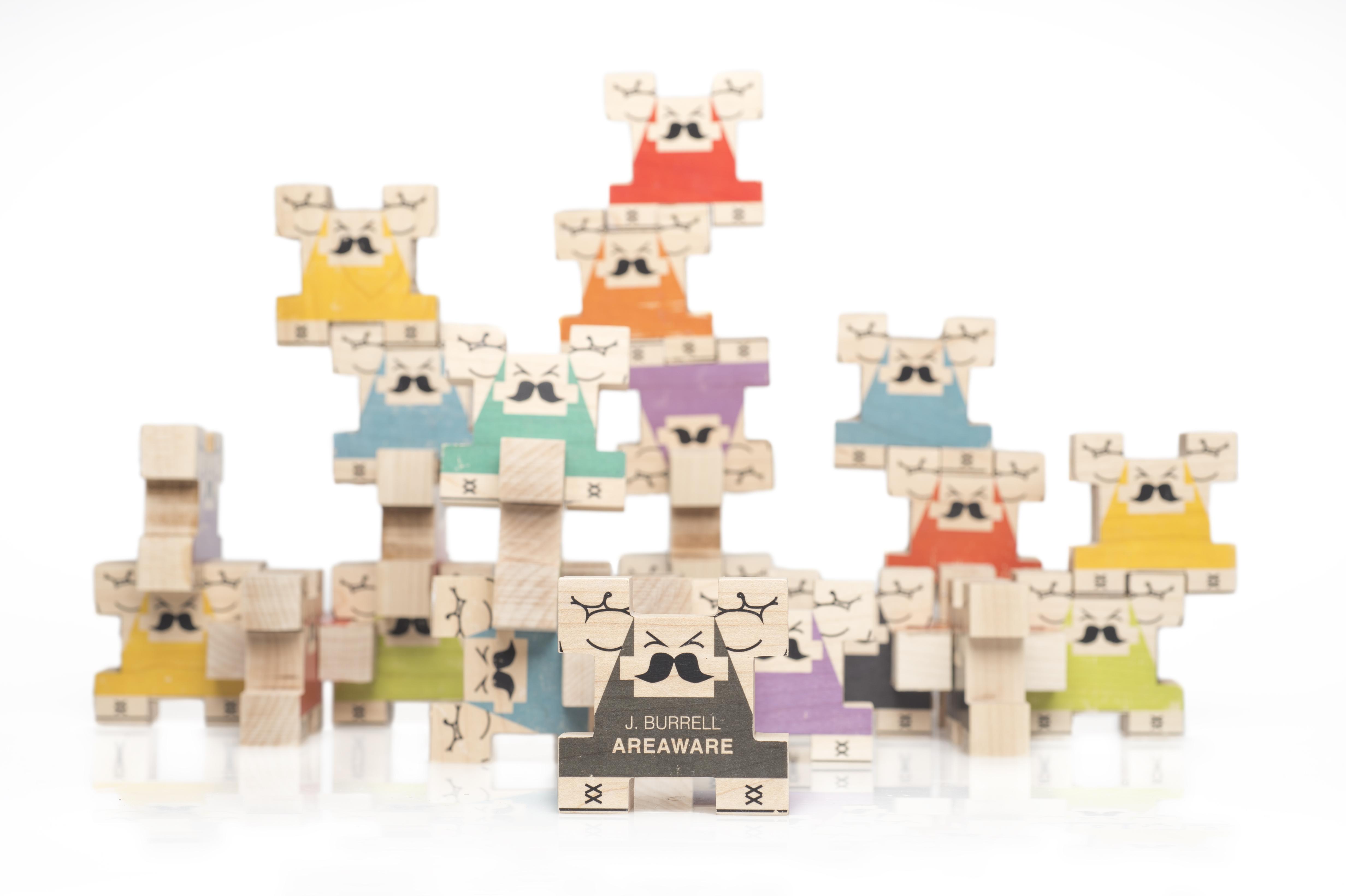 STRONG MEN BUILDING BLOCKS

JEFFREY BURRELL



Context: The Strong Men Building Blocks were developed based on a universal theme of stacking and arranging blocks into unique forms. Inspired by a fascination with building, I set out to design an object that also made a connection to physical strength. The set of ten wooden building block men stacks and fits together in a multitude of ways. Each side of the wooden block has been cut identically so that it can be fitted together with an adjoining block in any way. The graphic solution provides the orientation and emotional character of each.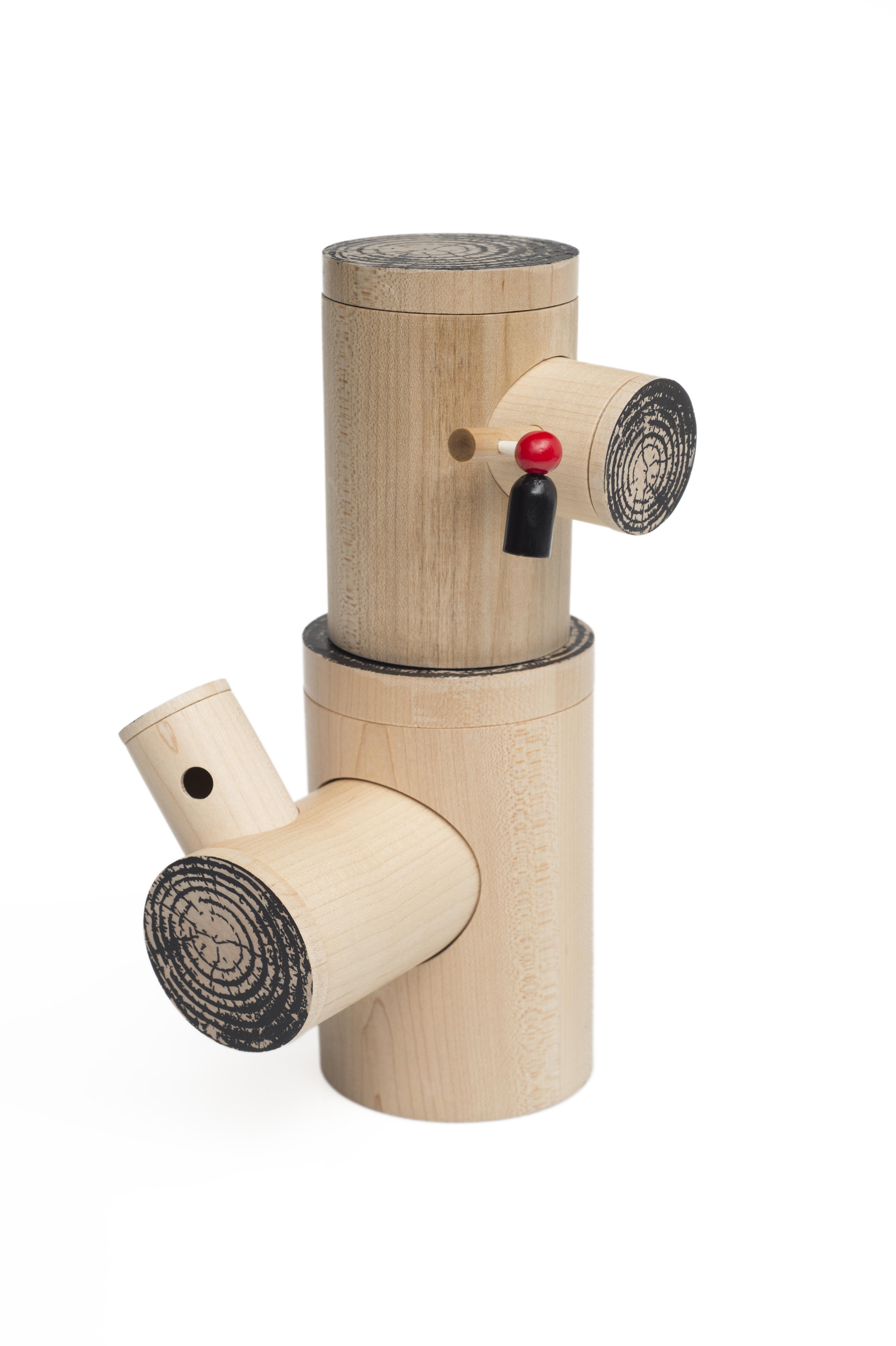 NESTING TREE

MEGAN LIN



Context: Take an adventure by discovering tree boxes and building a tree. You will find a woodpecker nested in the center by following the hints (holes made by the woodpecker) on the tree. The Nesting Tree is a universal toy that recalls the memory of nature and gives you a chance to build your own natural world. The set of toys is comprised of seven wooden parts, which provide the possibility of building your own tree and placing the woodpecker in the way that you want.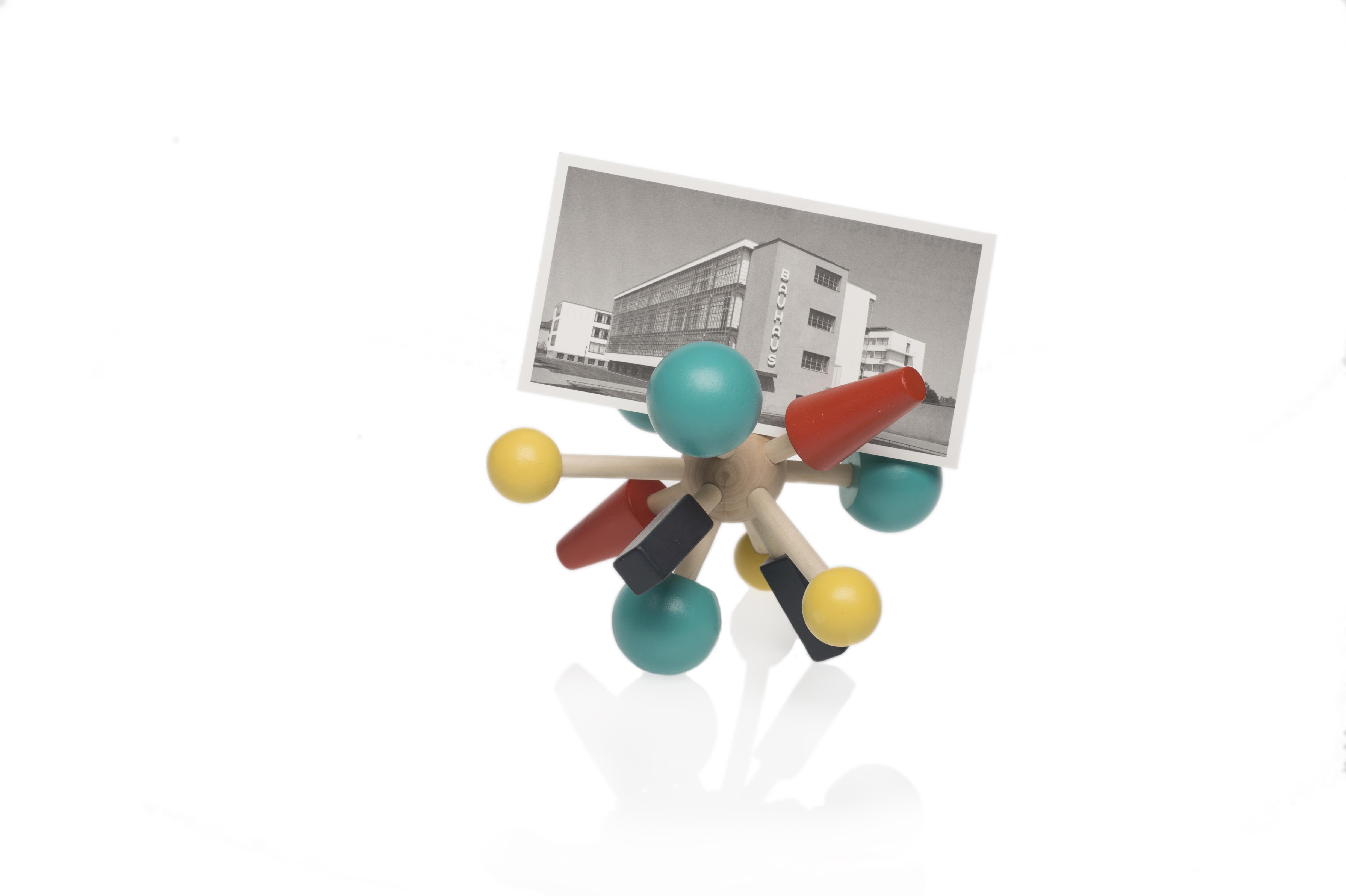 JACK OF ALL TRADES

BLAIR PRIETZ



Context: The idea came about while designing a 3D puzzle in the shape of a meteor, that when tossed onto the desk would fall apart on impact. As I was imagining the parts bouncing in all directions, the idea of a wooden object adorned with rubber shapes came to be. What makes this a universal toy is its strange form that isn't easily identifiable. Its erratic bouncing quality is entertaining to all ages and when done playing with it can be visibly stored in the form of a bookstand, a picture holder, door stopper or just on the shelf to show it off.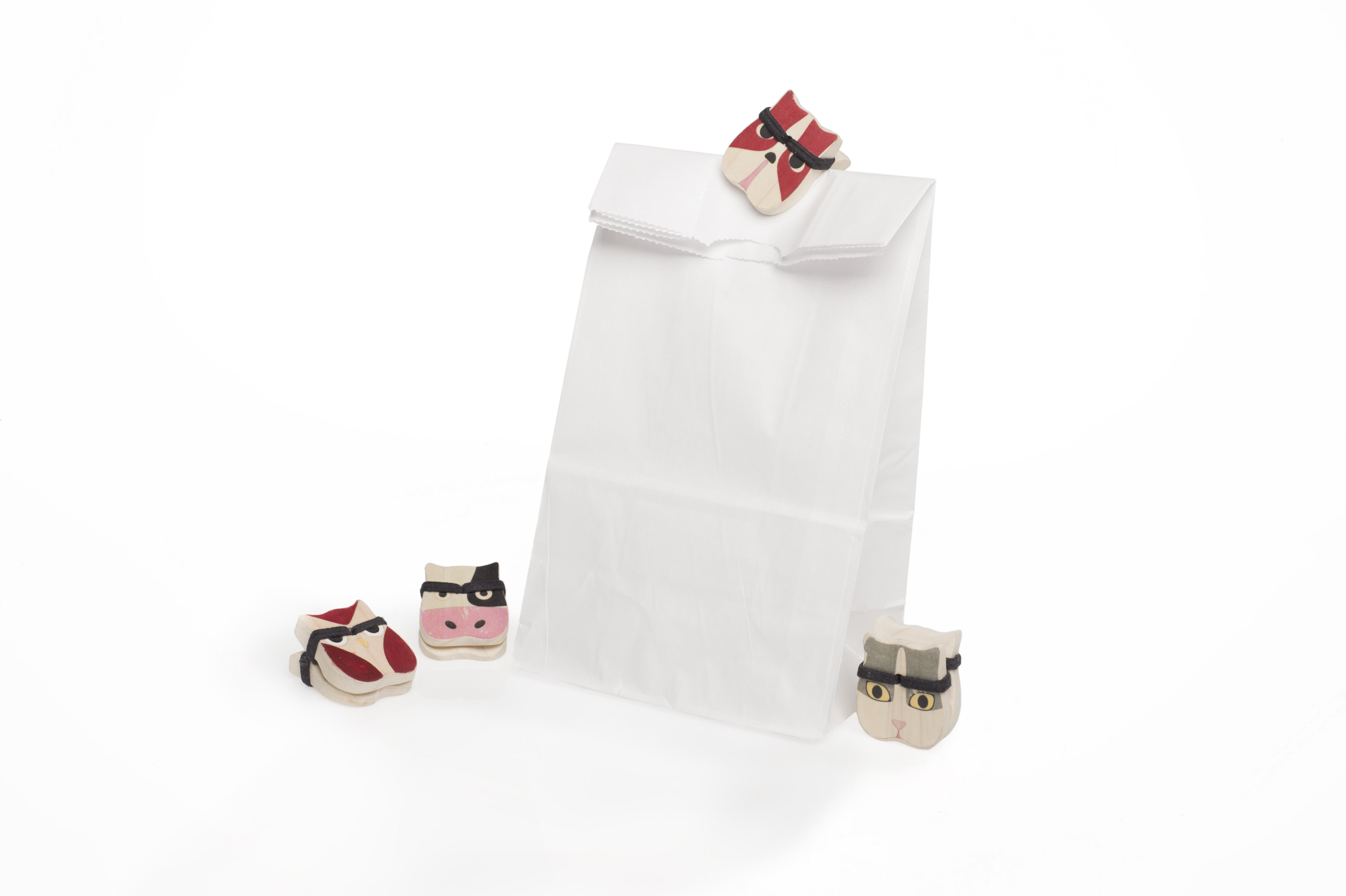 LITTLE BITERS CLIPS

NANXI YU



Context: With various graphics and the hair band graphic eyebrows, the Little Biters Clips express emotional connections to people who play with them. In order to design a universal toy, I came up with simple animal clips which are connected using common elastic hair bands.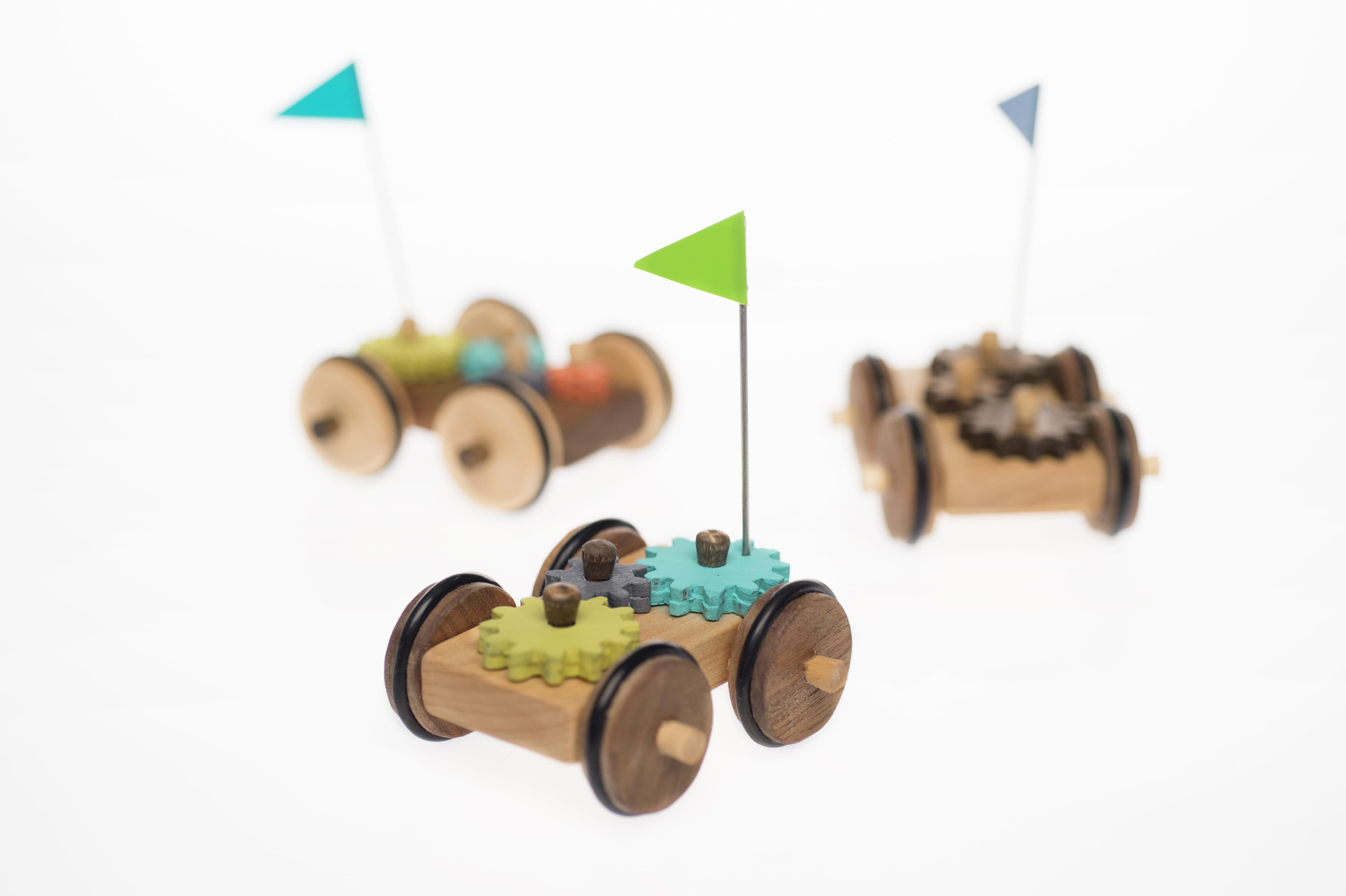 COG CAR

ASHLEY VALENTI



Context: A toy that is able to stimulate the senses, but is also aesthetically appealing, displayed on a shelf or desk, when it is not being enjoyed by children and adults alike. By combining trendy colors, natural wood, and mechanical movements, the Cog Car is both visually interesting and interactive. The playful movement is fun and instructional in the most basic way.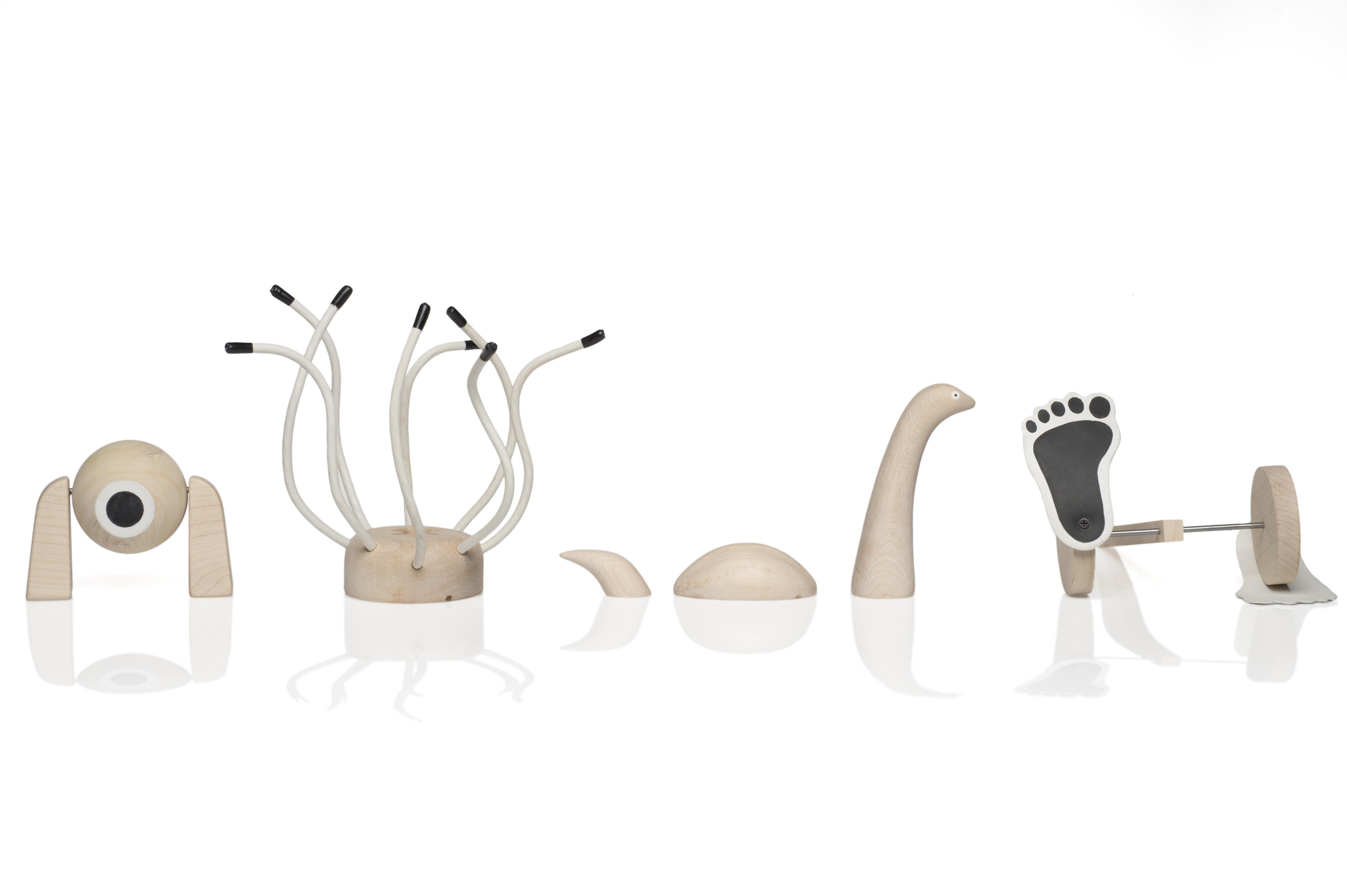 MONSTERS

LINDSAY RANDALL



Context: Around the world, monsters and mythological creatures are ever-present in folklore. These are deeply rooted in popular culture and their features are universally recognized. I wanted to reinvent bigfoot, the kraken, the loch ness monster, and a cyclops into forms that celebrate their fundamental characteristics, and update the monsters for a new generation. A collection of four simplified monsters. Each of them reduces the monster into its most fundamental elements and offers a new perspective on ancient creatures.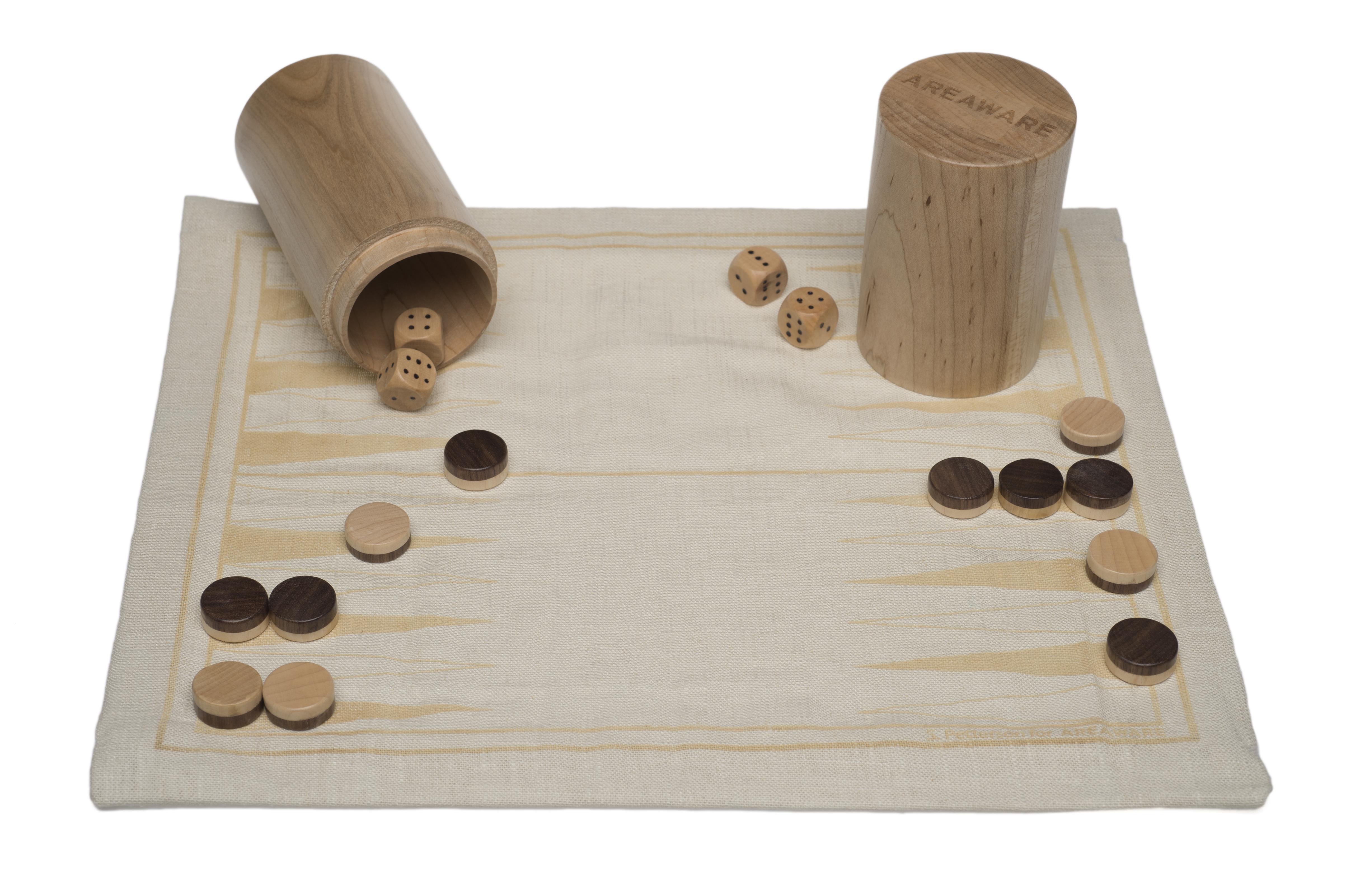 PORTABLE BACKGAMMON

SEAN PETTERSON



Context: In an increasingly digital world the purity and simplicity of the interactions around analog board games is an opportunity. Board games are a time proof means of propagating unadulterated socialization. Portable Backgammon is a vehicle for the world's oldest game to be enjoyed in 21st century life. It has been designed to encourage a dialogue between people in their everyday environments. The utility of the form is its portability but the design fosters the inherent emotional response of game-play.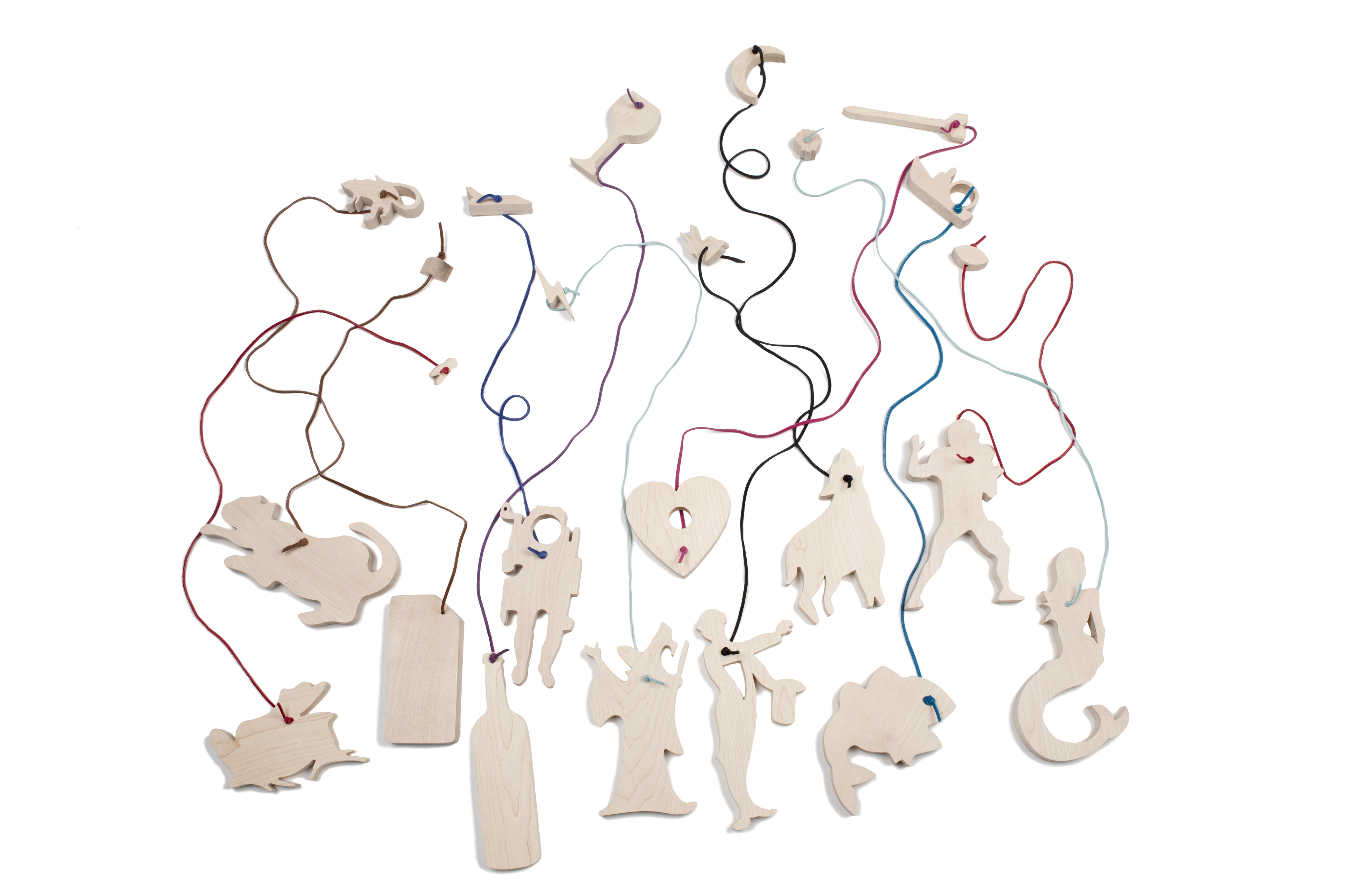 PENDANTS

IAN O'NEILL



Context: Inspired by American Indian craftsmanship of weaving and lashing, Pendants are literally tied together and honest in their materials. The characters tell different stories for any kind of person - young or old. Pendants are simply constructed, universal toys, at once timeless and unusual in their function and appeal.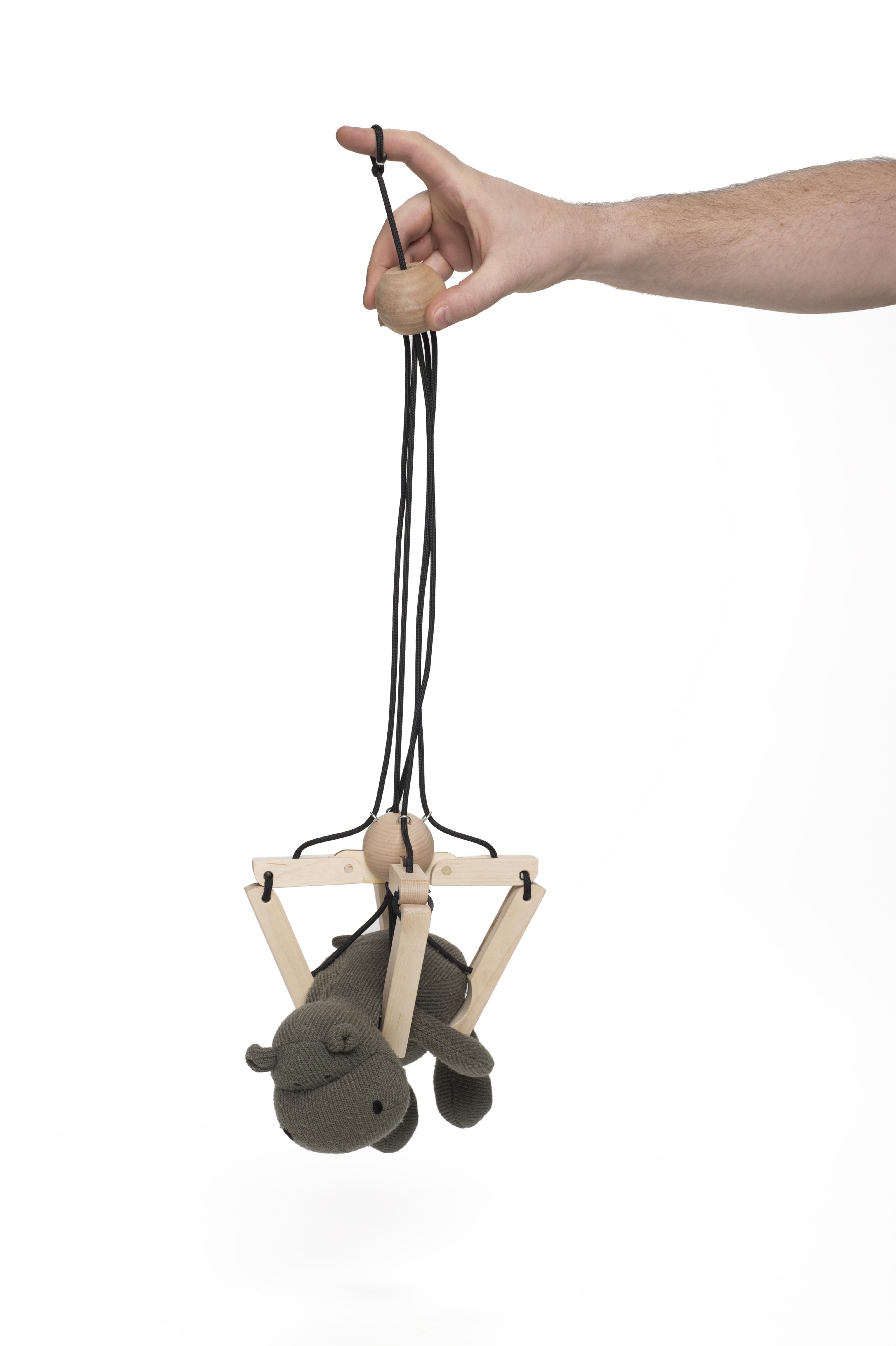 THE CLAW

NICHOLAS KELEMEN



Context: Toys are best when they are simple, allowing one to fully explore their imagination. Even simple, natural actions can be joyful. Manipulating objects is one of the most primal human acts. By designing a toy that allows one to re-experience the childhood fascination connected with picking things up we can help them appreciate the simple joys of childhood again.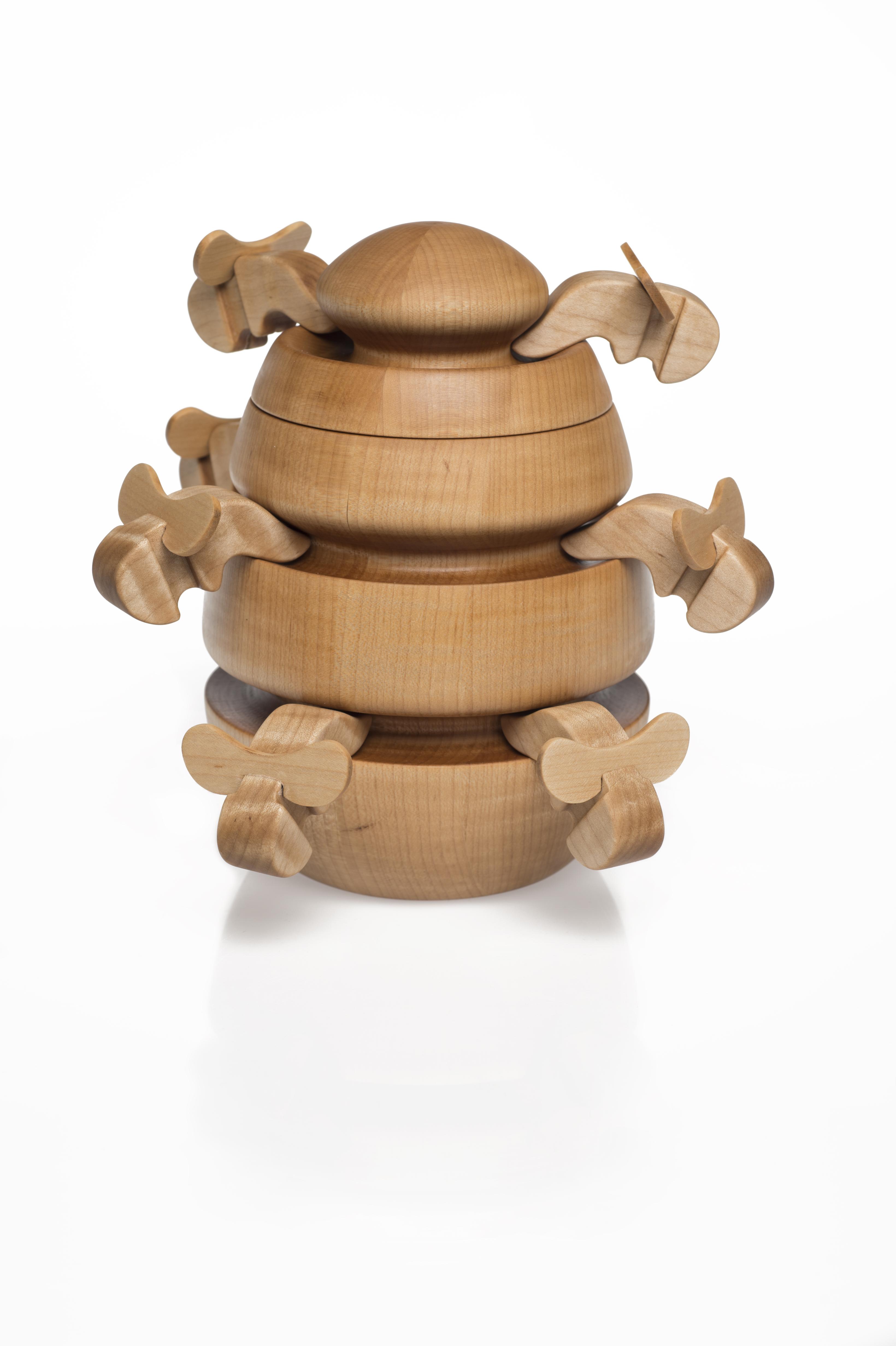 BEEKEEPER

AARON JACKENDOFF



Context: BeeKeeper provides for a contemplative meditation through the sight and feel of the exquisitely carved wooden hive and the bees. Inspired by both the traditional "skeps" (baskets made specifically to hold bees and their honeycomb) as well as by the archetypal image of a natural beehive.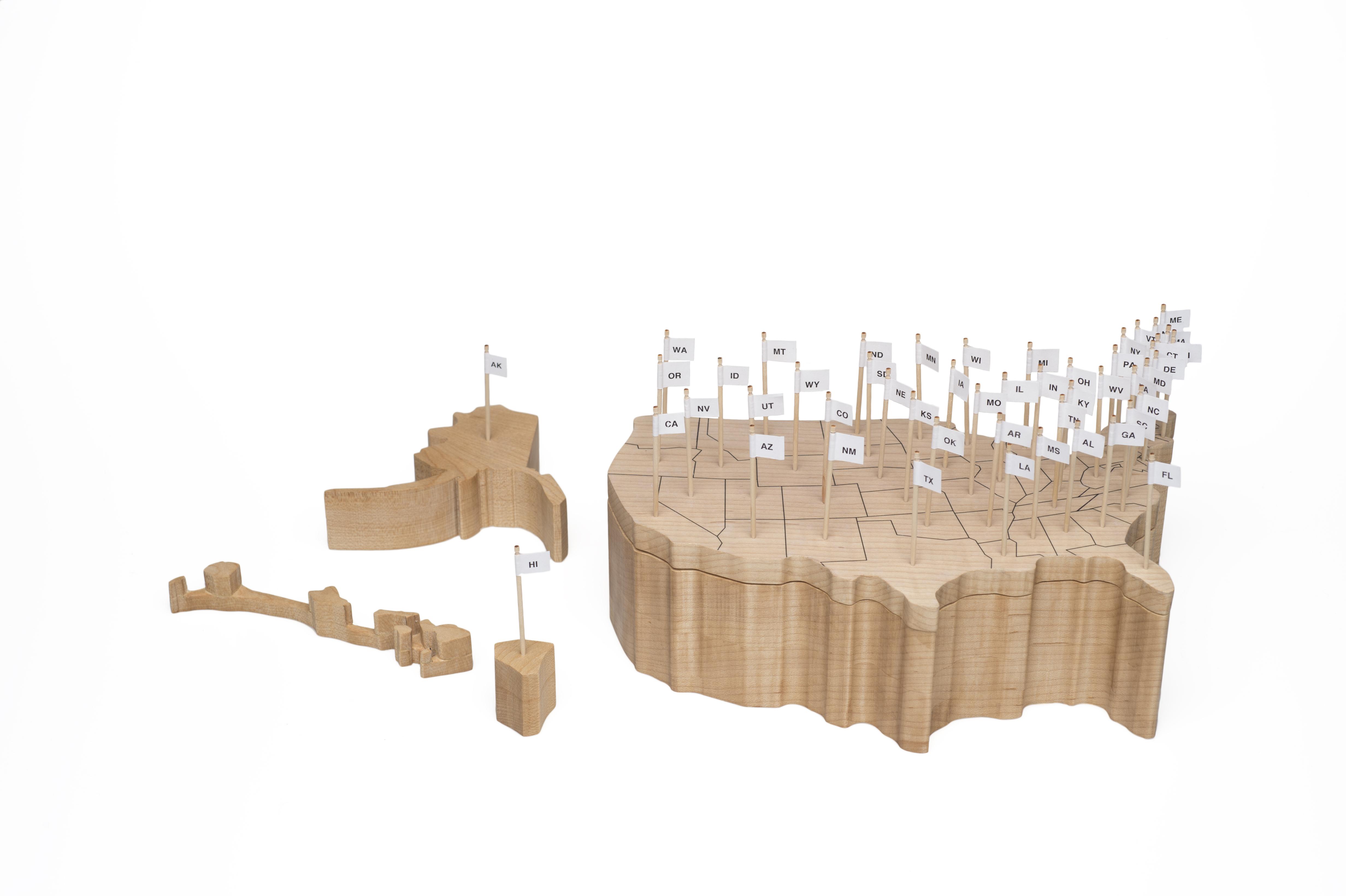 USA BOX

PAULA GARCIA



Context: The USA Box blends two activities which are commonly done after traveling: mapping and storing. Mapping, locating places traveled to on a map, helps individuals visualize the places they have been and the places they want to go. Storing, the act of organizing souvenirs, helps individuals reminisce about a specific memory they may have with the object.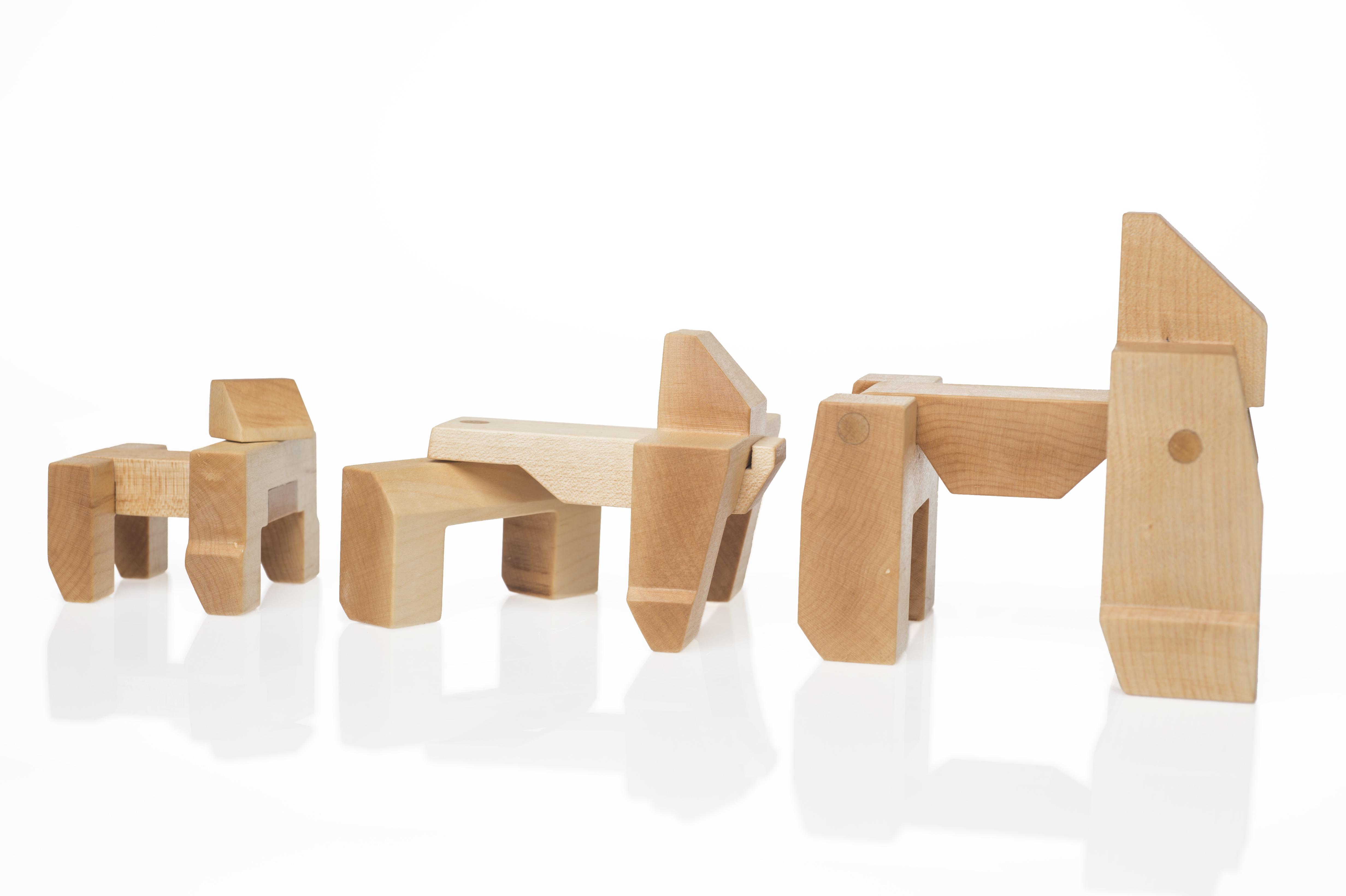 GORILLA FAMILY

ALEXANDRO FLORES



Context: Gorilla Family is a three piece set designed to be enjoyed by everyone. Their timeless playful spirit transcends age barriers. It can be found in the hand of a kid exploring his/her imagination or it can be used as a table top accent of an office.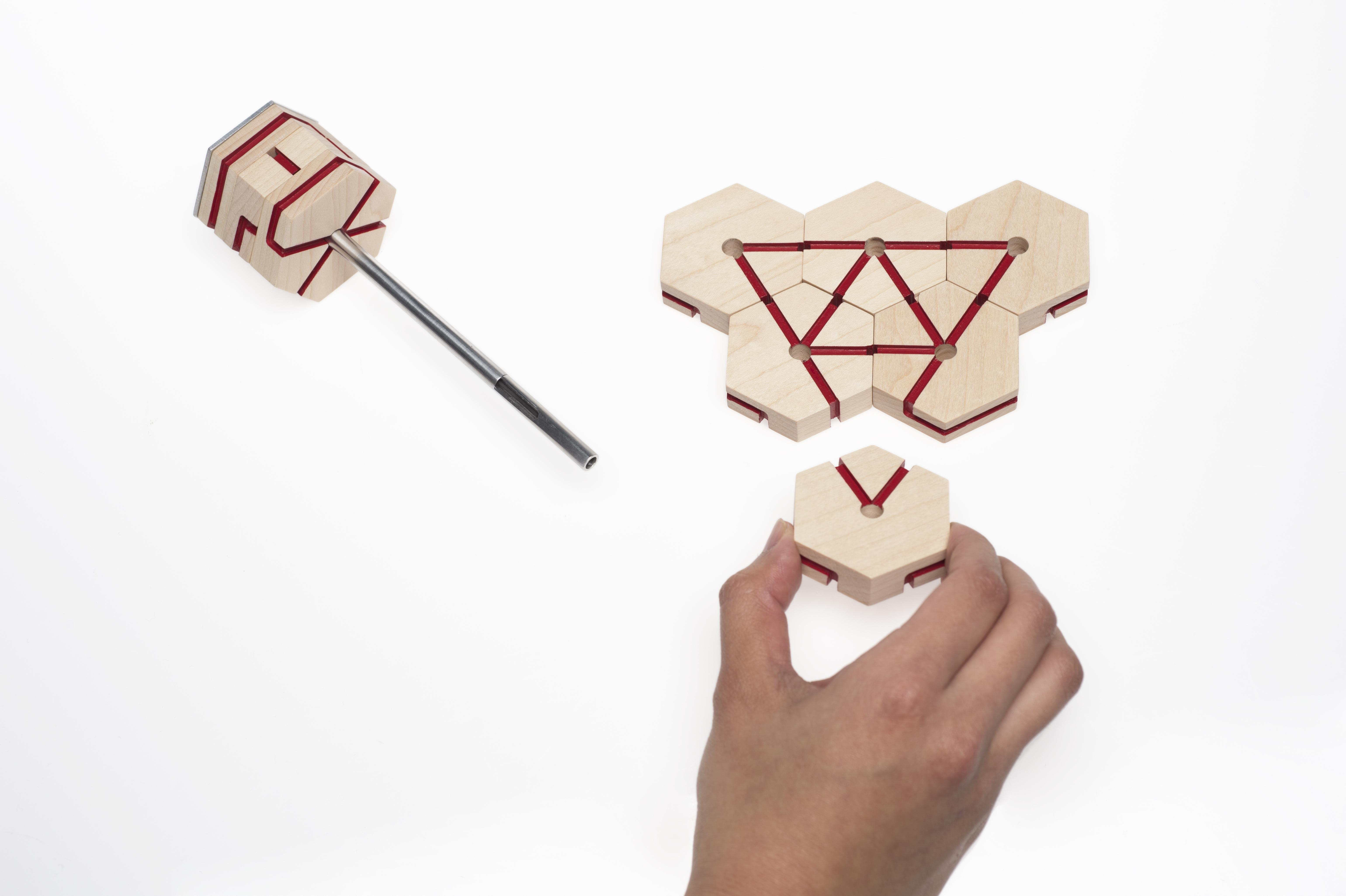 PATHWAYS

ROBERT FISH



Context: Pathways is a puzzle, like the Rubik's cube, but about life. There is no right or wrong way to search. For some it is about looking for a solution and for others it is the path you take to get there. Pathways is a universal toy that is both a puzzle and a creation game. For those who are looking for a solution, slide all the pieces off and rearrange them to create one continuous line across all the sides. For those who enjoy the search, lay all the pieces flat to create endless paths.
CITY BLOCKS MUSIC BOX

RYAN ERBE



Context: City Blocks is a musical toy that imitates the sound and feel of the city. Inspired by street performers and urban culture, this toy is sure to encourage creative play and social interaction. This toy is appropriate for all ages and connects with users through the universal language of music.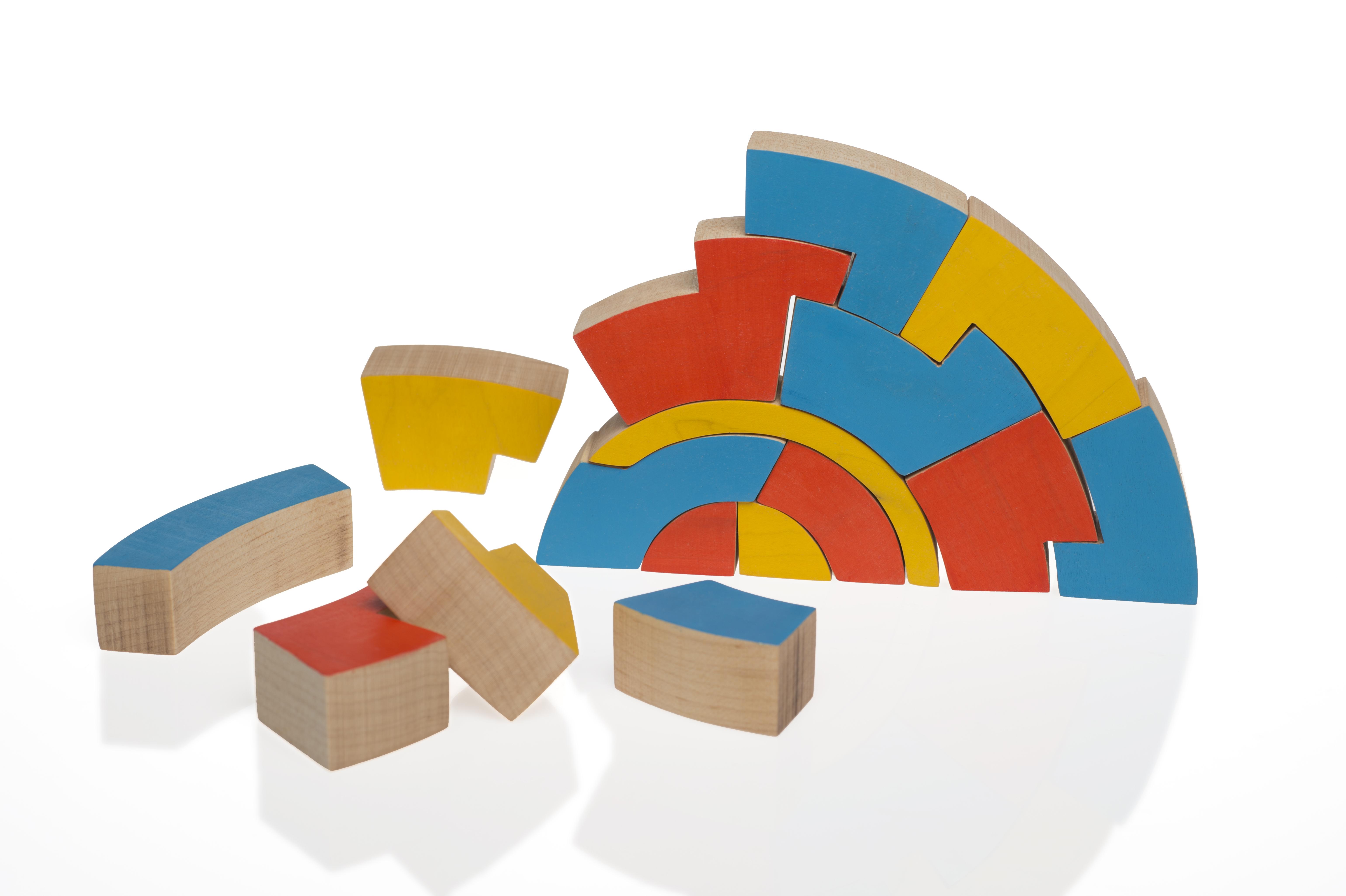 HORIZON PUZZLE

KEVIN D'AMICO



Context: This product explores the boundaries between vertical and horizontal orientation in puzzle design. Its surface color treatment options are patterned after phenomenological schemes such as sunrises etc. It can be played with by children or used as a desktop item in an office. This object is a meditative game / sculpture available in multiple colors on its facade along with natural wood on the reverse.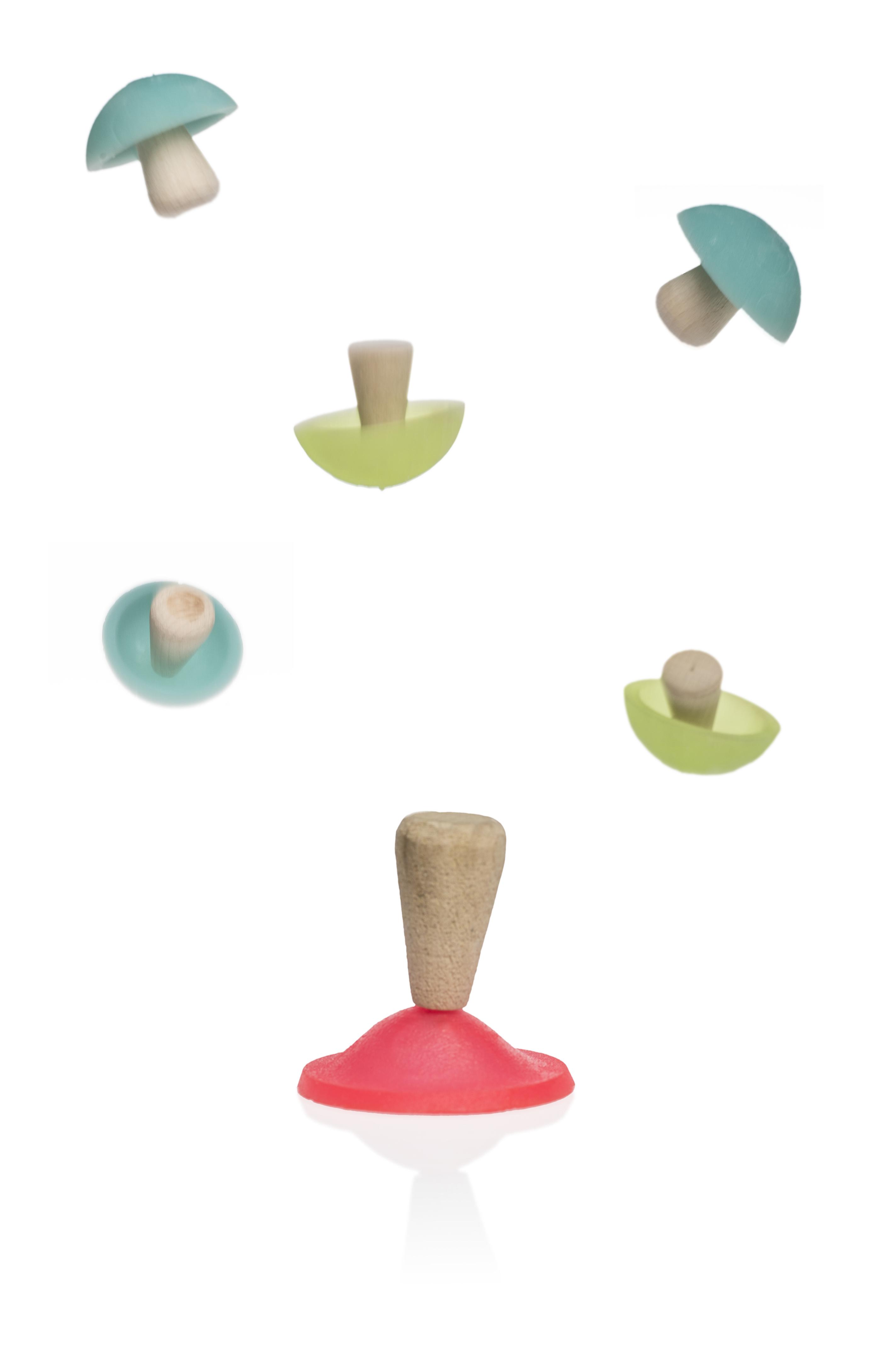 MUSHROOM POPPERS

ALEXANDER CLOUTIER



Context: Inspired by rubber poppers and the natural shape of mushrooms that they formed, I wanted to design an object that was reactive and could be used by people of all ages. Mushroom Poppers consist of two parts, a simple conical wooden stem and molded rubber cap. To use, simply invert the cap on these cute little mushrooms and watch them jump!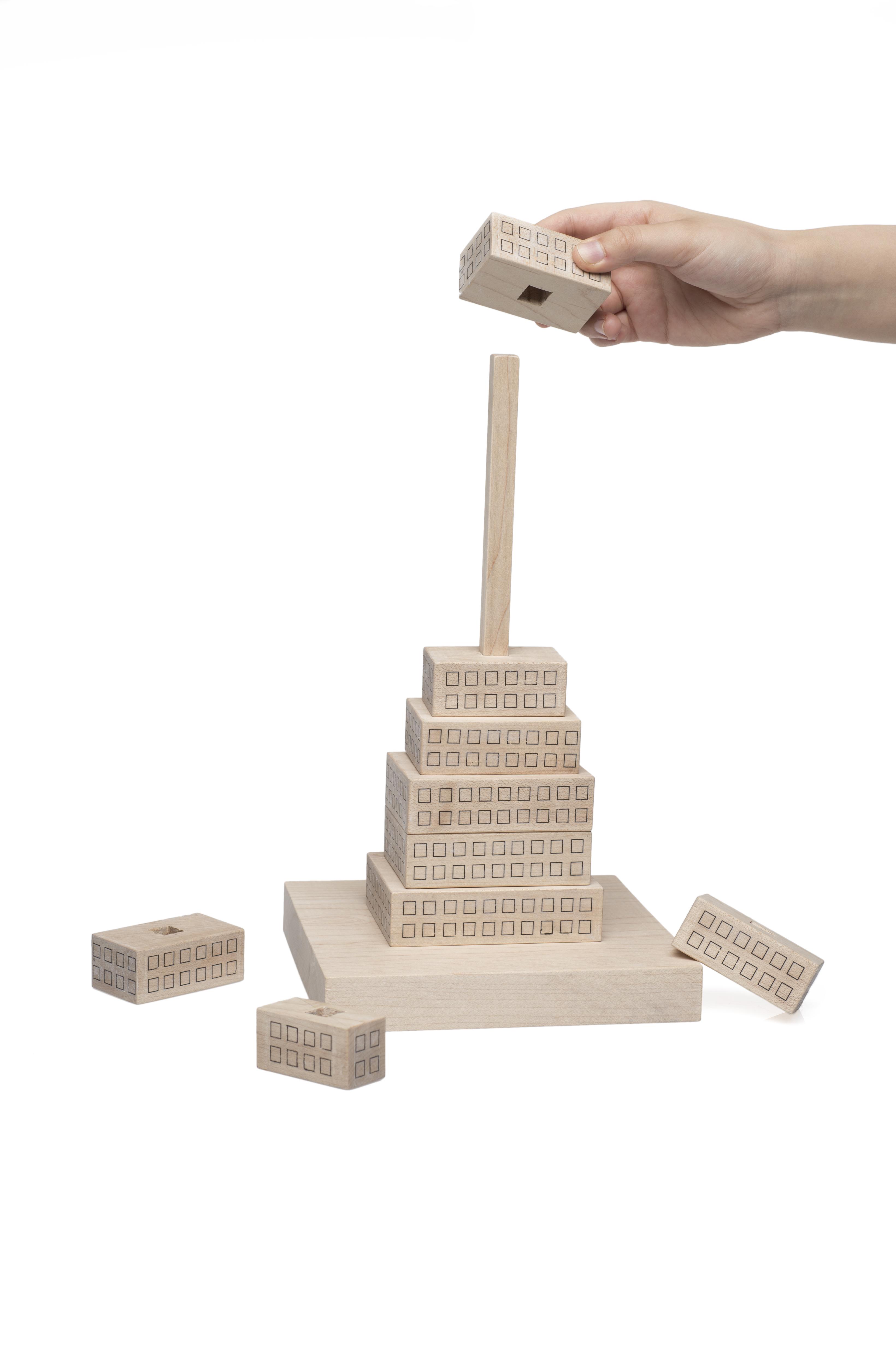 STACKING SKYSCRAPER

GONZALO CIURLIZZA



Context: The goal of the Stacking Skyscraper toy was to create a fun and enduring toy. The toy was inspired by looking up at the enormous skyscrapers in New York City. I defined universal as anything that lets a user have fun. The idea to create a stacking toy came from this concept. For this reasons, I decided to create a stacking toy in the shape of a skyscraper using nine wooden blocks that are registered in place with a central support shaft. This kind of activity has the finite sense of completion that brings joy to the activity.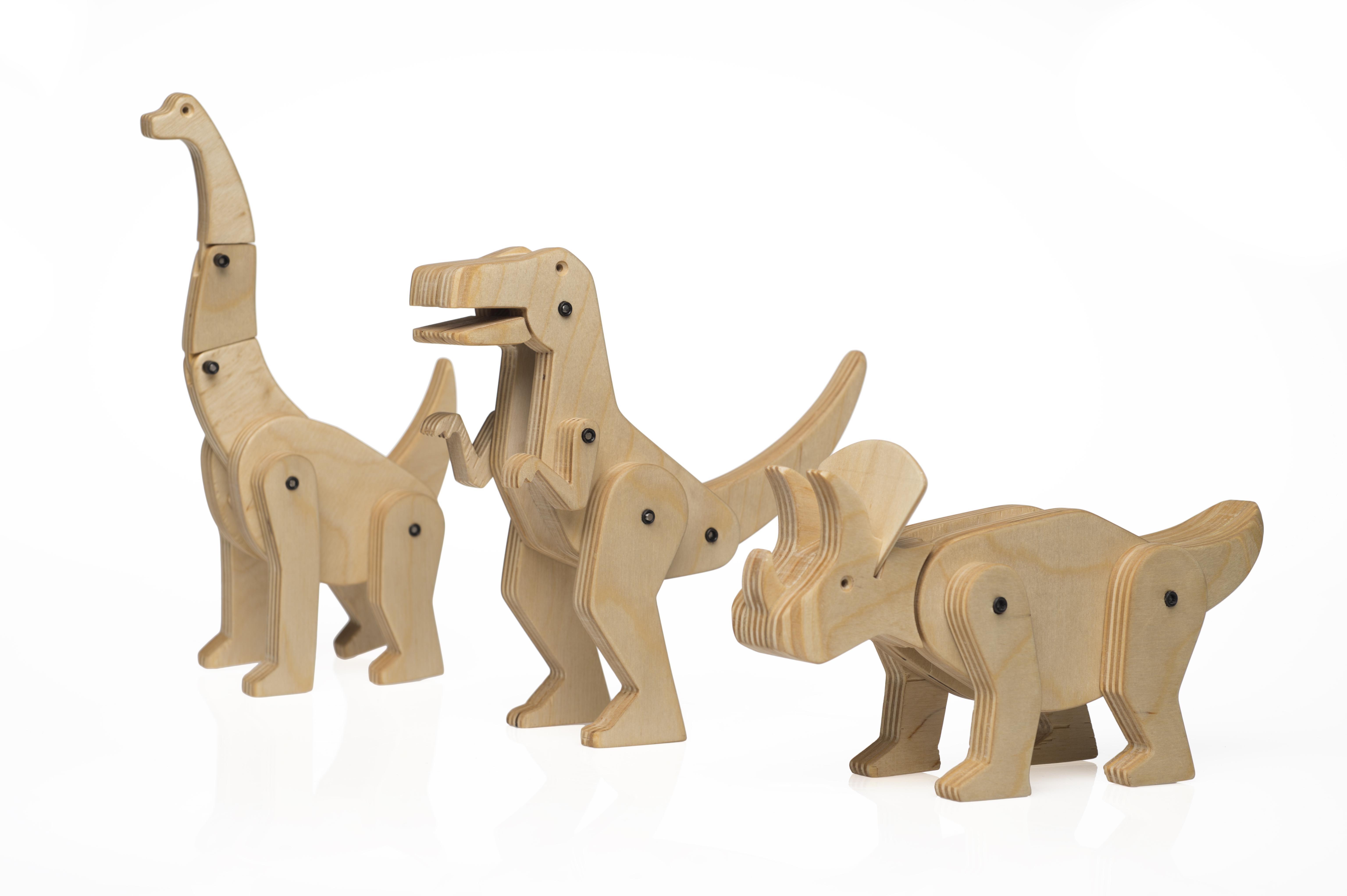 LUMBERSAURS

DAVID BUCHANAN



Context: Inspired by dinosaur's prevalence in popular culture, I wanted to design a collection of toys that blended the natural properties of hard plywood with the excitement, curiosity, and movement of their prehistoric siblings. The Lumbersaurs are made from durable hard plywood with metal fasteners that will last generations. Designed with a set of opposable joints, each character species in the collection has a set of mechanical movements that bring the Lumbersaurs to life, back from extinction. Each dinosaur has it's own unique action, so that when the tail is raised or lowered the neck, mouth, or head also moves.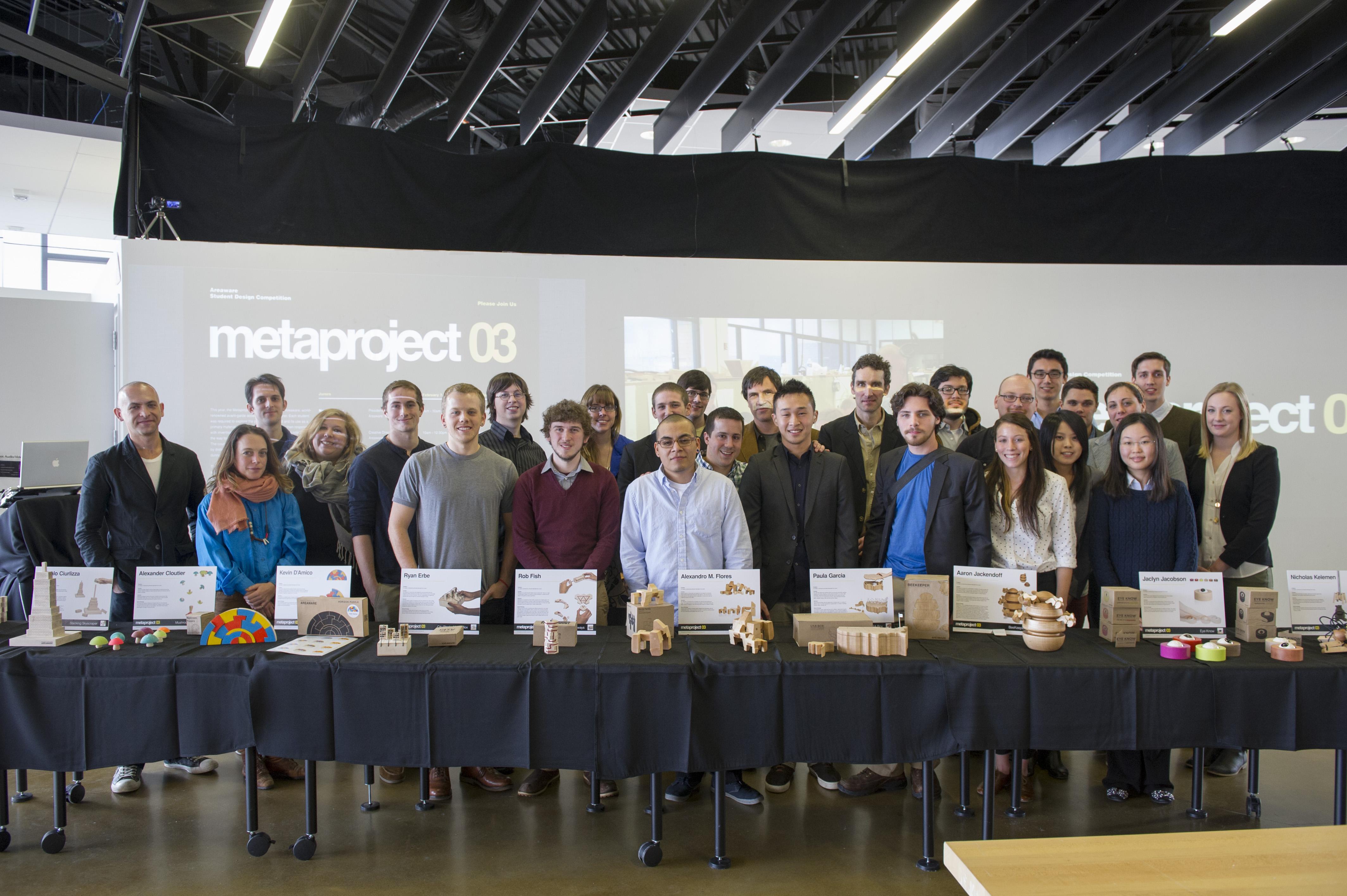 Juries with senior industrial design students at RIT (Noel Wiggins, Laura Young, Lydia Okrent, David Weeks)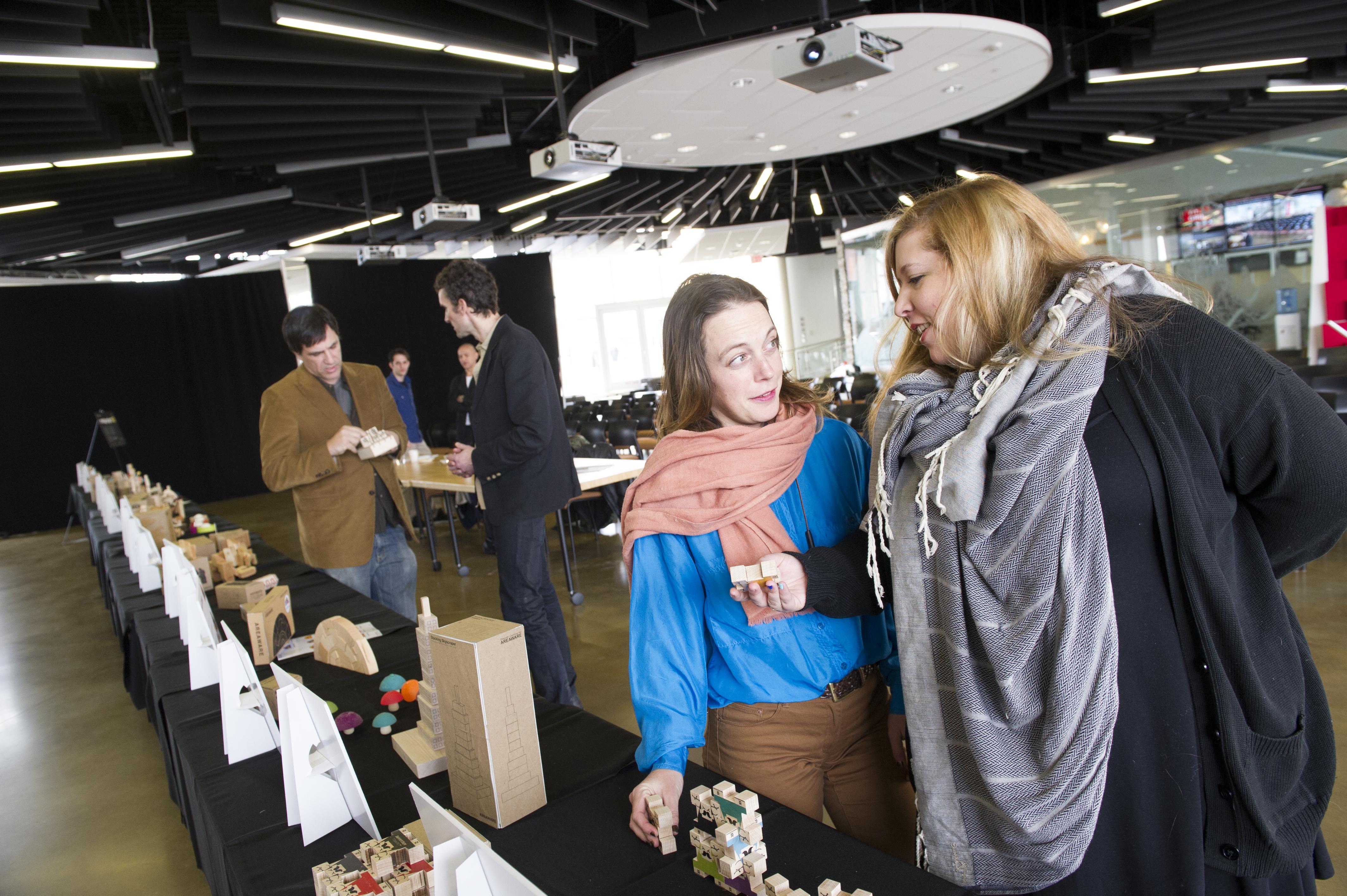 Juries at RIT (Noel Wiggins, Laura Young, Lydia Okrent, David Weeks)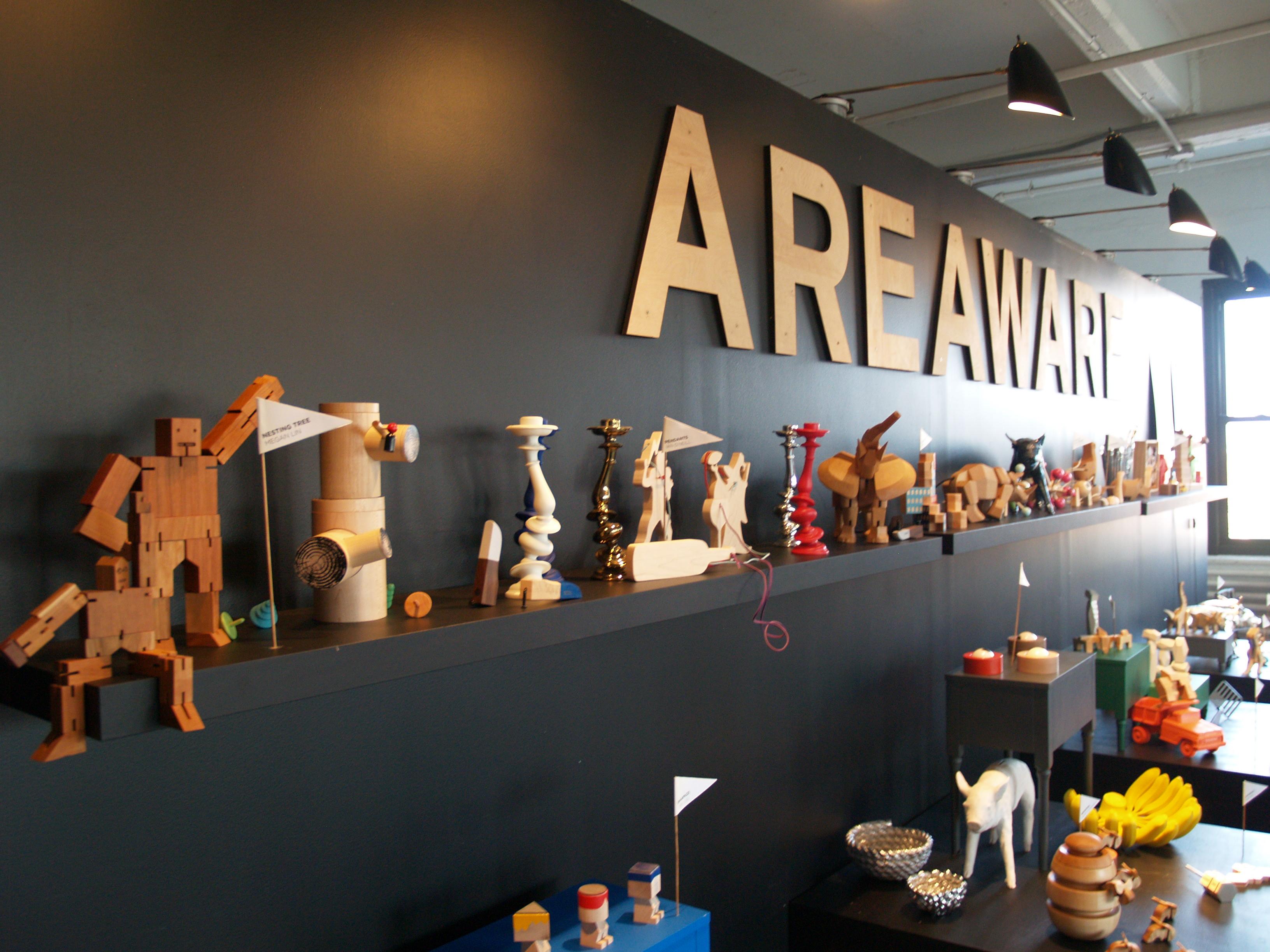 Party at the AREAWARE showroom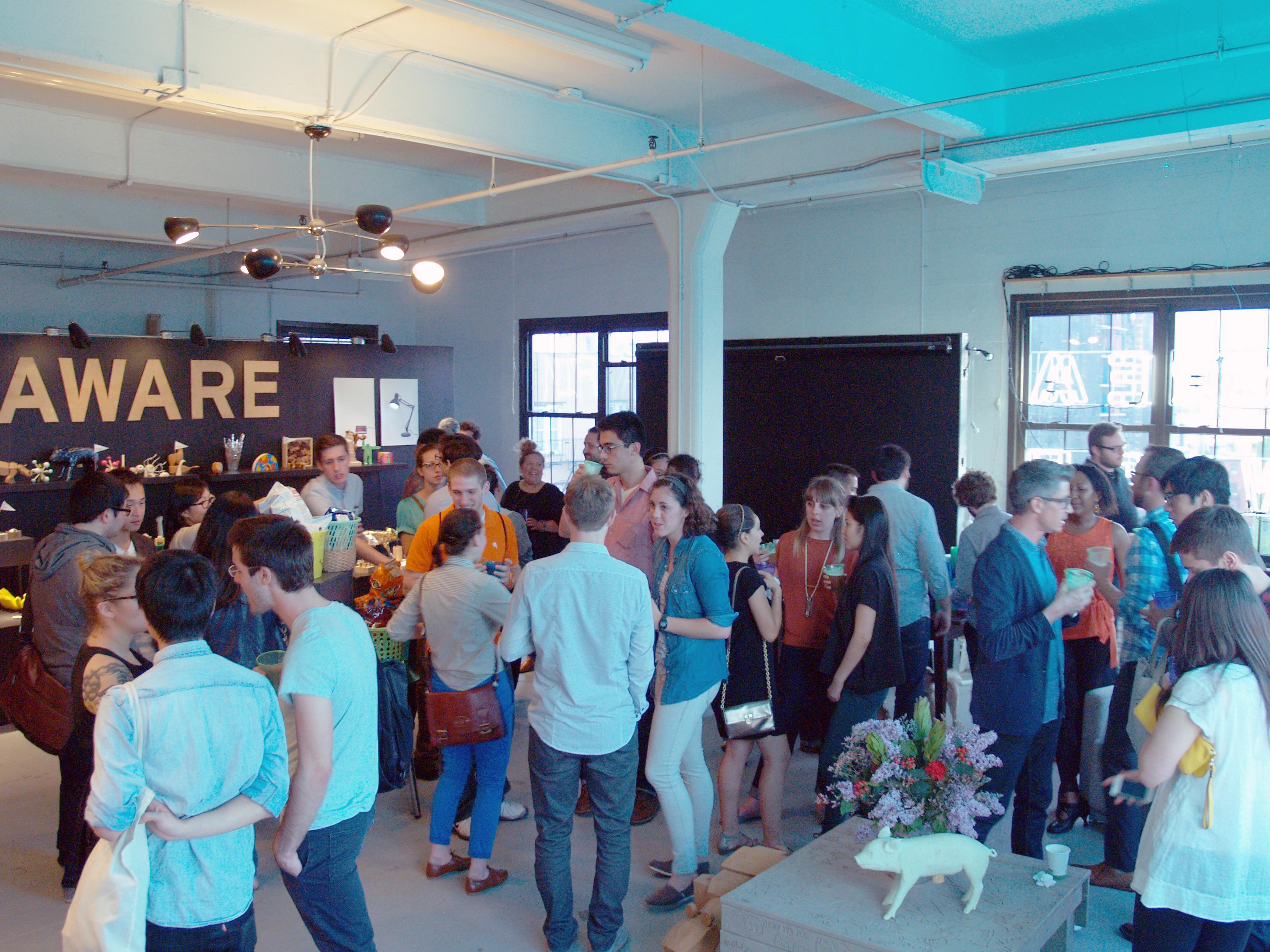 Party at the AREAWARE showroom
---