Active Trustees
Robert W. August
Managing Partner
Laser Wash Group LLC
Mark G. Barberio
Principal
Markapital, LLC
'85 BS Business Administration Accounting

Jeffrey Benck
President and CEO
Benchmark Electronics
'88 BS Mechanical Engineering
Brooks H. Bower
Chairman and Chief Executive Officer
Papercone Corp. East
'74 BS Graphic Arts and Photography

Andrew N. Brenneman
Senior Client Director – T-Mobile USA
T-Mobile
'86 AS Applied Accounting, '88 BS Business Admin. Management
David J. Burns
Principal and Founder
Global Business Advisory Services LLC
Carol B. Cala
Retired Vice President of Corporate Environment, Safety & Health
Lockheed Martin Corporation
'97 BS Chemistry, '00 MS Professional Studies
Dale J. Davis, Esq.
Chief Patent Counsel
Cummins INC
'96 BS Mechanical Engineering

Richard "Chip" Davis, Ph.D.
Chief Executive Officer
Rochester Regional Health
Victoria Decker
Vice President, Operations and Strategic Growth
PMSI
'93 BS Food Marketing & Distribution
Women's Council Representative

Hyacinth V. Drummond
Founder
Dreamseeds Children's Program
'91 BS Business Administration Marketing
Arthur A. Gosnell
Chairman and CEO
Stonehurst Capital LLC
Jeffrey K. Harris
Retired Corporate Vice President
Lockheed Martin
Board of Trustees Chair
'75 BS Photographic Science and Instrumentation

Darshan N. Hiranandani
Managing Director
Hiranandani Group of Companies
'02 BS Management Information Systems, '03 MBA
Susan R. Holliday
Retired President and Publisher
Rochester Business Journal
Vice Chair
'85 MBA

Andrew R. Jacobson
Enrolled Agent
AJ Tiger Tax Services
'90 BS Hotel and Resort Management, '96 MS Service Leadership and Innovation
Rick A. Kittles, Ph.D.
Senior Vice President for Research
Morehouse School of Medicine
'89 BS Biology
Christopher W. Lehfeldt, D.D.S.
Dentist
Elmwood Dental Group, PC

Pamela Lloyd-Ogoke
Chief of Community Integration Services and Supports
North Carolina Division of Vocational Rehabilitation Services
'81 BS Liberal Arts
NTID NAG Representative

Britta I. MacIntosh
Senior Vice President of Western Region & London Operations
Ameresco
'89 BS Engineering
Austin W. McChord
CEO
Casana Care, Inc.
'09 BS Applied Arts and Sciences
Roosevelt Mercer, Jr.
Chief Executive Officer and Executive Director
Virginia Commercial Space Flight Authority
David C. Munson
President
Rochester Institute of Technology
Sharon D. Napier
Executive Chair and Founder
Partners + Napier
'04 MS Service Leadership and Innovation

Brian P. O'Shaughnessy, Esq.
Partner
Dinsmore & Shohl LLP
'81 BS, '84 MS Chemistry

Gerard Q. Pierce
CEO
HR Works Inc.
'77 MBA
Susan M. Puglia
Retired Vice President, Global Technical Leadership, Sales and Distribution
IBM Corporation
Vice Chair
Ronald S. Ricotta
CEO and Co-Owner
Century Mold Co., Inc.
'79 BA Business Admin. Accounting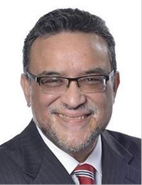 Efrain Rivera
Senior Advisor to CEO
Paychex, Inc.

Jorge M. Rodriguez
Chief Executive Officer
Sorenson Communications
'15 Executive MBA

Nicholas M. Schneider, Ph.D.
Partner
Boston Consulting Group
RIT Alumni Association President
'10 BS, '10 MS Mechanical Engineering

Frank S. Sklarsky
Retired Executive Vice President and Chief Financial Officer
PPG Industries, Inc.
'78 BS Business Administration Accounting
Kevin J. Surace
Chairman and CTO
Appvance
'85 BT Electrical Engineering Technology

James P. Swift
CEO
Buxton
'88 BS Engineering
Donald J. Truesdale
Chief Executive Officer
Ardea Partners
'87 BS Business Administration Finance
Chair Emeritus

Clayton P. Turner
Director
NASA Langley Research Center
'90 BS Engineering

Kim E. VanGelder
Chief Information Officer and Senior Vice President
Eastman Kodak Company
'86 BS Mathematics

Chester N. Watson
Retired General Auditor
General Motors Corporation
'74 BS Business Administration

Dinah G. Weisberg
President & CEO
REDCOM Laboratories, Inc.
'97 MS Software Development & Management, '03 EMBA
Christine B. Whitman
Chairman and CEO
Complemar Partners, Inc
Chair Emeritus

Kathy M. Yu
Retired Director/Advisor
Microsoft, Intel
'91 BS Liberal Arts
Ronald L. Zarrella
Chairman Emeritus
Bausch & Lomb, Inc.