United Way Impact Story
Kenyatta DaCosta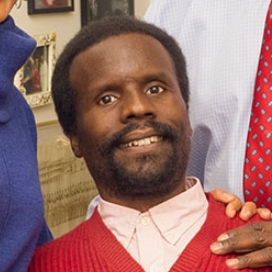 He calls me his 'new mom' and I call him my 'new son,'" said Chapman DaCosta. "All of us have special roles in life, and Kenyatta has not forgotten that for a minute.
A car accident transformed Kenyatta DaCosta's life at age 26 when he became a quadriplegic. Nearly 15 years later, he lives independently in his Corn Hill apartment.
A graduate of Brighton High School and Connecticut College, where he majored in mathematics, he now practices healthy living, is trained in meditation, engages in political rhetoric, and firmly believes, "Life is better in a chair."
Optimism comes naturally to Kenyatta, said Tina Chapman DaCosta, Diversity Theatre Program Developer at RIT. "Post accident, Kenyatta is more aware of his gifts. I've been part of the family since 2007, and after marrying his father, José, I have seen him contemplative, but never sad, upset or angry. He has a very big heart."
The Center for Disability Rights, a United Way-supported agency, provides home health aides and visiting nurses. With their support, Kenyatta participates in open mic "sit-down" comedy routines, author readings at Writers & Books, protests in Albany for disability rights, and membership in Toastmasters International.