United Way Impact Story
Arya Gates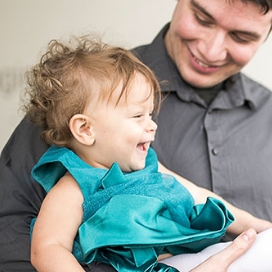 It's difficult for a college dad who is working reduced hours and going to school full time to help make ends meet," said Gates, who completed his first year in the criminal justice program. "To get some of that burden lifted by Margaret's House has pushed us to achieve even more in our lives.
Arya Gates is a happy toddler who attends daycare at Margaret's House and for her parents, Amberlee Jones and Jordan Gates, the United Way-supported on-campus childcare facility has been one more reason why they enjoy being part of the RIT community.
Natives of Manchester, N.H., Jones '12 came to RIT to earn a degree in American Sign Language and Interpreting Education and Gates followed soon after. "I cannot express the terror that goes through your mind when you are 22, unwed, pregnant, and looking back at paying $40,000 in school loans," said Jones. "I thought I was ruining the love of my life's future and he wouldn't be able to finish his education."
Although Jones was recently hired as an interpreter at RIT's Department of Access Services, the cost of daycare for Arya—who was born June 4, 2013—seemed prohibitive until the couple received financial help from Margaret's House.
Jones agrees: "Our daughter has blossomed under their loving care and hands-on learning, Jordan has a 4.0 GPA, and I have my dream job. RIT is a community that cares."