Imagine RIT festival proves the future is bright
Interactive exhibits draw thousands to RIT's annual creativity and innovation festival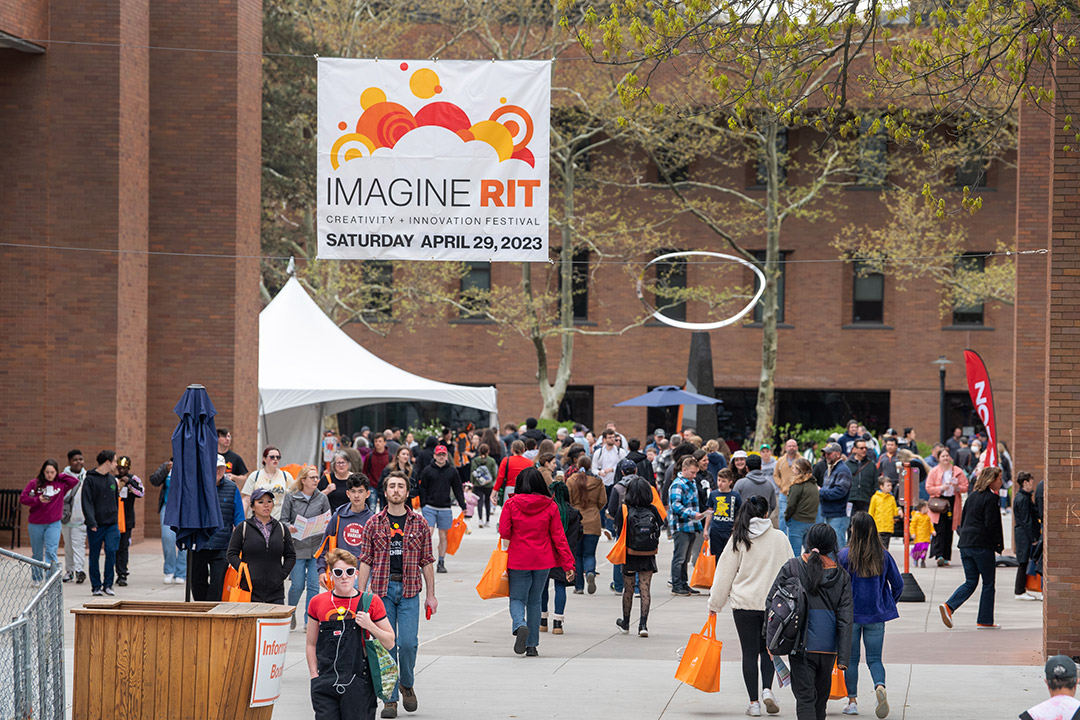 Thousands of visitors at the 2023 Imagine RIT: Creativity and Innovation Festival got to see what's on the horizon in the areas of technology, the arts, and design.
Futurists Symposium
The Futurists Symposium featured four of RIT's most prolific alumni, who talked about the future of their industries.
Festivalgoers traversed Rochester Institute of Technology's campus on Saturday, exploring more than 350 exhibits, ranging from an autonomous food delivery robot to 6-foot-tall tapestries being created using a mix of hand-weaving and digitization.
Since 2008, RIT has welcomed visitors one day each spring to get a glimpse of the ingenuity and creativity that the RIT community experiences every day.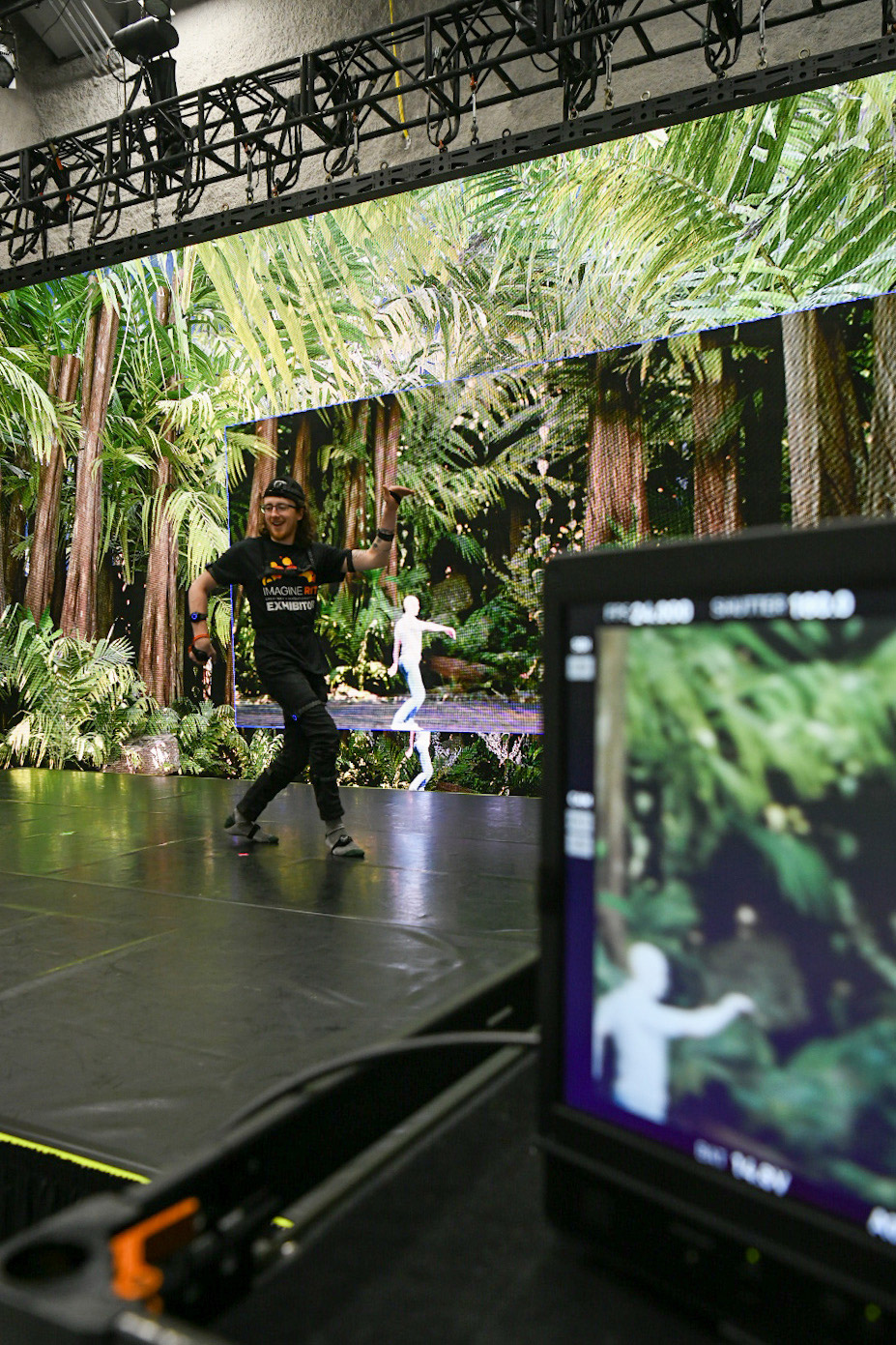 Elizabeth Lamark
"Imagine RIT opens up many opportunities for our students by allowing them to showcase their projects, which are often innovative solutions to problems facing today's industries and societies," said Ann Ielapi, director of Imagine RIT and Special Events. "In fact, a lot of entrepreneurial and career paths stem from ideas that are unveiled right here at the festival."
Across campus, more than 2,000 RIT students, faculty, and staff were exhibiting their projects—some made just for fun and others created for research, clubs, or classes.
Alex Trostle, a fifth-year electrical engineering student and team manager of the Electric Vehicle Team, couldn't wait to tell people about the 24-hour endurance race coming up for the electric dirt bike that his group is creating.
"It's cool to exhibit this because people already know a little about EVs, but we get to tell them about the challenges with creating these, so they have a better idea of what's actually under the hood," said Trostle. "I'm glad I got to work on this while going to school here, because it's a great experience to have when every car company is converting to electric."
Carlos Ortiz
Bernadette Adams and her 15-year-old grandson, Ace Dejesus, enjoyed learning about the electric dirt bike that can go 130 mph. Their family has made coming to the festival an annual tradition. 
"I like hearing how they come up with the futuristic components and the whole creation process behind it," said Dejesus, who came from Batavia, N.Y. "I think I want to invent and put together vehicles and robotics like this someday."
For the first time ever at Imagine RIT, a fully automated time-lapse imaging system captured footage throughout the daylong festival. Seniors in the photographic sciences program—one of RIT's new economy majors—designed, built, and programmed the system as part of their capstone project. A time-lapse video is made up of a series of photos that are taken several seconds or minutes apart over a longer period of time.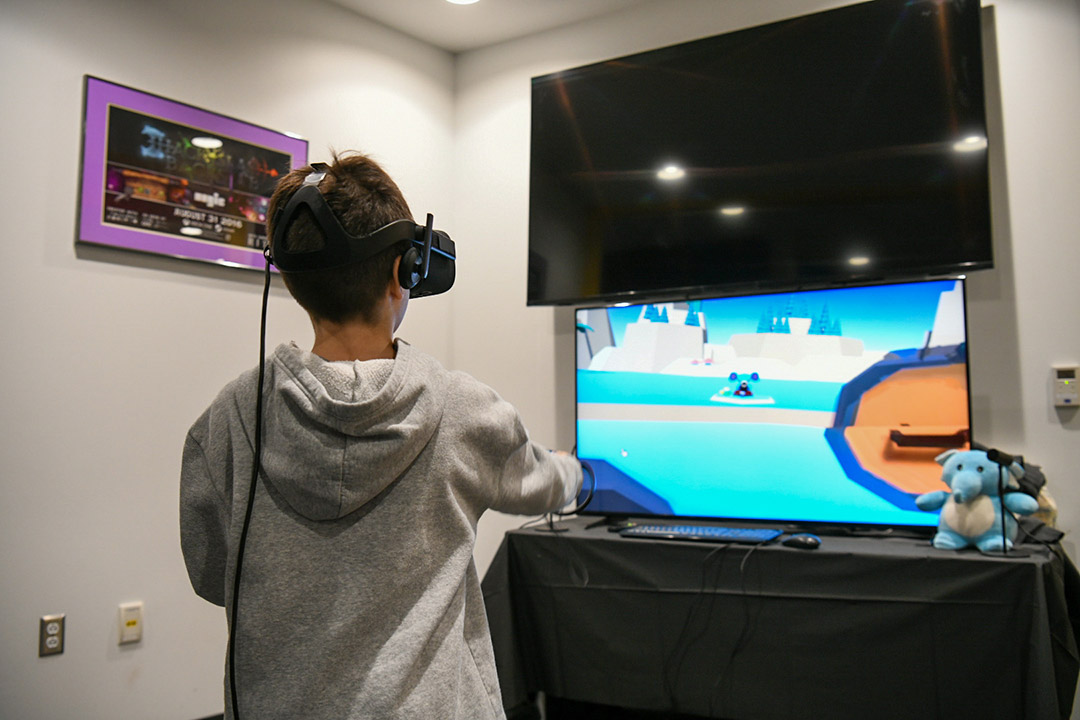 Elizabeth Lamark
"We were requested to create a durable, portable, and professional looking final product that could last up to 12 hours and stream footage back in real time," said Anna Yingst, a fourth-year photo sciences student. "I was on the hardware team and was involved in designing and building the housing; choosing the camera, lens, and other equipment; and helping integrate all the hardware and software components."
The system was staged on the second floor of Gordon Field House, where students answered questions from curious attendees while classmates back at the lab in Gannett Hall exhibited a "dummy" system so Imagine attendees could get a closer look without disrupting its image capture.
Both locations featured QR codes that took visitors to the website where festival attendees could view the system's progress. Yingst hopes the system's Imagine debut is just its beginning.
"Hopefully it will be used many times again in the future," said Yingst.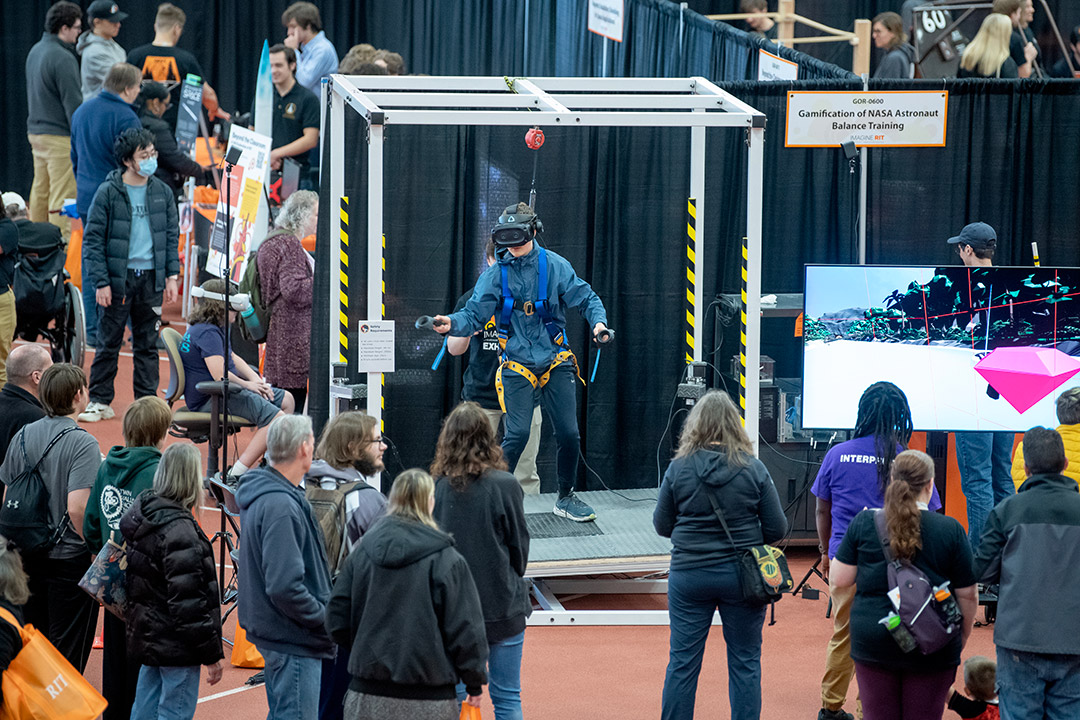 Carlos Ortiz
This year's festival also had a strong international presence, thanks in part to a dozen exhibitors who came from RIT's global campuses—RIT Croatia, RIT Dubai, and RIT Kosovo.
A number of models on display in the Golisano Institute for Sustainability featured designs of sustainable "cities of the future." Another exhibit highlighted a creative and robust exploration of how sustainable architecture will influence how future buildings and communities can and will shape the way people live, work, and play.
"The concept of sustainability now permeates every aspect of life on Earth," said Amit Batabyal, the Arthur J. Gosnell Professor of Economics in the College of Liberal Arts and interim head of the Department of Sustainability. "This is borne out by the range of the sustainability-related exhibits on display at Imagine RIT today. Whether one talks about water filtration, renewable energy, or cities of the future, there is an exhibit that discusses how some aspect of life is better understood when viewed through the lens of sustainability."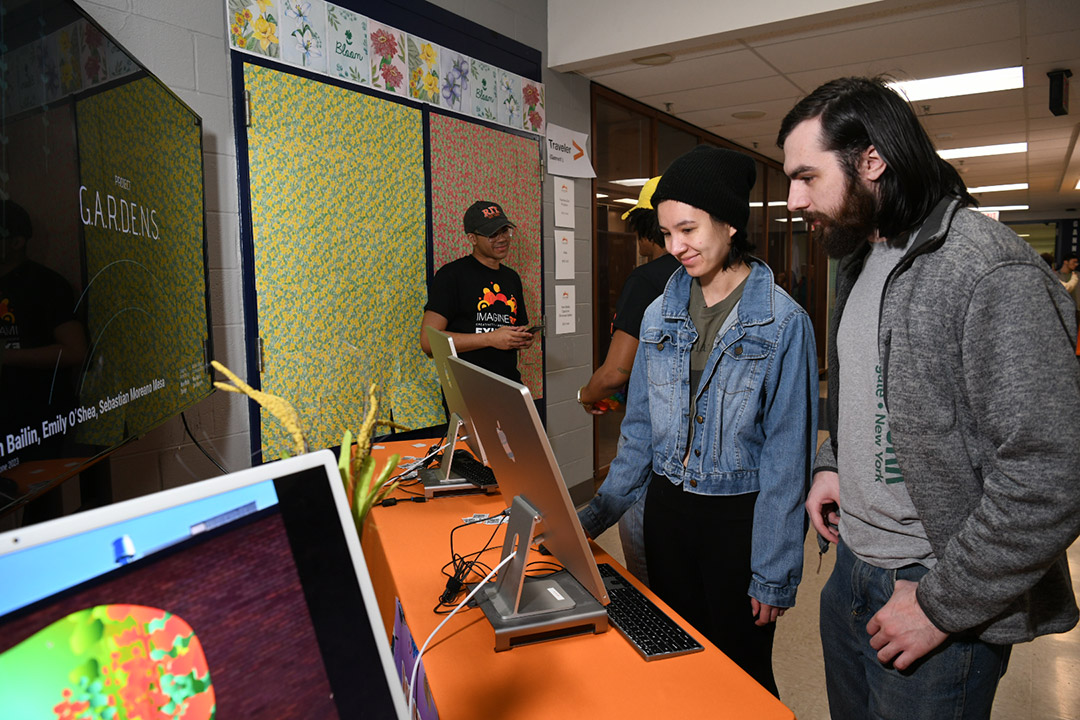 Elizabeth Lamark
Throughout the day, visitors were treated to a variety of live performances, including stories told through American Sign Language and light-up dances from the Asian Culture Dance Crew.
RIT researchers also demonstrated their digital therapy tools used to advance behavioral and mental health treatment. The exhibit, "Beyond Telehealth: DTx Digital Treatment and Exploration for Mental Health," showcased projects from RIT behavioral health Professor Caroline Easton's research team and the Priority Behavioral Health Clinic and Clinical Psychology Internship program. The multi-layered exhibit featured the avatar health coach "RITch," a digital health coach programmed with psychological content to help people struggling with substance-use disorders to build coping skills to improve negative mood and conflict resolution. A multidisciplinary collaboration during the last decade created RITch from content to code.
Festivalgoers also interacted with the comfort robot "Zenbo." RIT psychologists designed Zenbo's conversation, text, and other content in collaboration with Linwei Wang, professor of computing and information sciences, and Zhi "Jenny" Zheng, assistant professor in the Kate Gleason College of Engineering, who provided the coding and programming.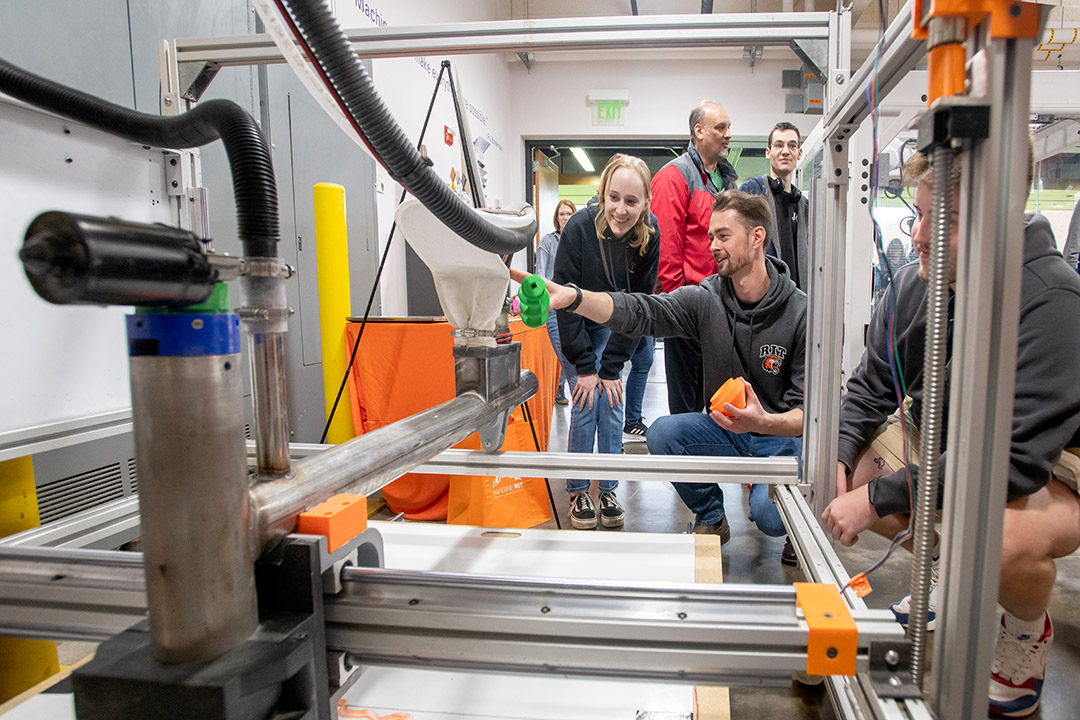 Carlos Ortiz
Emily Hirsch, 14, from Gates Chili High School, learned about the little robot with the emotive face and took the survey it prompted. "I liked how it follows you around," she said.
Exhibits across campus representing the College of Science showcased curiosity from imaging science to biology. Students from the Chester F. Carlson Center for Imaging Science demonstrated an imaging system used to capture and display three-dimensional representations of insects native to Madagascar, and PiRIT, the School of Mathematical Sciences math club, challenged attendees with two- and three-dimensional puzzles.
Attendees also learned about plastic pollution in the Great Lakes and RIT researchers who are trying to understand the types of plastic pollution in the environment, how it moves through Lake Ontario, and how to get involved in local cleanup efforts. Future-forward students in the RIT's Space Exploration club (SPEX) shared their research on growing algae in a low-gravity environment in space for food and as a biofuel.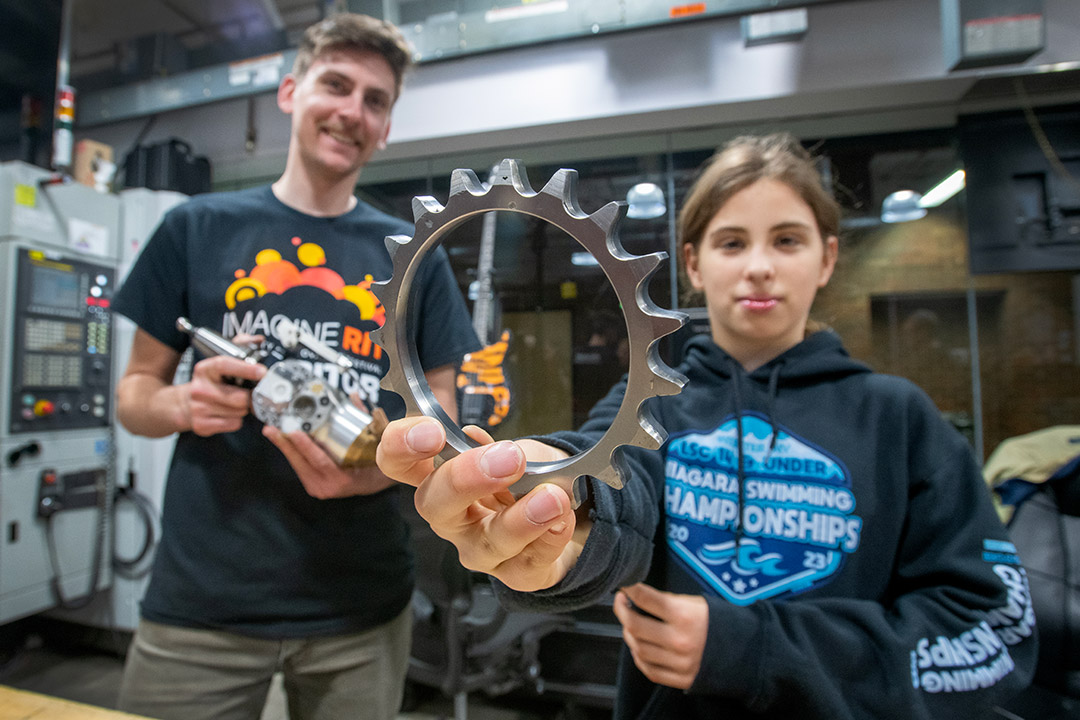 Carlos Ortiz
Mark Miango, a third-year new media design student, stopped by the festival to get inspiration for his capstone project next year. As he tried out a 2D Japanese-style role playing game called Sleepwalker, he chatted with the game creators Vivian Chung, a third-year animation major, and Caleb Uk Jeon, a third-year game design and development major.
"I'll be presenting my final project at Imagine RIT next year, so I was excited to see what level of work I'll be expected to create," said Miango.
The festival's premier sponsors this year were Rochester Regional Health and Liberty Mutual Insurance. The next Imagine RIT is scheduled for April 27, 2024.
Includes reporting by Michelle Cometa, Susan Gawlowicz, Rich Kiley, Greg Livadas, and Felicia Swartzenberg.