After learning medical photography at RIT, alumna builds on unforgettable experience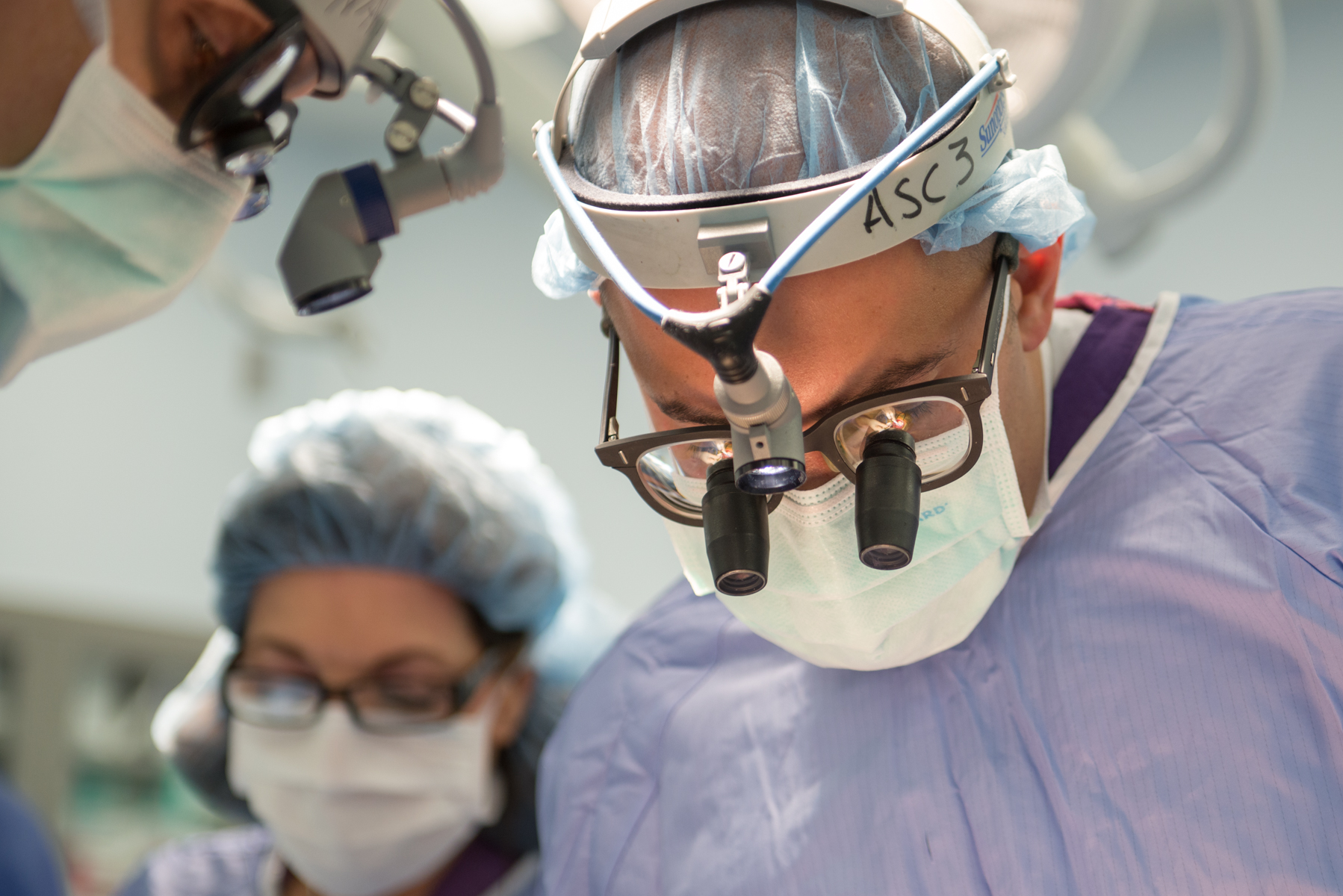 Lynne Tseng
Lynne Tseng slips into a set of scrubs before taking her place in the operating room. She's ready for work.
Only she's not a surgeon, or a nurse, or a surgical technician. She grips not a scalpel, but a camera.
Among many things for Rochester Regional Health (RRH), Tseng is a medical photographer, documenting surgical procedures for educational and editorial purposes. Such work is commonly found in medical journals, magazines, textbooks and related publications.
Clinical photography is a skill Tseng developed en route to graduating from RIT's truly unique photographic sciences program in 2011. Specifically, the Surgical Photography course at RIT sparked Tseng's interest, and revealed her talent, in the field. The unrivaled elective allows students to step into operating rooms at course partner Rochester General Hospital (RGH) — in RRH's network — and photograph real-life surgeries and the personnel that performs them.
"It's definitely an opportunity you'll never forget," said Tseng, also a student in RIT's media arts and technology (MS) program.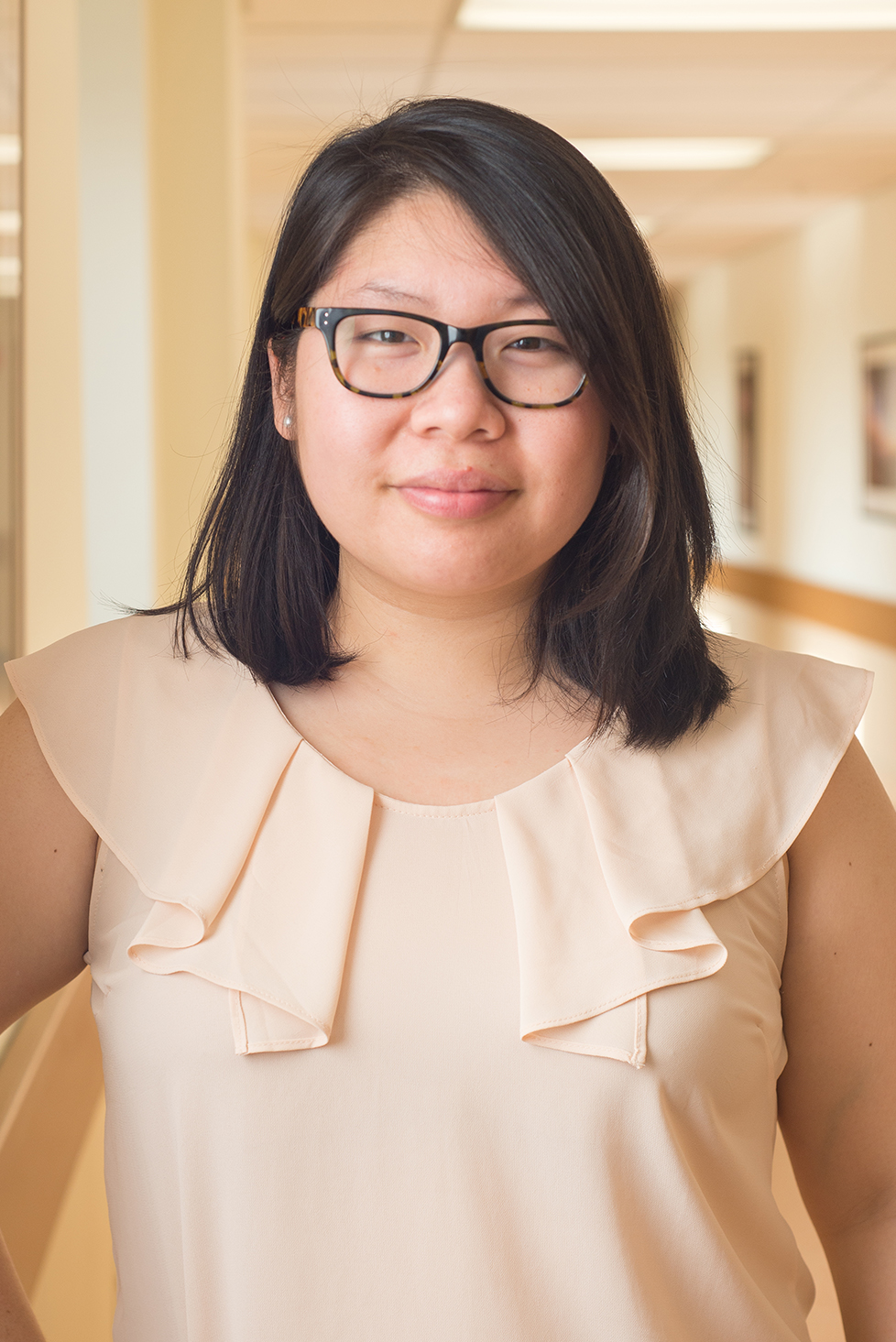 Tseng and 111 fellow graduates of the course can reflect on their exceptionally rare experience with the upcoming "Controlled Trauma" exhibit at Gallery r. The show is a survey of photographs — in print and digital slideshow forms — taken by the 112 students who have gone through the class since its 2009 implementation. Peres sifted through a sprawling collection of close to 90,000 images snapped in the class' history to choose the 1,400 that will be featured.
The exhibit is scheduled to run from March 2-25. A free, public opening reception is slated for 6-9 p.m. Friday, March 2, in the gallery.
"There will be a lot of energy," said 'Controlled Trauma' lead organizer Michael Peres, School of Photographic Arts and Sciences associate administrative chair. "Surgery is a very dynamic place. So we wanted the exhibition to have that pace and chaos, but controlled management of chaos."
A class like no other
The course is the brainchild of Dr. Ralph Pennino, an RRH surgeon who collaborated with Peres to launch it. They have taught the class together, educating students on methods used in contemporary surgical photography and how to properly manage image files in accordance with Health Insurance Portability and Accountability Act (HIPAA) regulations.
Peres can say with a "high degree of certainty" that no other college photography class in the country exposes students to the level of training and operating-room access that Surgical Photography does. Further, he said RIT is the lone university in the U.S. to offer "biomedical photographic coursework."
It adds up to an exhibit that tells the visual story of a one-of-a-kind experience RIT offers its photography and science lovers.
"In some ways there is a personal transformation for every person who has taken the class because they have seen something nobody else has," Peres said. "They've had a window to see something super special."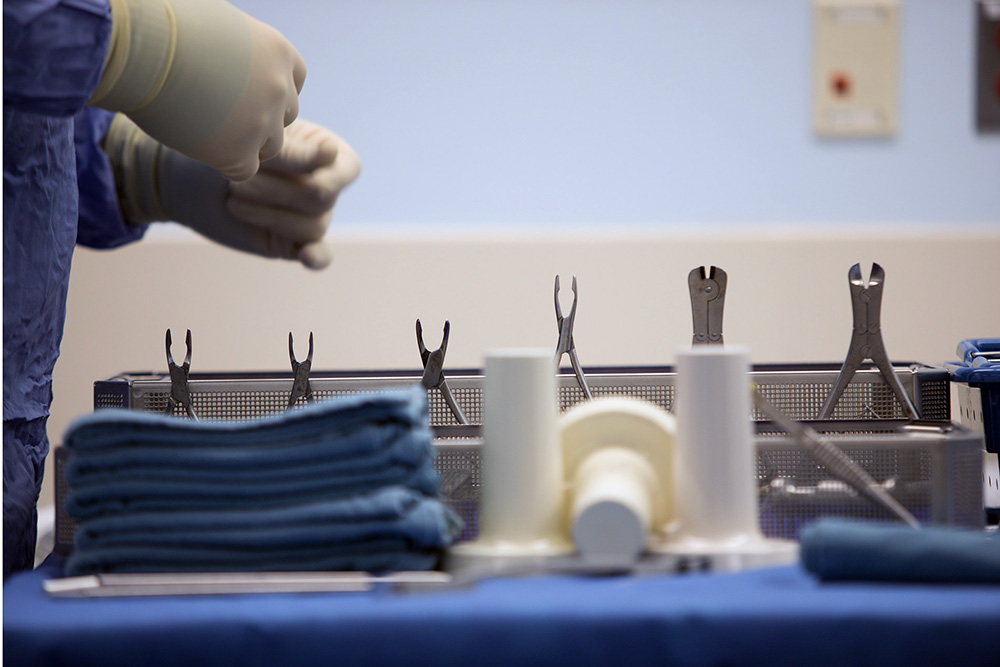 Combining a love for photography and science
Tseng has witnessed the class from multiple angles as she has co-taught it with Pennino and Peres the last few years.
"After taking this course, I thought, 'This is great. I would love to go into the OR almost every day to take photographs and contribute to education,'" Tseng said. "I didn't know it was a real job until I took that course."
Today, of course, Tseng knows full well it's a real job.
The New York City native excelled in Surgical Photography, before the eyes of Pennino, and was hired following graduation by RRH. She's operated a camera in many operating rooms over her six-plus years with the health system. However, she doesn't photograph surgeries nearly as much as she once did.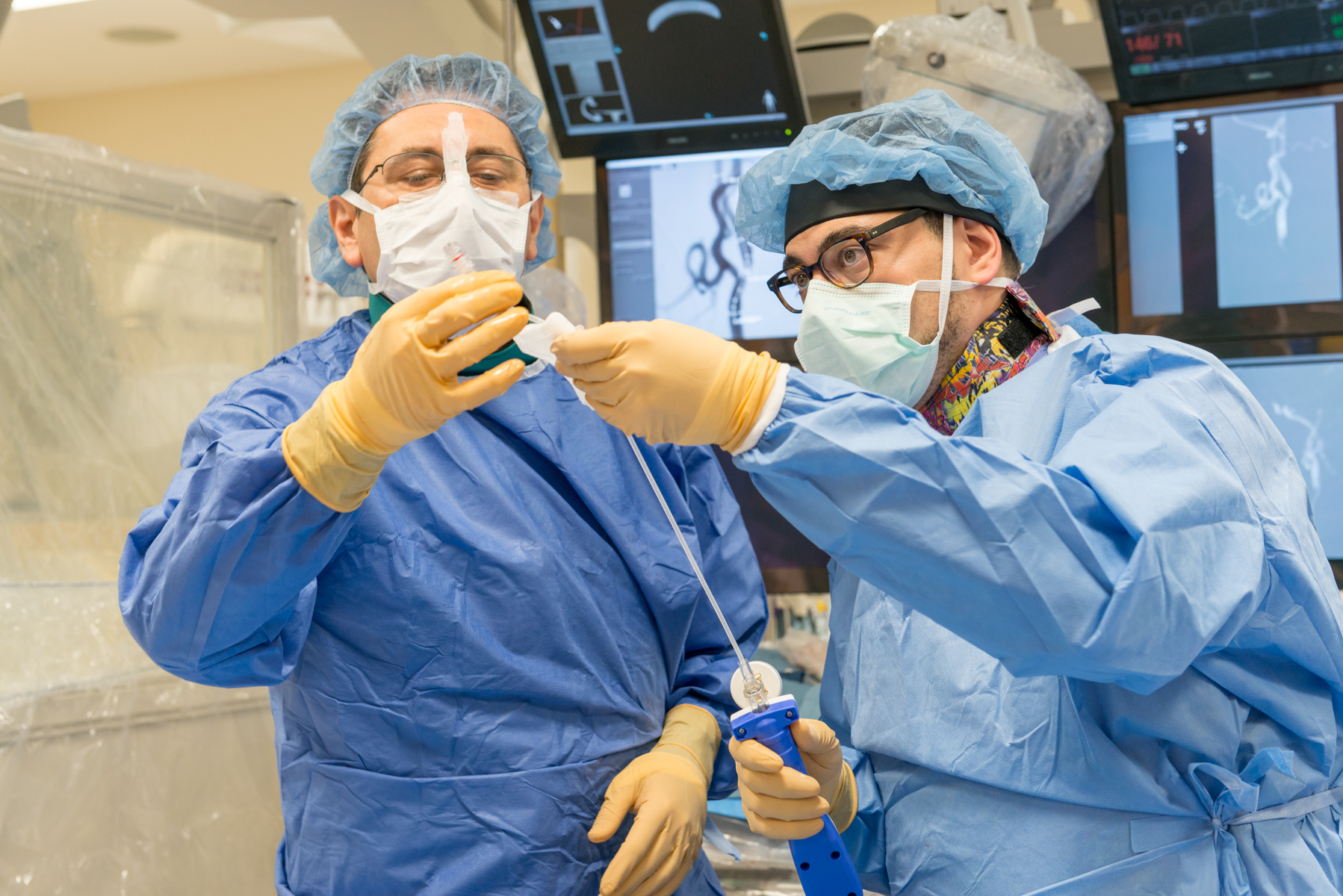 As a senior visual communications specialist in RRH's department of surgery, Tseng's diverse role calls her to several areas outside the OR. She contributes to marketing efforts by managing web content, doing graphic design work and studying technology trends aimed at improving the patient experience. But amidst the evolution of her responsibilities, the constant in her day-to-day is still fulfilling RRH's photography needs, even if it's not in a surgery setting.
Portraits. Live events. Studio and location shots. You name it, Tseng has done it. The varied nature of the job enables Tseng to routinely apply the myriad abilities she accrued at RIT.
"A majority of the skills I learned, I still use in everyday work," Tseng said. "Being in a well-rounded program has helped grow those skills, since it gives you a little bit of graphic design and photography. But it also teaches you technical skills and technical writing."
"It was a really awesome way to combine my love for photography as well as biology," Tseng added.
Tseng can look back on what helped shape the professional she is today when "Controlled Trauma" opens. The show is also a chance, Tseng said, to "inspire younger generations to get into these scientific, yet creative fields that some people don't even know about."
It's a chance to demonstrate the importance of a camera in the operating room. A chance to see something extraordinary.
"I've been working in the field for nearly 40 years and I don't know if I've ever seen — outside of a couple professional society displays — an art gallery displaying 1,400 surgical photographs," Peres said. "So we're kind of breaking new ground with that."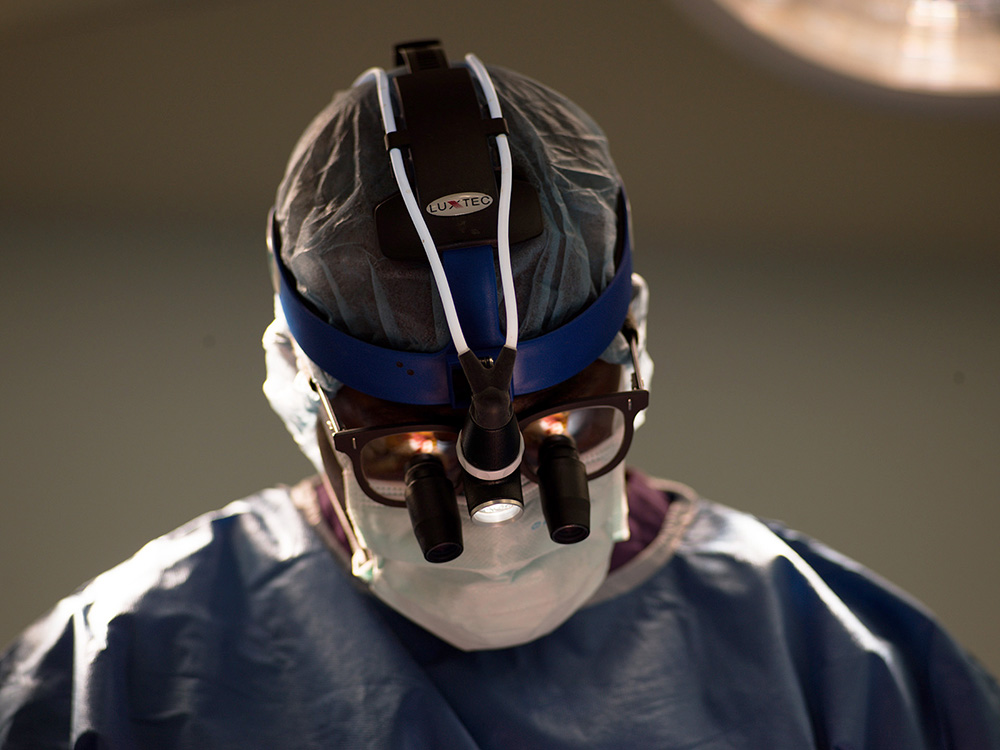 Topics