Air Force ROTC graduates honored at Military Ball
Air Force ROTC cadet Casey Bauman graduates with engineering degree and as commissioned officer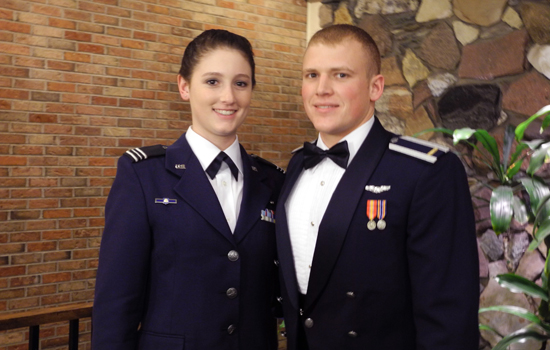 Michelle Cometa
Stealth bombers, the Fighting Falcon and Strike Eagle aircraft are all formidable planes. But if anyone can handle the demands of piloting one of these aircraft, it will be Casey Bauman.
The mechanical engineering student in RIT's Kate Gleason College of Engineering will graduate this May with a bachelor's degree and as a commissioned officer in the U.S. Air Force as she completes her ROTC program at the university.
Bauman was one of nine cadets recognized at the Air Force ROTC Military Ball on April 17 at the RIT Inn & Conference Center. She and her classmates will begin active duty at Air Force bases around the country, with Bauman starting flight training at Laughlin Air Force Base in Texas within the next year.
"I knew I wanted to be an engineer, and be in the military. I knew I liked planes and wanted to fly. RIT and ROTC all seemed like the best fit," said Bauman, who is originally from Edison, N.J. "And the military, a no nonsense, straight-forward environment, I knew it was for me. I don't know yet what type of pilot I will be but I'd prefer to be a bomber pilot or a test pilot."
Her determined focus extended beyond her Air Force ROTC training to the classroom where she majored in the aerospace engineering option in her undergraduate studies. She was recognized at the banquet as one of the detachment's top students in her academic program, and for her role as a cadet-training assistant with the group. She was also awarded the USAA Spirit Award, given to the cadet that best exemplifies the spirit of service to others as well as dedication and leadership.
"Henry Ford once said, 'Whether you think you can, or you think you can't—you're right.' The cadets of Detachment 538 not only think they can, but show the nation that they can succeed on all fronts. This year has been such an amazing year for our detachment and I am thankful that I have had the opportunity to lead cadets like Casey Bauman whose enthusiasm for the Air Force is infectious. The futures that these young men and women have before them is truly limitless," said Lt. Col. Ann Gallucci, the RIT detachment's first female commanding officer. She presided over the dinner and awards ceremony recognizing the group as "some special young Americans."
This year marked the Air Force ROTC group's 25th year at RIT. The Military Ball, an annual dinner and awards ceremony, included highlights from the detachment's activities over the past academic year and a keynote presentation by Brigadier General Edward Fienga, deputy assistant secretary for programs, Office of the Assistant Secretary of the Air Force, the Pentagon, overseeing operational and fiscal aspects of its Future Years Defense Plan. Fienga shared some of his own military experiences, including starting in the Air Force as a graduate of the Citadel and having participated in ROTC programs as well. He asked the cadets to serve proudly, master their profession and understand that being a "wingman" means being both a comrade and a mentor.
"We're here first and foremost to defend the country and the Constitution. Don't lose sight of that sobering fact. If you can master your job and the different assignments you will have during your career, you will be able to lead squadrons. And savor your experiences. The Air Force is a great place to fly," he said, and praised the preparation and commitment he observed while spending time with the RIT detachment. "Thank you for what you are going to do for our country."
The brigadier general began his career nearly 30 years ago at Laughlin Air Force Base where Bauman will be stationed. Prior to starting though, she will travel to Ireland for her wedding to Matthew Figliotti '13 (mechanical engineering) who also is an Air Force officer stationed at the base and in a flight training program.
The Air Force should make for an interesting life—and flight path—for the pair.
Note: The 2015 class of Air Force ROTC graduates are Bauman, Kyle Burden, Kyle Flynn, Ericka Larssen, John McCarthy, Stephen Mead, Jared Sangiorgi, Clayton Wilson and Alvin Yip.
The formal Air Force ROTC Commissioning Ceremony takes place at 5 p.m. on May 22 in RIT's Ingle Auditorium in the Student Alumni Union.
Topics