'All American Dad' closes out stellar career for RIT men's lacrosse team
Taylor Jensen balanced fatherhood, academics, and athletics while winning two national titles
Taylor Jensen '23 (marketing) earned a host of honors as a standout player on RIT men's lacrosse team over the past three seasons: First-team All-American; Liberty League Co-Defensive Player of the Year; Most Outstanding Player of the Liberty League Tournament; along with multiple Liberty League Player of the Week Awards.
This past Monday, the RIT Department of Intercollegiate Athletics named him a Senior Athlete of the Year at its annual Athletic Awards Celebration inside Gordon Field House.
All while the long-stick midfielder from New Westminster, B.C., was a two-time national champion in 2022 and 2021.
But if you were to ask him what brings him his most pride and joy? Fatherhood.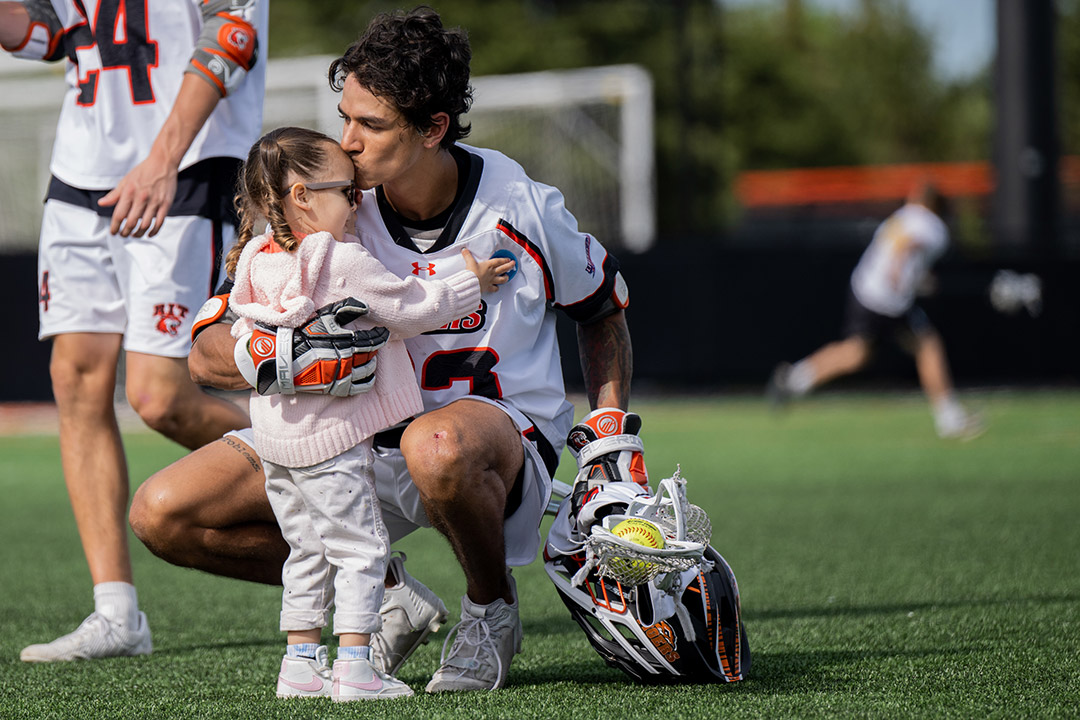 Caroline Sherman
"It's blissful," said the father of 2-year-old Aisling (pronounced Ashlyn). His post-game tradition after Tiger home games was to seek out his daughter and hold her before starting a game of chase. His wife, Shannon, and daughter regularly attended home games to cheer on the "All American Dad" this season.
The touching familial scene was a long way from his arrival on campus after playing two years at Nassau Community College (NCC) on Long Island.
"I came here near the start of the pandemic," Jensen recalled. "We practiced for a bit, masked up in small groups, before the season was cancelled."
Yet the time away from lacrosse and the ability to take his courses at Saunders College of Business online gave Jensen the opportunity to bond with his newborn daughter and spend more time with Shannon, whom he met at NCC.
The following season, the vaccine rollout enabled life to return closer to normal. Jensen and the Tigers culminated a memorable season by beating favored Salisbury State, 15-14, in a double overtime thriller to clinch the university's first-ever national title in lacrosse.
"That was amazing … one of the best years of my life," Jensen recalled. "Winning it all and I got to see my daughter at the beginning of her life, experience all of her changes, and spend time with her. I also had a bunch of stress off of me from school because I could take my classes online and it made things more manageable."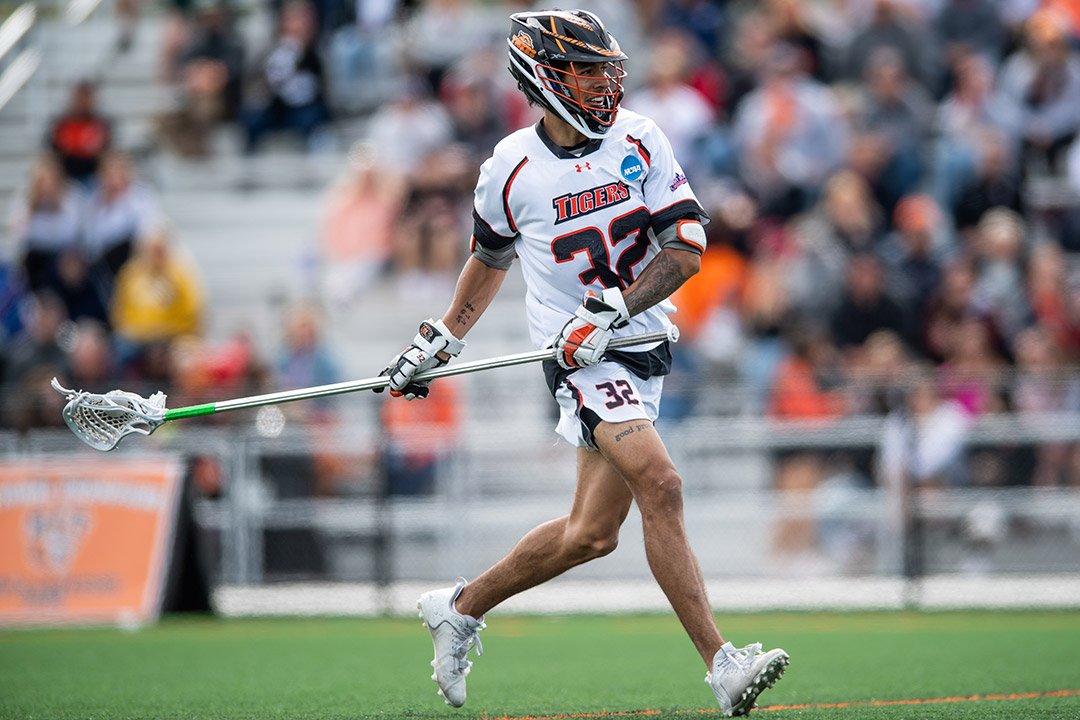 Caroline Sherman
While expectations for the Tigers were higher entering the championship game against Union College last year, Jensen said he and his teammates took nothing for granted. RIT rallied from an early 7-2 deficit for a hard-fought 12-10 win to repeat as champions—something only six lacrosse programs have ever done, according to Head Coach Jake Coon.
"I knew we were a great team, but every team is playing for the same thing so you can't expect to win," Jensen said. "We didn't panic."
Jensen said he and his teammates became particularly close during his time at RIT, especially with the birth of his daughter, his marriage to Shannon earlier this year, playing through a pandemic, and back-to-back championships.
"Ever since I've arrived at RIT, the guys have been like family," said Jensen, noting it wasn't uncommon for teammates to babysit on occasion when needed. "When my daughter was born, I told my teammates over social media and they all chipped in and bought us a whole bunch of baby stuff like a rocker, toys, and clothes."
That camaraderie helped him balance fatherhood, academics, and lacrosse while at RIT. He credited his professors at Saunders College—and his coaches—for working with him as a student athlete.
"Taylor has been an absolute pleasure to have around since he arrived," Coon said. "He is the complete package with an incredible work ethic, great skill set, and most importantly is a great teammate and has a humble and respected personality."
"I give him a ton of credit for continuing to play the sport he loves while starting a family and at the same time committed himself to finishing school," Coon added. "That right there says a lot about him. He will leave our program as one of the best LSMs (long-stick midfielders) in a long list of great ones."
Jensen currently is working toward his Green Card and possibly will follow his brother, Josh Byrne of the Buffalo Bandits, into professional lacrosse. He'd also like to coach lacrosse locally.
And while he won't get a chance for a three-peat lacrosse championship this weekend, Jensen appreciates all that he achieved at RIT.
"It's taken a lot to balance, but I got a lot of help from my teachers as well as Coach Coon and Coach (Shawn) Wilkins," he said. "And everyone on the team has always had my back, like I've had theirs. It's just fostered such love and appreciation in our community."
Topics