Alumna creates feminist art and clothing line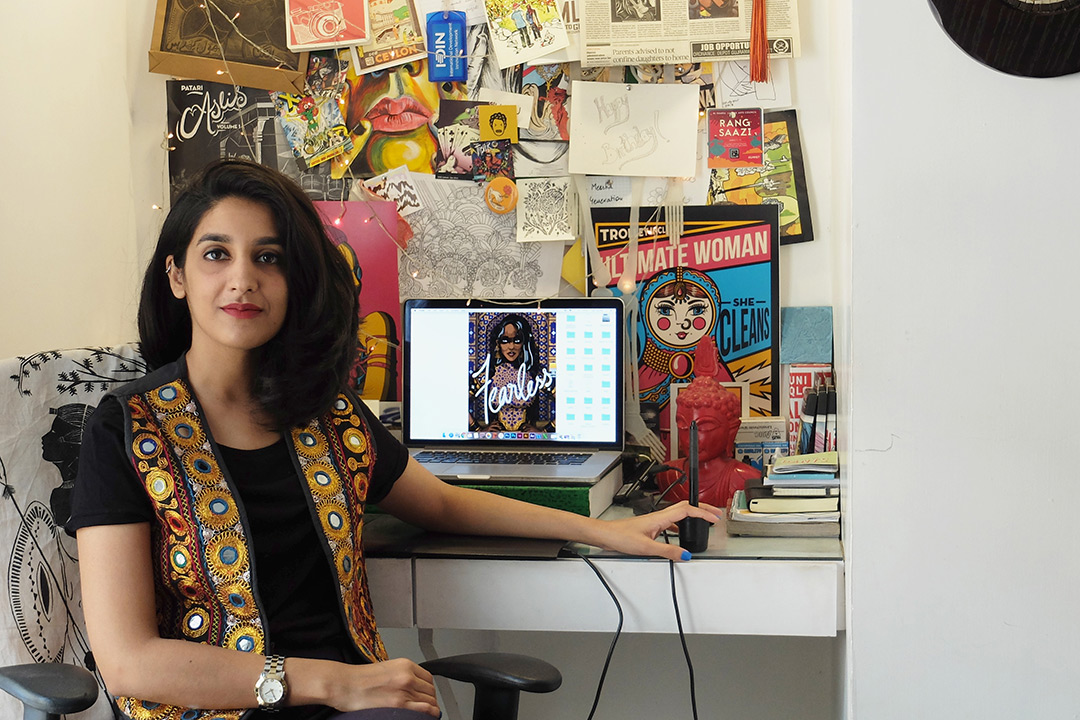 Natasha Zubair
Shehzil Malik '14 (visual communication design) is a designer who has extensive experience as an advocate for social change. She believes in gender equality with every fiber of her being and hopes her work can help women around the world realize the power they have as individuals.
From Lahore, Pakistan, Malik creates art based on her life experiences. Working primarily with digital art, her work covers feminism, colorism and other issues that are important to her.
After graduating from RIT, Malik returned home to work as art director at Ogilvy & Mather's Lahore office. She then taught at Beaconhouse National University in Lahore before making the decision to become a self-employed designer and illustrator.
Currently, she is affiliated with Behbud, a 50-year-old nonprofit organization that uplifts women economically in Pakistan. She wants to reach out to less economically privileged regions so they can enjoy and feel represented in art.
"I want art to be accessible. I want art, beauty and color to be a part of all our lives," Malik said. "It's also a personal challenge for me to step outside of my comfort zone and to tell the stories of women with a background different from my own."
Making art more visible is a passion of Malik's. She's happy that her artwork has increased visibility by gaining traction on social media, specifically "Noor Jehan" and her "Brown is Beautiful" series, but she is still a little unsure of how to handle her internet fame.
"I think art plays its part in spreading a message of change," she said. "It continues to blow my mind that the lives of women, their struggles, their achievements and their stories have to be put into a separate category. We are half of the human race. We need girls to realize that they deserve the same right to happiness and freedom, and we need stories that makes this a commonplace part of every culture."
One way Malik has increased the visibility of her art is through her clothing line. Making clothes with her artwork printed on them allows a person to become a living canvas. The original collection sold out quickly.
"I realized the power of clothing to transform a person into a walking message that can trigger conversations. It's amazing to see the art in public spaces and not simply as an image online or inside houses and gallery spaces," said Malik.
Looking back, she is thankful for the guidance of Chris Jackson, associate dean for the College of Imaging Arts and Sciences, and Adam Smith, associate professor and program chair of new media design. They helped enhance her perspectives of design, she said.
For blossoming artists who are unsure whether they have the authority to create powerful, disruptive works of art, Malik provides some comfort.
"If you think you don't have the experience or don't know what you're doing, that's normal and true for all of us," said Malik. "We are all learning by doing, and that's what makes life interesting."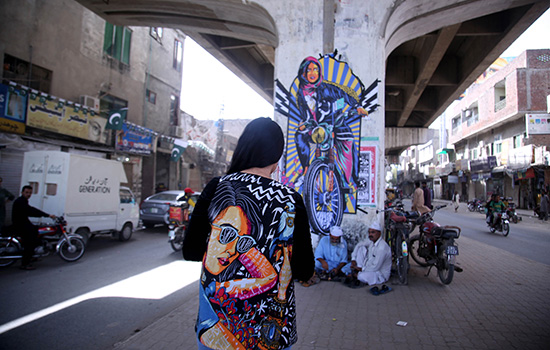 Natasha Zubair