Alumna lives out her fantasy as illustrator and author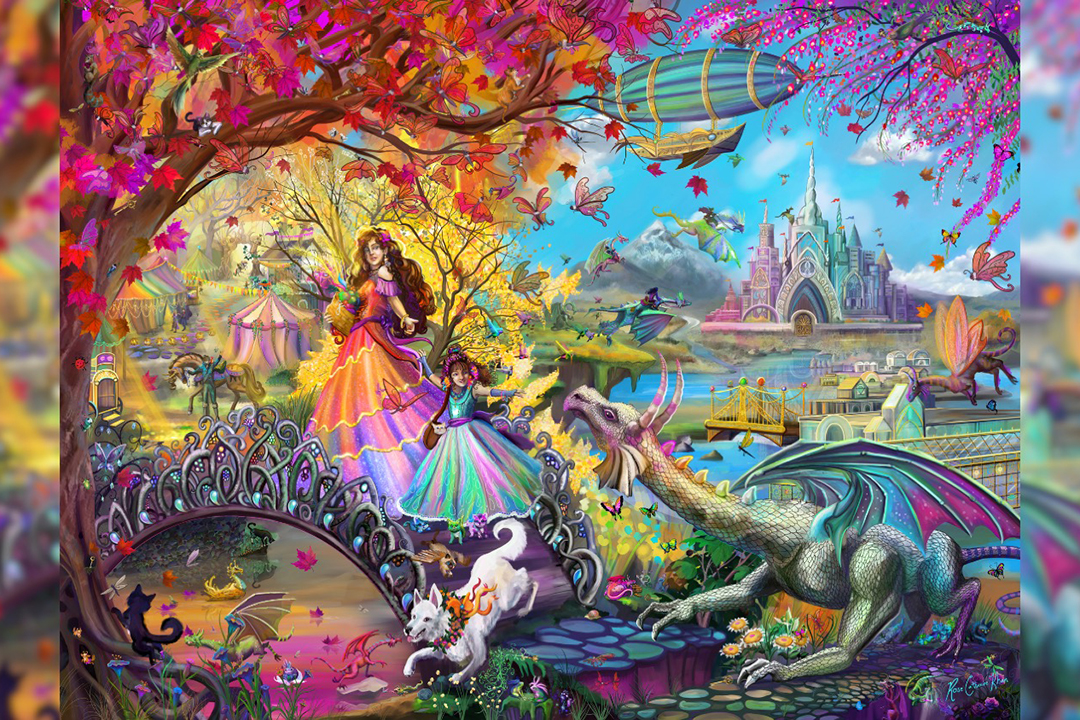 Rose Catherine Khan confidently presses her Apple Pencil to the screen of her iPad. As the frame slowly gets filled, her fantasy universe comes to life. Toward the end of the extensive process, she lays a 1,000-piece puzzle grid over the colorful dragons, unicorns, castles and other mythical subjects to confirm each tiny square contains enough detail. 
It's a puzzle to design this puzzle. But Khan '06 (Illustration), '09 MST (Visual Arts-All Grades) is quickly gaining popularity as a puzzle illustrator after starting only three years ago.
"One of the most important things in puzzle illustration is you fill the scene with details because every little piece is a clue," she said.
Khan is a fantasy illustrator whose work has been licensed into a range of products: figurines, cell-phone cases, credit cards and more, including puzzles — which keeps her plenty busy these days. Sales of Khan's puzzle designs through her primary manufacturer, Buffalo Games, are exploding, a trend that began last holiday season and has continued during the pandemic. Khan said Buffalo Games sold more than 65,000 of her puzzles this fall alone. 
"It would be enough to fill an 800-square-foot apartment floor to ceiling with puzzles, and that is just mind-blowing to me," said Khan, whose work merges aspects of both normal and fantasy worlds. 
With each box and finished puzzle branded with her logo and signature, Khan is receiving similar recognition as the puzzle artists she looks up to. Seven of her puzzles are in circulation — five with Buffalo Games, one with Ravensburger, one with Cra-z-Art — with three more on the way. They're flying off the shelves in Targets, Walmarts and other stores across the U.S. and Canada.
"This is the first time ever in my career where my name is on the product and people actually can associate it with me," Khan said. "It's such a gratifying feeling as an artist to finally achieve that."
Khan's approach to puzzle illustration largely follows the creative process she learned as an RIT Illustration student. She carefully begins each puzzle with dozens of thumbnail sketches and uses reference photography to ensure appropriate composition.
"Those were the fundamentals of my art education," Khan said. "You have to put in the preliminary time and effort in order to make a quality illustration."

Khan actually got her start in puzzle illustration in the wake of a traumatic personal experience. 
In late 2017, she was diagnosed with an acoustic neuroma on her eighth cranial nerve — a non-cancerous brain tumor. She underwent radiation treatment, which halted the tumor growth and it is now controlled. The tumor left her with single-sided deafness, but didn't touch her spirit.
"Of everything that's happened, losing my hearing has bothered me the least," Khan said. "I barely give it a thought."
Khan said her understanding of deaf culture from being surrounded by RIT's National Technical Institute for the Deaf community as a student and later adjunct faculty in the College of Art and Design supplied her with strength. 
Art did, too. While in recovery, Khan paved a path to realizing her dreams.
Khan's unpleasant sensations from radiation treatment were overpowered by a desire to draw. Continually making art guided her through the healing process. In fact, a piece she painted in recovery was ultimately licensed into her first puzzle, "Dragon Valley."
"It was important to have gone through something very traumatic and still have this ability," Khan said.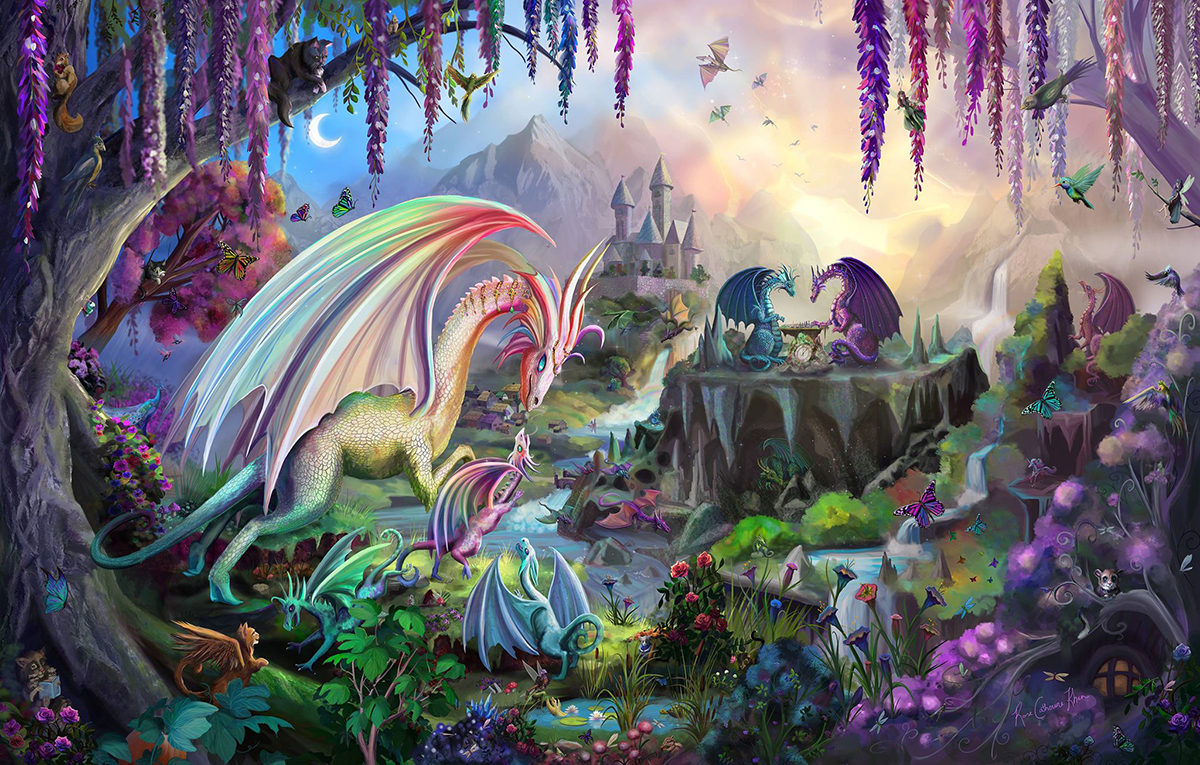 The work first caught the eyes of game and toy company Ravensburger at a licensing show. When the company proposed translating it into a puzzle, it was a scale and industry Khan hadn't before considered. But her decision to pursue it opened a new chapter of her career, after working in graphic design and as a K-12 educator. 
"When you have a life-changing event tossed at you, you re-evaluate what your life goals are," Khan said.
For Khan, this was an opportunity to take her childhood dreams a step further.
She grew up drawn to the fantasy genre. As a teenager, she conceived her Centernia novel series, developing the story until the 2014 release of Return to the Castle. A sequel, Mark of the Castle, was published in 2018.
Now, she is working full-time as a fantasy author and illustrator. Her creativity is fueling a fulfilling career that doubles as a natural creative outlet. 
It's been, in a word, magical.
"It helps me get through whatever the situation is," Khan said of her art and writing. "Anytime something has been thrown at me, I deal with those emotions by reinterpreting them, whether it be a character holding a sword or just escaping to a beautiful world."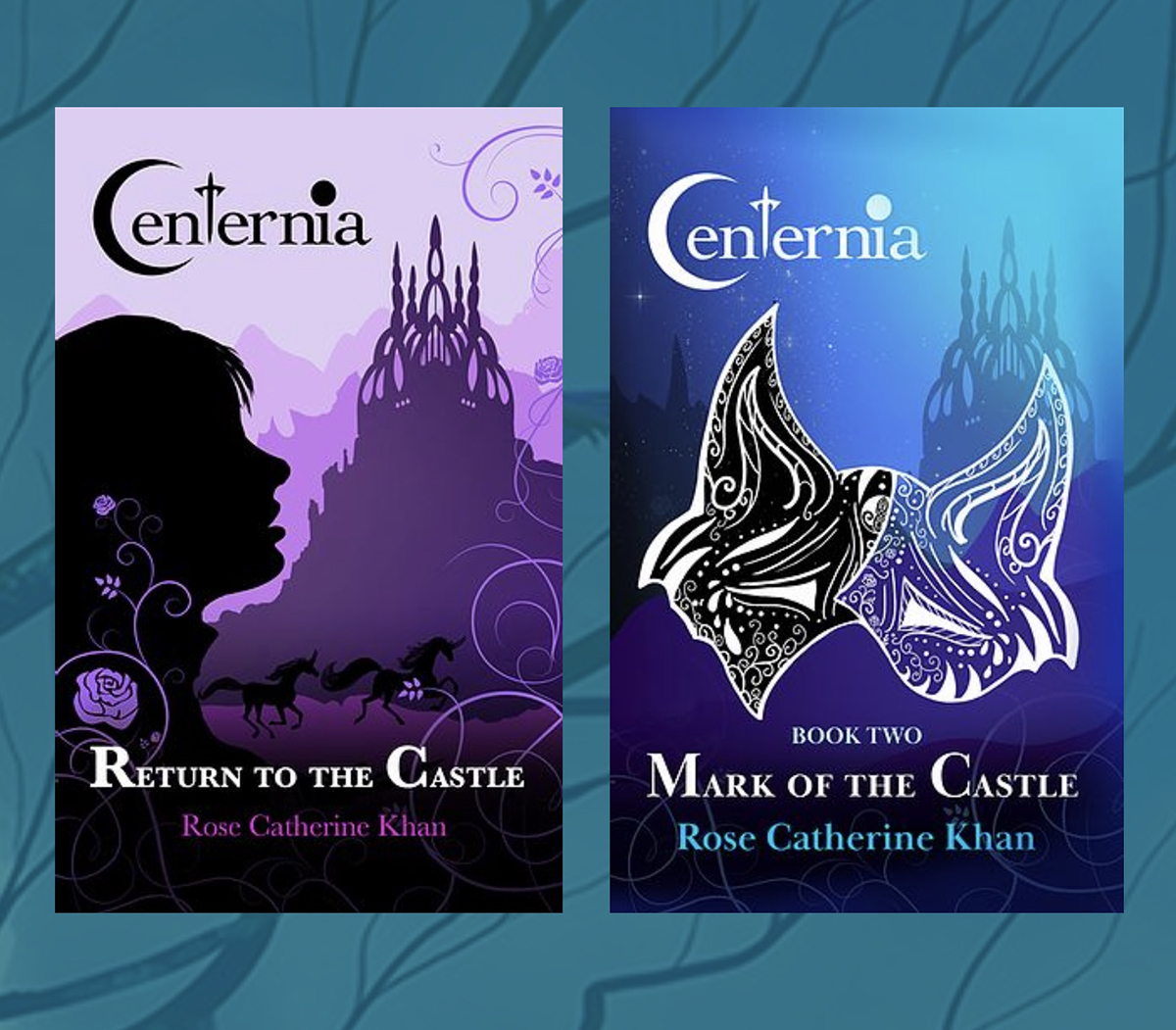 Topics