Alumni cultivate business by doing things differently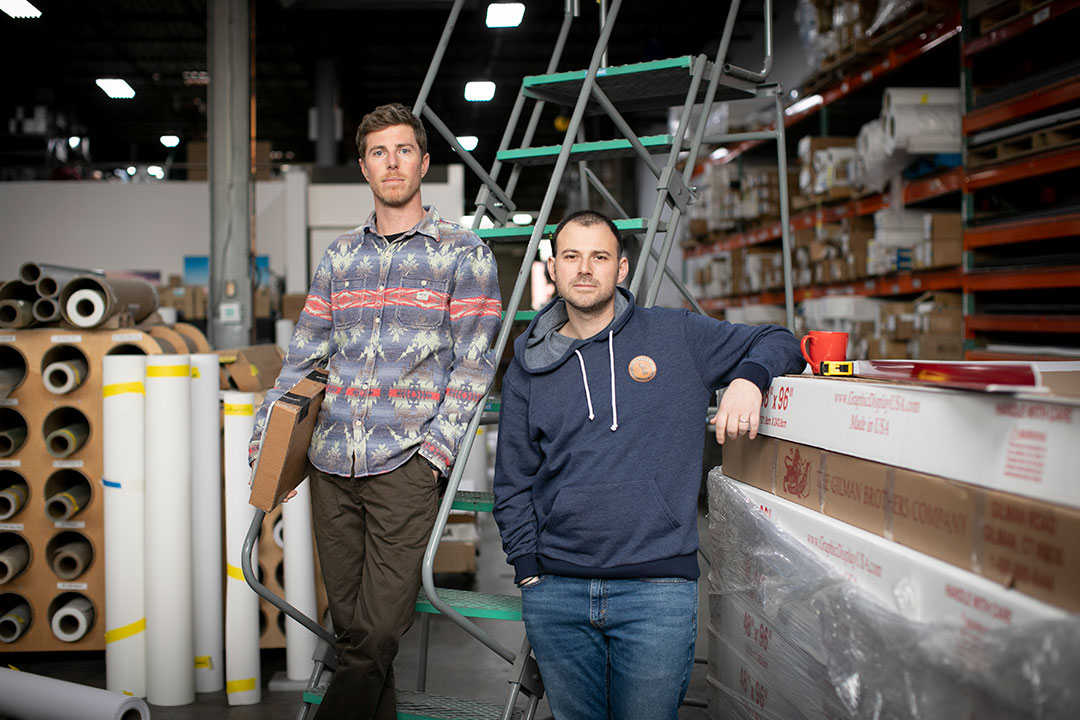 James Wegner '09 (media arts and technology) and Jonny Widder '09 (media arts and technology) became quick friends after meeting at RIT Orientation, bonding over their desire to rebel from the "mandatory."
Fourteen years later, they serve as co-presidents of their company, Volume Industries, providing creative support for luxury brands and high-end, boutique-style businesses.
Volume Industries offers a variety of services in technical design, fabrication, millwork, project management, logistics and installation, and digital imaging. They've created indoor and outdoor displays for brands such as Nordstrom and Christian Louboutin.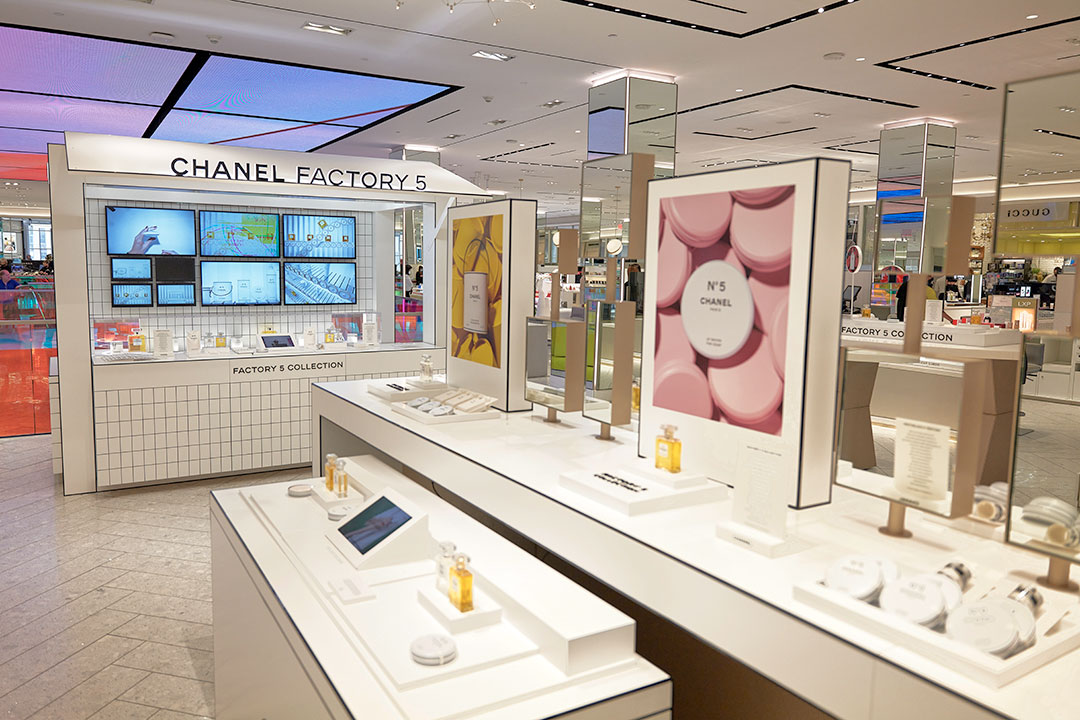 This one-stop shop of creativity and technical skill all started with Wegner and Widder's friendship and their mutual desire to create something new.
Wegner, a Rochester native, and Widder, from Pleasantville, N.Y., discovered they both had an interest and curiosity about the printing industry. The pair longed to get out of the classroom and dive into more hands-on experiences, and they spent the majority of their time at RIT in the Digital Publishing Center. It was there that the seeds of Volume Industries began to take root.
"I think that got our gears turning about how we could do something different than the printing companies that were around at the time," said Widder. "I think it was just that energy that was there in the lab with us. It all stemmed from the fact that we wanted to do something a little different."
Both Wegner and Widder had experience in the printing industry— Widder through his father's business and Wegner through jobs he worked in high school and college—but when they started interviewing for jobs after graduation, both were unsatisfied.
"I remember going to an interview with the U.S. Treasury for their printing office, and I remember the interview went really poorly because we were talking about this job that I didn't think made sense for me," said Wegner. "That was a defining moment for me. After that, I got to thinking, 'who am I going to work for that's going to make me feel proud of what I can do and allow me to push my boundaries?'"
Widder encountered a similar dissatisfaction when considering jobs after graduation, recalling an impactful conversation he had with his grandpa at the time.
"My grandpa was a very point-blank type of guy. He was asking about who I would be working for and at one point just said, 'do you really want to work for this person?' and I realized no, I didn't," said Widder. "I think that's a mantra that James and I carried along our journey. It's a very core belief of our company to be a business that people actually want to work for—a business that allows people to grow."
Volume Industries is the culmination of three businesses founded by Wegner, Widder, and other collaborators. It all started in 2009 when Wegner and Widder founded Varidirect, a small design and print shop, while at RIT. They opened their first manufacturing facility in New York City in 2013.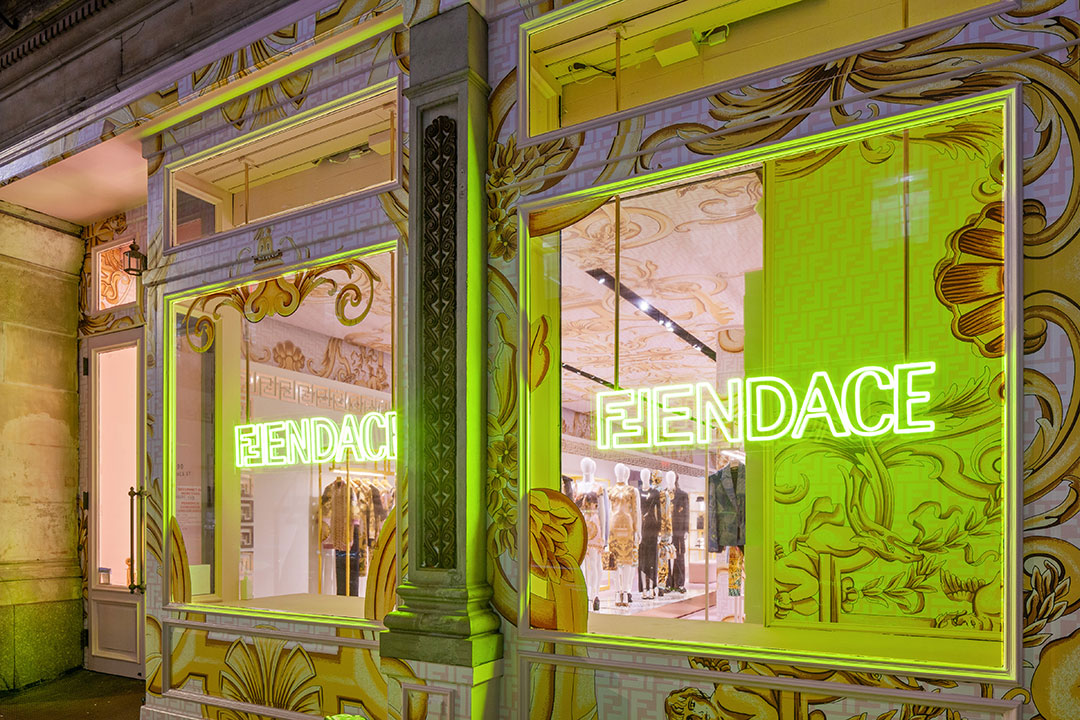 After years of consistent growth, the team founded Substrate with Ken Thomas and Daniel Morgan in 2016 to serve as a three-dimensional fabrication division. Two years later, they founded VSLA, which included a secondary facility based in Los Angeles. Finally, in 2021, the three companies merged to form Volume Industries.
One of the pair's most memorable client experiences from the past 14 years was working with Nike to create a mural for its annual Go Skate Day. It's not memorable because the job went perfectly, but because it showcased their team's ability to act on the fly and pivot in the face of obstacles.
"Our project was to create a printed mural on the ground of a skate park in Brooklyn. We found out that it was going to be raining for three days prior to the event so we couldn't use our vinyl designs," said Wegner. "We needed to scramble to completely rethink what we were doing. We had never painted a mural in our lives, but with four days of extreme dedication and the help of some friends, we were able to pull together a mish-mosh painting crew to complete a gorgeous mural," said Wegner.
The experience demonstrated the value of their business and the talented team they cultivated, and it taught them an important lesson that stayed with them.
"If the two of us want to put our mind to something, we'll be successful," said
Widder. "Sinking both of our brain power into it, James's analytical brain and my non-conventional brain, has allowed us to have a mindset that there is nothing too far out of our grasp."
Topics