Alumni work on Academy Award-winning 'Life of Pi'
RIT animation alums worked on Oscar-winning film 'Life of Pi'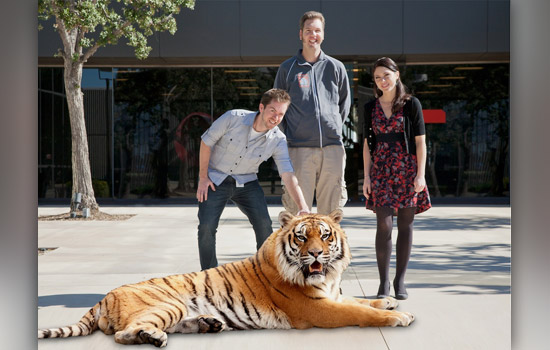 This year's Oscar for Best Visual Effects was won by Life of Pi, which depicted a digital Bengal tiger and other effects worked on by three graduates from RIT's School of Film and Animation.
Scott Vosbury '04 (film and animation), Rich Enders '02 (computer graphic animation) and Jen Stratton '05 (film and animation) work for Rhythm & Hues, a character animation and visual effects studio in Los Angeles.
"There are at least three RIT alumni here that helped bring him from a bunch of polygons to a living, breathing tiger, interacting with the title character of the film," Vosbury says. "It was absolutely wonderful to win. I surprisingly got a little emotional. It is nice to see something that you worked on for so long get some amazing recognition, and it was compounded by being surrounded by hundreds of coworkers experiencing the same joy."
Vosbury worked as a lead digital compositor for the film with a team responsible for scenes involving Pi being stranded at sea, animal attacks and flying fish. "It's my job to take all the elements and assets from every other department and seamlessly integrate them on screen. It's my job to make you believe the unbelievable."
An actual tiger was used in 24 of the 170 shots in the movie, but the animation is so lifelike, it isn't obvious which tiger image is real or not. "We were able to hold ourselves to a higher standard," Vosbury says. "We needed to make a tiger where you couldn't tell the difference between the real one and the computer generated one."
He says about 600 people from Rhythm & Hues worked on the film. There's a modeling stage, an animation stage, people to make sure the lighting is correct — even the tiger's hair was animated separately. "There's a pretty impressive pipeline," Vosbury says.
Enders was a tracking supervisor for the film, one of about 40 artists who made sure the characters' positions were in sync with the movement of other objects, such as waves and the boat.
And Stratton was responsible for delegating tasks and managing the texture team, ensuring image surfaces looked the way they were supposed to look.
"I helped make sure we maintained a high degree of quality and would assist my team in growing each individual's skill set," she says.
But only four names could be listed on the Oscar nomination ballot; two are from the studio. Rhythm & Hues artists won Visual Effects Oscars for The Golden Compass in 2007 and Babe in 1996.
"Obviously we take a lot of pride that it got nominated for Best Picture," Vosbury says. "And our work in the film with visual effects has been recognized. It's definitely a magical feeling."
Other RIT animation grads have been involved in Oscar-nominated movies including Shrek, Toy Story 2, Monsters, Inc. and Finding Nemo.
Stratton, who decided to study animation at RIT after seeing how Jurassic Park was made, says she was happy with the outcome and couldn't find a single error. "More than any other project we have worked on so far, I was astounded by the quality of work we had produced," she says. "I am proud to tell others I was a part of the process."
Enders says seeing all the work in the final film version is gratifying. "It was very difficult work and I am still amazed that we got it all done," he says.
Being a devoted RIT alumnus, Vosbury said the thought did occur to him to call the digital tiger "Ritchie" after the RIT mascot. "Apparently the author, Yann Martel, sold a couple million copies of the novel with the tiger named 'Richard Parker,' and I don't think the fans of the book would have been too pleased with the change."
Video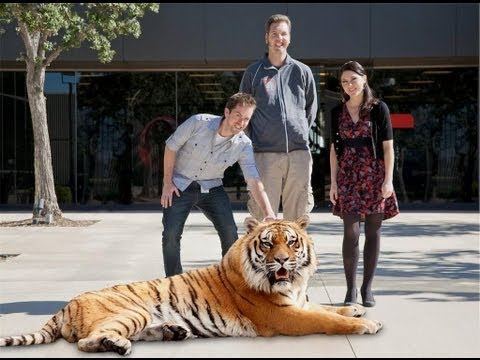 Topics