Alumnus nominated for Congressional Medal of Honor
Prestigious award recognizes service, valor, bravery, and leadership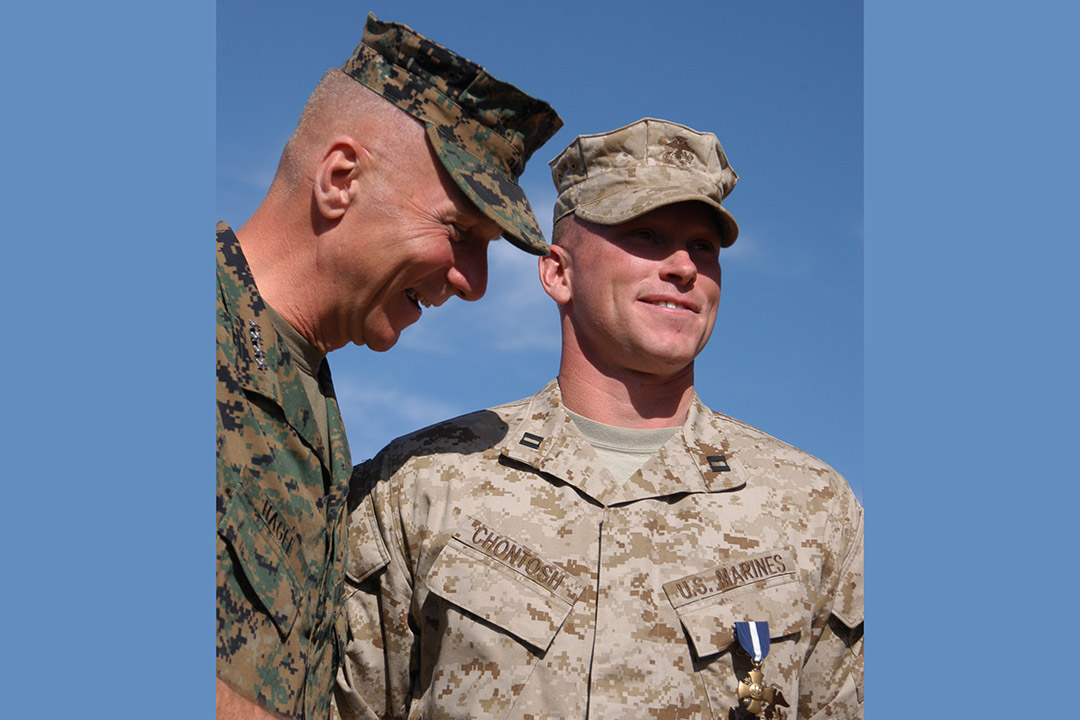 Brian Chontosh graduated from RIT in 2000, and only three short years later he'd be on the road to Baghdad heading into war.
He'd lead his Marine Corps platoon as it came under enemy fire during an ambush that was unfolding in front of the convoy. Tanks blocked Highway 1 and machine gun fire, grenades, and mortars exploded around the group that took up arms to defend itself and the important roadway during the Iraq War:
"As Chontosh's platoon traveled Highway 1 toward Baghdad, as Iraqi position parallel to the road began to rain machine-gun fire and rocket-propelled grenades on his convoy. Chontosh ordered his driver to charge their Humvee directly toward the enemy position, allowing the gunner atop the vehicle to attack the enemy emplacement, silencing the Iraqi machine-gun. The driver rammed the Humvee directly into the enemy trench as Chontosh and the others leapt from the vehicle. Chontosh fired his M-16 rifle until his ammo was depleted. He then drew his 9mm pistol and fired until he was out of bullets. He picked up a discarded AK-47 from the trench and continued fighting. His comrades fighting beside him passed him a rocket-propelled grenade launcher taken from the Iraqis, which he used to dispatch another enemy position. Finally, he retrieved another Iraqi AK-47 and fought until all his ammo was spent, saving the convoy and his fellow Marines." [excerpt from Marine Corps citation]
For this extraordinary heroism and service to the country, Chontosh '00 (mechanical engineering technology) has been nominated for the prestigious Congressional Medal of Honor. This is one of the oldest and continuously issued awards given to U.S. Armed Forces personnel since the recognition for courage, valor, and leadership was established in 1861.
The Rochester native and RIT alumnus is proud to be considered for the Medal of Honor, but he also sees this as an honor that allows him to represent a larger group of men and women who also served bravely.
"Being awarded above where I have already been recognized is not an honor for myself to bear personally, but rather to represent the men and women who fought beside me honorably and bravely across dozens of engagements and years of service. So many receive little recognition, and I would consider this more theirs," said Chontosh, who was awarded the Navy Cross in 2004 and later became one of RIT's Distinguished Alumni in 2005.
Chontosh was nominated for the Medal of Honor by U.S. Representative Tom Reed (N.Y. – 23rd District). The bill, H.R. 5208 – 116th Congress, is in the first stage of the legislative process and will undergo consideration in congressional committees this fall. If advanced, the bill would be voted on by the U.S. House of Representatives and the U.S. Senate, then signed by the president. He'd be awarded the medal at the White House and follow in the footsteps of just over 3,600 service personnel.
Both of Chontosh's grandfathers and an uncle served in the military and he followed after enlisting in the Marine Corps just out of high school in 1993, beginning deployments in Keflavik, Iceland, and later at Camp LeJeune, North Carolina. He was selected for a Marine Corps Enlisted Officer Commissioning Education Program and began coursework as an officer candidate, which would be a combination of military science and a Bachelor of Science degree program.
"I took classes right on campus and crammed a five-year mechanical engineering technology degree into four somehow while attending U of R for the Navy ROTC requirements," he said. He'd go on to serve rising in the officer ranks and becoming a major. He'd be recognized with numerous service awards and take away experiences that are unfamiliar to most people who have never been in uniform.
"Looking back, it is just a snapshot in my life. An important one and formative toward who I am today. But not defining. It is in the past and I wish to remember it as just an experience that provided an opportunity to grow and serve as lessons learned and reflection. I would never wish it weren't or take it back, and yet I would never want or seek it had I not experienced any of it."
Some of those experiences translated into civilian life where he worked with veterans and began a journey as an entrepreneur.
"I withdrew for a while and used my time after retirement to breathe, to sort out who I was as a person absent of the military life/construct. I took my time. I did not want to be overly attached or identified with as just a veteran or Marine. It is something I value tremendously, but also feel I am more that. I spent the patience in getting to know myself, working on opportunities for improvement, and trying to find a place, a purpose."
Chontosh would be approached to offer thoughts on leadership, to explore human performance margins, and to find ways to create life and career opportunities for others. It led him to start Crooked Butterfly Ranch, a human performance, adventure, and leadership training organization, and most recently the Big Fish Foundation, as a way of sharing his experiences so that others can learn, grow, or heal, he said.
"I know it is a tremendous honor to be considered for the Medal of Honor, and I take that very soberly. I'm also anxious and feel I have been given much more in life than I deserve or have earned already," said Chontosh who is in a long-term relationship and a father of three. "I am proud of who I am today and where I'm headed in continuing to grow and provide value to the world. The anxiousness surrounds not wanting something to get twisted due to the attention. I don't want one moment of chaos and response to be what defines who I am or set me in a different trajectory than where I've invested so much in regard to personal character and purpose."
Some of that purpose has found its way into the Crooked Butterfly Ranch, which gets its name from the way in which butterflies move.
"Butterflies don't fly in straight lines. And they are beautiful. Just like our lives when we let them go where they go and do our best given the path." 
Topics