Alumnus to receive Academy Award
Brian Cantwell on ILM team that developed facial performance-capture solving system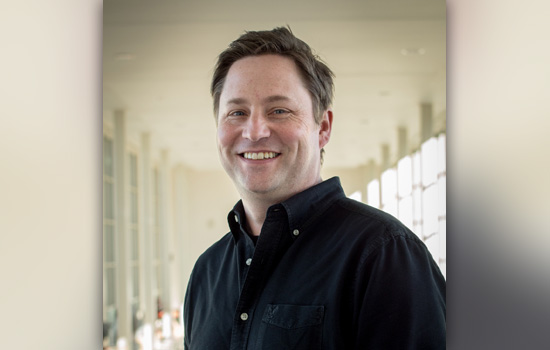 A graduate of RIT's School of Film and Animation (SOFA) will be among those recognized for scientific and technical achievement next month when the Academy of Motion Picture Arts and Sciences hands out its annual Academy Awards—also known as the Oscars.
Brian Cantwell, who graduated with a BFA in film and animation in 1999, is a member of the team at Industrial Light & Magic (ILM) that will be recognized for its design and development of ILM's facial performance-capture solving system.
The system enables high-fidelity facial performance transfer from actors to digital characters in large-scale productions—while retaining full artistic control. It also integrates stable rig-based solving and the resolution of secondary detail in a controllable pipeline. Cantwell worked on the system with ILM team members Kiran Bhat, Michael Koperwas and Paige Warner.
The Academy of Motion Picture Arts and Sciences announced on Jan. 4 that 18 scientific and technical achievements represented by 34 individual award recipients, as well as five organizations, will be honored at its annual Scientific and Technical Awards Presentation on Saturday, Feb. 11, at the Beverly Wilshire in Beverly Hills.
"It's all still sinking in," Cantwell said. "I am absolutely overwhelmed, excited and humbled by the entire experience."
"It's an incredible honor to be acknowledged and to be in such great company. I owe so much to so my co-honorees, so many great people at ILM, across the industry, and, of course RIT, where it all began for me," he added.
Cantwell received the Outstanding Alumni Award from RIT's College of Imaging Arts and Sciences in 2009.
"All of us here in the School of Film and Animation are thrilled for Brian, who has been showcasing his amazing talents at ILM for more than a decade," said Malcolm Spaull, administrative chair of SOFA. "His credits have appeared in almost every blockbuster over that time. We couldn't be more proud of him."
Unlike other Academy Awards to be presented this year, achievements receiving Scientific and Technical Awards need not have been developed and introduced during 2016. The achievements, rather, must demonstrate a proven record of contributing significant value to the process of making motion pictures.
Cantwell said his credits that are directly related to the development of the facial performance capture system include his visual effects work on Warcraft (2016), Teenage Mutant Ninja Turtles: Out of the Shadows (2016), and Rogue One: A Star Wars Story (2016), among other films. On Rogue One, he was credited as digital artist lead. His filmography includes 25 credits.
ILM is an American motion picture visual effects company that was founded in 1975 by George Lucas. It is a division of the film production company, Lucasfilm, which Lucas founded, and was created when Lucas began production of the film Star Wars. It is also the original founder company of the animation studio Pixar. Since 2005 it has been based at the Letterman Digital Arts Center in the Presidio of San Francisco. In 2012, The Walt Disney Company acquired ILM as part of its purchase of Lucasfilm.
In addition to RIT faculty in film and animation, SOFA alumni have won Academy Awards for Life of Pi and Disney's Paperman. SOFA program offerings include a BFA and MFA in film and animation, and a BS degree in motion picture science, giving RIT one of the broadest curriculum choices in the country.
Topics