Always moving forward—even during a pandemic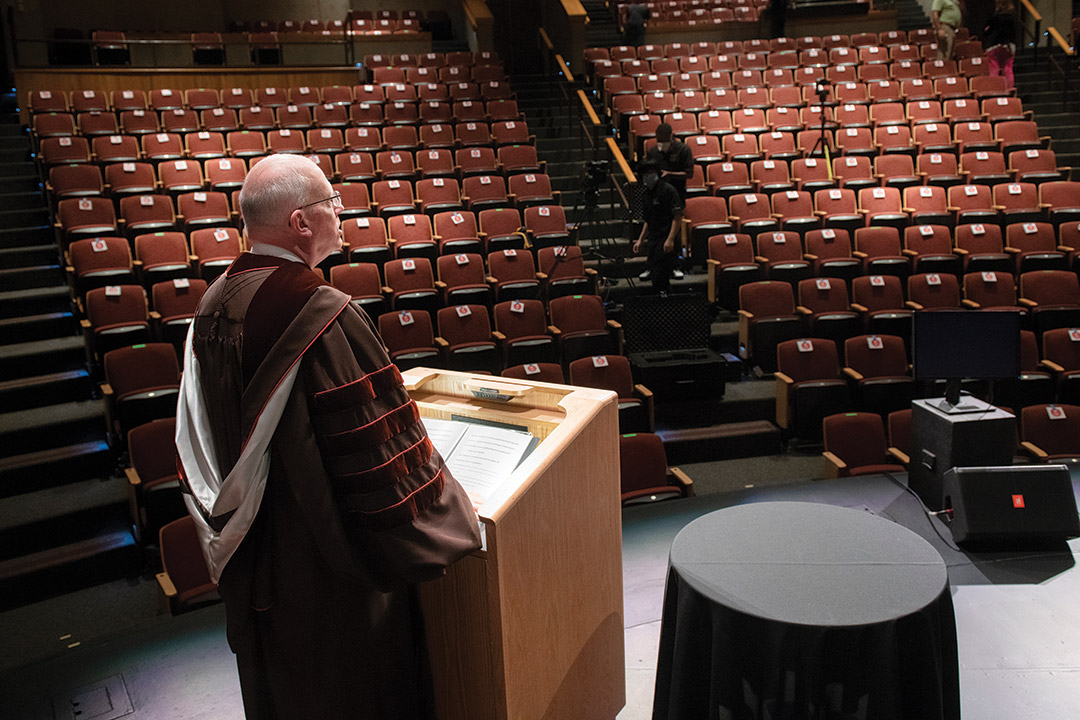 2020 threw the book at us—a global pandemic, racial unrest, economic uncertainty, a fierce political battle for leadership of our nation. I'm proud to say RIT faced it all head on, pulling together our students, faculty, staff, alumni, and trustees who guided us through—and eventually will guide us out of—these turbulent times.
What kept us going was a committed community and a sharp focus on two major goals. First was to protect the health and safety of our community with a rigorous effort to stem the spread of the coronavirus. We finished the fall semester in person with an infection rate below 1 percent. The second was to keep RIT on track with its 2025 strategic plan and build on our hard-earned reputation as one of the nation's top universities.
Moving into 2021, RIT is forging ahead as a beacon of hope in higher education, a place where innovation and ingenuity come together to give our students a unique experience that prepares them for success in their chosen careers and as citizens of the world.
In this President's Report 2021, you'll read about some of our successes, a record year for research funding, the growing popularity of our Performing Arts Scholars Program, and the programming and education that earned us a Top College for Diversity award from INSIGHT Into Diversity.
You'll also hear about many exciting plans for the campus. Our Global Cybersecurity Institute has just opened its doors. The 52,000-square-foot, state-of-the-art center aims to meet the demand for computing security professionals, while developing future technologies and human understanding needed to address the global cybersecurity crisis.
Design work continues and site preparation has begun on what's been temporarily dubbed the Innovative Maker and Learning Complex, which will connect Wallace Library and the Student Alumni Union. It will include huge makerspaces, a black-box theater, dance studio, and music rehearsal rooms. With its wide-open spaces and glass walls, this complex will become the epicenter of campus, a showcase for the intersection of technology, the arts, and design.
Complementing that project, we're in the process of designing a performing arts center consisting of two theaters. The first will seat 750 and will be designed specifically for musical theater but will accommodate many uses. The new facilities are an essential part of RIT's plan to develop the leading performing arts program in the nation for non-majors, attracting talented and creative students who can continue their passions for music, dance, theater, and other performing arts.
Overseas, construction of the first phase of RIT Dubai's new $136 million campus is nearly complete. The new campus will be able to accommodate up to 4,000 students. While we work on the present, our eyes are on the future.
Because at RIT, we're always on to something—even during a pandemic.
Sincerely,
David C. Munson, Jr., President
munson@rit.edu
Twitter: @RITPresident