Angel Male receives Gender Diversity Award
Recognition given for work supporting network operations across RIT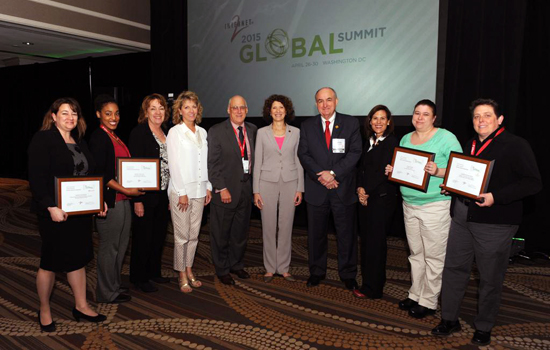 Whether she is supporting the day-to-day network operations at Rochester Institute of Technology or building new networks at RIT's Croatian campuses halfway across the world, Angel Male has become an emerging leader at the university.
For these efforts, she was awarded the Gender Diversity Award at the 2015 Internet2 Global Summit held April 28 in Washington, D.C. She was one of four women in information technology honored at the Internet2 event.
"The conference gave me the opportunity to connect with peers around the globe who are facing the same challenges with technology in higher education that RIT faces," said Male. "As colleges work to meet the demands of international, domestic and distant learners, the technology that supports every student needs to be ahead of the game."
As a network engineer II in RIT's Network Communications Group, Male is involved with several major networking projects, including operations in the new data center located in Institute Hall and replacing the network firewalls around campus. She has also traveled to RIT's campuses in Zagreb and Dubrovnik to help deploy network infrastructure improvements and expand wireless connectivity.
Her work in Croatia has allowed students, faculty and staff to collaborate more easily among the three locations. She also recently began an initiative to advance the use of the network testing toolkit perfSONAR within RIT.
The Internet2 community provides a collaborative environment for U.S. research and education organizations to solve common technology challenges and to develop solutions in support of their educational, research and community service missions. The Gender Diversity Award was created to shine a spotlight on the women who are making outstanding contributions to advanced technology disciplines.
"Internet2 is committed to ensuring the IT field is diverse and inclusive," said Ana Hunsinger, Internet2's vice president of community engagement. "We congratulate this year's winners and look forward to watching their career accomplishments for many years to come."
Male began her career in the United States Marine Corps in 1996 where she served as Tier 3 support for a portion of the East Coast Military Institutions. After consulting for nine years, she joined RIT's Network Communications Group, where she has been for the past five years.
"I am excited to take advantage of this opportunity and apply my newfound knowledge to the future of RIT," said Male. "The relationships and knowledge built because of winning the Gender Diversity Award will help enable RIT to provide the critical technology for the next generation of innovative students."