Anne Haake named dean of GCCIS
Interim promoted after an international search, becomes first female dean of computing college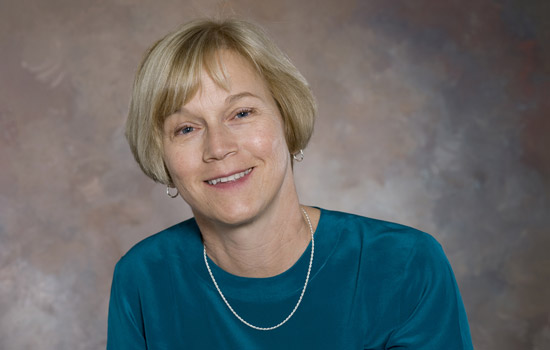 A. Sue Weisler
Anne R. Haake has been named dean of the B. Thomas Golisano College of Computing and Information Sciences at Rochester Institute of Technology.
Haake, who has been serving as interim dean of the computing college since last July, was chosen after an international search. She assumes the dean's chair on April 1 and becomes the first female dean of the Golisano College.
"Our search fielded a very competitive, viable and diverse field of candidates, but Dr. Haake's vision for the college, her values, consensus-building skills, and rich and varied experience made it apparent she is the leader the Golisano College needs," said Jeremy Haefner, RIT provost and senior vice president for Academic Affairs. "I am confident that she will build on the college's great success and take it to the next level."
Haake has had a distinguished career in academia, including 15 years at RIT. She has served in interdisciplinary curriculum development roles for several programs, including bioinformatics, medical informatics, the Ph.D. in computing and information sciences and the human-computer interaction master's program.
"I am thrilled for the opportunity to become dean of a college that is conducting research and training the next generation of computing experts in a time when technology plays such a central, and increasingly important, role in everyone's lives," Haake said.
Haake has been a leader in interdisciplinary research, as principal investigator of National Science Foundation and National Institutes of Health-funded research and as a mentor for undergraduate and graduate student research. In 2012, she was named RIT's first National Science Foundation Expert in the foundation's Division of Biological Infrastructure and served as a program director for the division.
Haake also has experience as a technical adviser to industry, serving as a board member, delivering instructional workshops and making recommendations for future research and development.
She received a bachelor's in biology from Colgate University and a master's and Ph.D. in developmental biology from University of South Carolina. She also completed the master's in software development and management at RIT, while on the faculty at the University of Rochester School of Medicine and Dentistry.
At RIT, Haake will lead the Golisano College, home to RIT's computer science, information sciences and technologies, software engineering and computing security departments. In 2012, RIT broke the mold of traditional cybersecurity education by creating the first academic department devoted solely to computing security, a department that integrates faculty from other computing disciplines.
The Golisano College also houses the Ph.D. program in computing and information sciences and the nationally ranked School of Interactive Games and Media. According to 2016 rankings from The Princeton Review, RIT's game design and development program was ranked third in the world at the undergraduate level and seventh at the graduate level for top schools to study—and launch a career in—game design. The Golisano College is home to more than 850 graduate students, 2,800 undergraduates and 180 faculty and staff.