Application for national photonics center advances
RIT joins UR, SUNY Polytechnic in leading consortium that could receive $110 million federal investment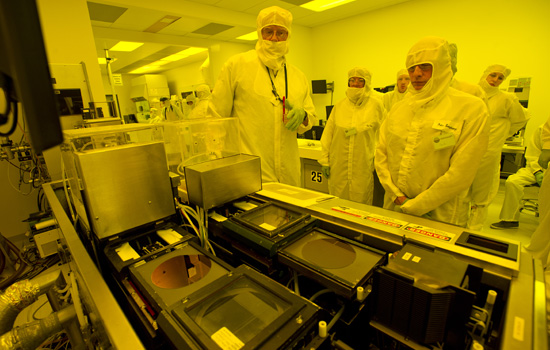 A. Sue Weisler
Rochester Institute of Technology is among the leaders of a consortium named as one of three finalists in the country competing for a multimillion-dollar federal investment in a regional photonics center.
The application from the Research Foundation for the State University of New York, which includes RIT, University of Rochester, SUNY Polytechnic, Massachusetts Institute of Technology, University of Arizona, University of California at Santa Barbara and other academic and industrial partners, has advanced to the final round, Democrat New York Sens. Charles Schumer and Kirsten Gillibrand and Congresswoman Louise Slaughter announced. Full proposals are due March 31 and a winner will be announced in June, they said.
"This project would allow us to build national capabilities to support this strategically important industry," said Ryne Raffaelle, RIT vice president for research and associate provost. "With one of the largest photonics manufacturing hubs in the nation, Rochester is uniquely positioned to take the lead, and RIT's renowned work in microelectronic systems, imaging science and packaging will play a major role. We are very grateful to Senators Schumer and Gillibrand and Congresswoman Slaughter for championing our application, and to President Obama for his leadership in recognizing the importance of the industry to our nation's future."
Raffaelle said advancing photonics is essential to the nation's manufacturing capabilities in such areas as high-speed data and telecommunications. These new technologies will allow for more information to be transmitted easier, faster and with less energy.
"Rochester is home to the world's greatest concentration of companies, university programs and expertise in the field of photonics, and this proposed partnership would further position Rochester as a global leader in this cutting-edge industry," Schumer said in a statement.
Gillibrand said in a statement that Rochester "would be the perfect home for the new National Institute of Photonics, and this selection to move to the final phase of consideration shows that Upstate New York's strong community of manufacturers and innovators is prime for these types of investments."
The application was in response to a program announced by Obama last October in which the Department of Defense will take the lead in constructing an Integrated Photonic Manufacturing Institute with a $110 million federal commitment, Slaughter said.
"Today, we are one step closer to securing a federal photonics manufacturing innovation institute. I will continue to be relentless in my efforts to secure state and federal investments for an industry that is synonymous with Rochester because I know what it means for our economy and for local jobs," Slaughter said in a statement.
Earlier this year, RIT was named a core partner in the Chicago-based Digital Manufacturing and Design Innovation Institute and is slated for an investment of up to $20 million.
RIT has contributed to advances in the design, fabrication and manufacturing of electronic and photonic devices for more than 30 years as technology generations have progressed from the micron-scale to the nano-scale.
RIT's leadership includes:
The microelectronics program, created in 1982, was the nation's first Bachelor of Science program specializing in the fabrication of semiconductor devices and integrated circuits.
The microsystems engineering Ph.D. program began in RIT's Kate Gleason College of Engineering in 2002.
The university's first doctoral program was imaging science in 1990, the first of its kind in the nation.
More than 2,000 RIT engineers have been placed into related engineering positions across New York state and throughout the U.S., Europe and Asia.
RIT assets in this area include: