Author Elijah Wald to discuss Bob Dylan on Nov. 23
School of Individualized Study's American Music series includes jam session with Wald and RIT musicians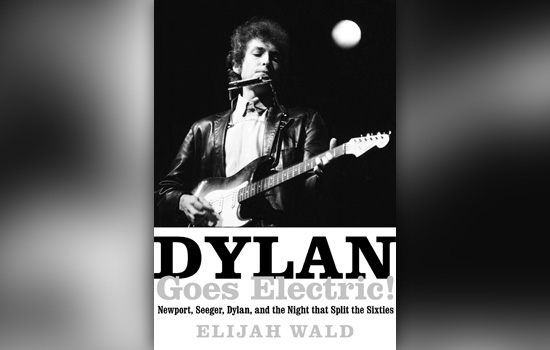 Elijah Wald
The Newport Folk Festival in 1965 made history for one musician, Bob Dylan, who took the stage midway for a set of three songs. With his Fender Stratocaster guitar backed by a fully amplified band he electrified the audience with an earsplitting "Maggie's Farm," "Like a Rolling Stone" and "Phantom Engineer"—facing boos from the folk-faithful crowd and eliciting outrage from performer Pete Seeger.
"One of the evening's enduring myths is that Seeger ran for an axe and tried to cut the sound cables," said Elijah Wald, musician and author of Dylan Goes Electric: Newport, Seeger, Dylan, and the Night that Split the Sixties. "Dylan was known as a songwriter and this was his coming-of-age as a performer and rock-and-roll artist. People were shocked by the sheer volume; no one had ever heard anything that loud and they were shaken by hearing something new and different."
Wald is the guest speaker for the second installment of The Crossroads: Interdisciplinary Perspectives on American Music Speaker Series hosted by the School of Individualized Study at Rochester Institute of Technology. The author will speak from 3-4:30 p.m., followed by a book signing and jam session at 5 p.m., on Monday, Nov. 23 at RIT's University Gallery, James E. Booth Hall, adjacent to the Vignelli Center for Design Studies. The event is free and open to the public.
"There were 17,000 people in the audience that night, and each has a different story," said Wald. "Some thought Dylan was selling out, some thought he was declaring his artistic independence. One of the amazing things about Dylan is that he is a master of reinvention—the one performer of that era who still draws as many millennials as old-timers to his concerts."
Wald started playing guitar at age 7, went to New York at 17 to study with Dave Van Ronk, and spent most of the next dozen years hitchhiking and performing all over North America and Europe, as well as much of Asia and Africa. He also recorded two albums: Songster, Fingerpicker, Shirtmaker and Street Corner Cowboys.
In the early 1980s, Wald began writing for The Boston Globe, and was in charge of the newspaper's "world music" coverage for most of the 1990s. His 10 previous books include Escaping the Delta: Robert Johnson and the Invention of the Blues and How the Beatles Destroyed Rock 'n' Roll: An Alternative History of American Popular Music. He has won a Grammy Award for his album notes to The Arhoolie Records 40th Anniversary Box, for which he was also nominated as a producer.
Following the discussion, Wald will play guitar and harmonica during a jam session with RIT musicians: Al Biles (School of Interactive Games and Media) on trumpet; Mark Indelicato (College of Applied Science and Technology) on guitar; Babak Elahi (College of Liberal Arts) on guitar, Alex Lobos (College of Imaging Arts and Sciences) on drums, and Thomas Hanney (School of Individualized Study) on harmonica.
Wald's talk is presented by RIT's School of Individualized Study, with support from the Office of the Provost, Center for Media, Arts, Games, Innovation and Creativity, and the College of Liberal Arts Department of Performing Arts & Visual Culture.