BAGMAG wins top prize in Next Big Idea competition
Annual competition taps student teams to develop innovative products or services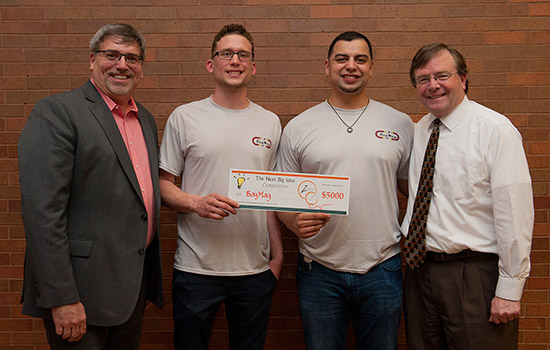 Mark Benjamin
Four teams of deaf and hard-of-hearing students from Rochester Institute of Technology's National Technical Institute for the Deaf went head-to-head April 26 during The Next Big Idea Competition, a Shark Tank-style business competition. BAGMAG, a hands-free solution for making skateboards easily portable on the back of a backpack, took home the $5,000 first prize.
Judges from the competition's sponsor, ZVRS, a video-relay service headquartered in Clearwater, Fla., reviewed projects of the four team finalists, asked questions and selected first-, second- and third-place winners.
First place: BAGMAG (Hans Kohls, an industrial design major from Boston, and Wade Kellard, an mechanical engineering technology major from Cincinnati) uses a strong magnet inserted on the backpack that connects to a strong magnet affixed to the bottom of the skateboard. The system eliminates the need to remove the backpack and use straps to affix the skateboard.
Second place: ASL Storyteller (Julie Love, a graphic design major from Riverside, Calif., and Logan Lugo, an international business major from Columbus, Ohio) is an interactive app that offers sign language to babies, both hearing and deaf, to help with language development and creates a richer environment for signing babies. ASL Storyteller took home the $3,000 second-place prize.
Third place: Expect Zone (Amelia Hamilton, a new media marketing major, and Tanner Ketchum, an accounting technology major, both from Austin, Texas) is a rear-view mirror with three flashing lights that lets deaf or hard-of-hearing drivers know when an ambulance, police car or fire engine is coming near. Expect Zone won the $2,000 third-place prize.
The fourth team project, Vign (Tobin Zolkowski, a communication and criminal justice major from Neenah, Wis.; Iswor Ghimire, a global computing major from Nepal; Mohd Afifi Ishak, an industrial design major from Malaysia; and Jose Lopez, an applied computer technology major from Los Angeles), is described as Netflix for deaf people and is designed to stream program content in sign language.
The Next Big Idea competition is an annual event where teams of students combine skills related to their individual majors to create innovative products, technology or businesses. Teams work with mentors on their projects and compete before judges for cash prizes. This year marks the sixth anniversary of the competition.
"The Next Big Idea competition is the culmination of a tremendous amount of hard work, creativity and innovation on the part of these student inventors and entrepreneurs," said Gerry Buckley, NTID president and RIT vice president and dean. "We have seen some amazing products and services start in this competition and move into production. We thank ZVRS for their steadfast support since the beginning of the Next Big Idea and are grateful for the belief they have in our students."