Big Shot team puts RIT campus in spotlight
Saturday's event marks 30th nighttime photo and first on RIT campus in a decade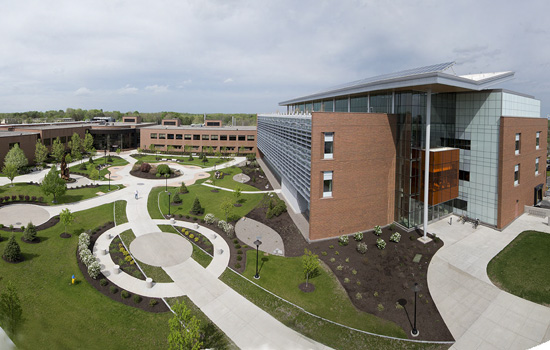 RIT Big Shot Team
Organizers of RIT's 30th Big Shot are putting the finishing touches on preparations to position their lenses at the Golisano Institute for Sustainability and surrounding quad for the 30th nighttime photo.
Hundreds of volunteers dressed in dark clothing with flashlights or camera flashes will be needed to participate at the Golisano Institute for Sustainability (GIS), Louise M. Slaughter Hall—also known as the Center for Integrated Manufacturing Studies or CIMS—and the surrounding quad on Saturday, Sept. 6.
They will be joined by RIT students, faculty, staff and alumni as the photo is taken—regardless of weather conditions—around 9 p.m. Volunteers are asked to arrive by 8:30 p.m. and will be positioned into three lighting teams.
Like all of the Big Shots over the years, Saturday night's photo will present distinct challenges for the team, according to Michael Peres.
"This will be our first computational image using two cameras with matched lenses on a single tripod to create a panoramic effect," said Peres, associate chair of the School of Photographic Arts and Sciences (SPAS) and one of the Big Shot organizers. He is working closely on the project with fellow SPAS colleagues Willie Osterman, Christye Sisson and Mike Dear in the College of Imaging Arts and Sciences.
Computational photography refers to image capture involving processing and manipulation techniques that enhance or extend the capabilities of digital photography, such as panoramas.
"This picture will be complex given all the windows at GIS and CIMS and the walkways around the quad," Peres said. "Whether it's here on campus or anywhere else we have been nationally and internationally, we're solving complicated problems and having fun at the same time."
Due to the large number of windows, Peres is planning to position lighting teams within both GIS and CIMS to help illuminate the buildings from the inside. About three-dozen SPAS students and alumni also will be spotted on the GIS building's "green roof" to accentuate its unique rooftop garden.
He also expressed gratitude to faculty and staff members at both GIS and CIMS who have volunteered to participate on what is typically a day off by lighting offices and specialized labs that would be off limits due to proprietary research.
Nikon Professional Services is once again supporting the project, loaning high-end photographic equipment and sponsoring memento prints for all who attend. The Big Shot photograph will be produced using two Nikon D810 bodies. Profoto also will provide specialized lighting equipment, including powerful battery-operated electronic flash systems.
Started in 1987, this Big Shot marks the sixth time that the nighttime photo has taken place on RIT's campus, but the first one in a decade. A scene with the Sentinel sculpture and Administrative Circle was captured in September 2004.
The Big Shot relies on hundreds of volunteers to provide the primary light source for the image while RIT photographers shoot an extended exposure. Typical exposures last 30 seconds and four attempts will be made to illuminate the scene. It's a signature event for RIT and is led by the School of Photographic Arts and Sciences, which is nationally recognized for its degree programs.
The Big Shot often is described as "painting with light" because participants are asked to "paint" or shine their light source onto a particular area of the landmark while the photograph is taken. The light sources are primarily either handheld flashlights or camera flash units.
The Big Shot project has traveled to several national landmarks and twice crossed the Atlantic Ocean. Through their viewfinders, Big Shot photographers have captured such landmarks as AT&T Stadium (formerly Cowboys Stadium) in Arlington, Texas; The Alamo, San Antonio, Texas; the U.S.S. Intrepid, New York City; Pile Gate, Dubrovnik, Croatia; the Royal Palace, Stockholm, Sweden; and the Smithsonian National Museum of the American Indian, Washington, D.C.
The weather forecast Saturday is calling for rain earlier in the day, with clearing and cooler temperatures in the upper 60s. The Big Shot team plans to use a canopy to protect against the elements, if necessary.
The Big Shot team is working closely with RIT's New Student Orientation Office to make the event part of the official welcome for the university's new freshmen. RIT Facilities Management, Office of Alumni Relations and Public Safety also will have significant roles.
There will be a private alumni reception, sponsored by Nikon and Profoto, beginning at 6:30 p.m. inside the GIS building's atrium. The reception will feature a BBQ-style menu. The cost to attend the reception is $10 per person. Registration is necessary. Space is available, but limited. Go to http://rit.imodules.com/s/1624/index.aspx?&gid=1&pgid=1210&crid=0http:// or call the Office of Alumni Relations at 866-748-2586.
Like the Big Shots that preceded this one, it will be a community art project.
"Who knew when we began this project to educate our photography students about electronic flash photography 27 years ago that it would become such an embraced RIT tradition," Peres said.
To learn more about the project and view photographs of past Big Shot photos, go to www.rit.edu/bigshot. RIT also has a Facebook page ("like" RIT the Big Shot) and a Twitter handle (@RITBigShot) for the event.
WHAT: RIT Big Shot No. 30
WHERE: Golisano Institute for Sustainability, Center for Integrated Manufacturing Studies and the surrounding quad.
WHEN: Arrive at 8:30 p.m.; photograph takes place at about 9 p.m.
WHO: RIT's School of Photographic Arts and Sciences, along with hundreds of participants. Participants must wear black or dark clothing and bring a flashlight, camera flash or handheld strobe. Use of laser pointers is prohibited.
GENERAL PUBLIC PARKING: Parking lots F, J or T.
MEDIA PARKING: Parking lot T (adjacent to GIS).