Black Lives Matter flag to get permanent display on campus
Announcement made by RIT President Munson during online 'Calls for Justice at RIT'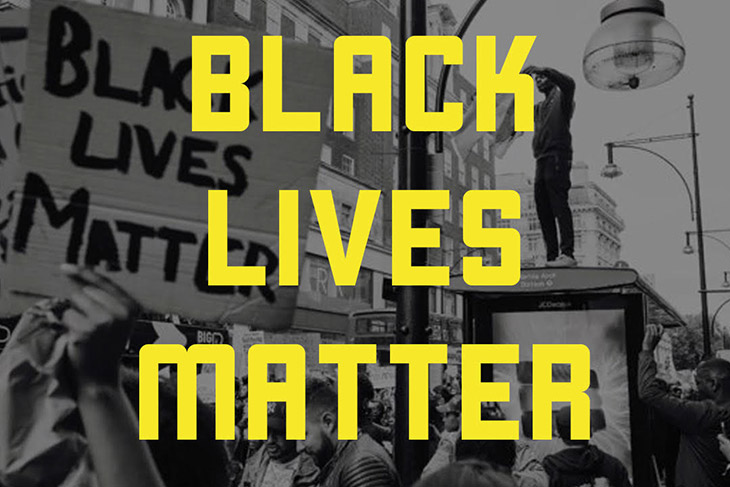 Rochester Institute of Technology will create a permanent display this fall in the Student Alumni Union for the Black Lives Matter flag.
That news was announced Friday (June 5) by President David Munson during the "Calls for Justice within RIT" online interfaith vigil, which was held in memory of George Floyd, Ahmaud Arbery, Breonna Taylor and other victims of police violence. More than 200 members of the RIT community took part in the online vigil.
Munson said that while Black Lives Matter banners have been raised on campus during events and ceremonies in the past, many members of the RIT community urged campus leaders to find a more permanent way to display the flag as a way to represent the university's commitment to the Black Lives Matter movement. The flag will be mounted along with three other flags that represent cultural and historical significance to RIT: the Pride Flag, representing RIT's commitment to the LGBTQ community; the Haudenosaunee Flag, representing the six Native American nations that originally occupied the region where RIT's campus sits; and the Sign Union Flag, representing RIT's deaf and hard of hearing community.
The online vigil featured student, faculty, staff and alumni speakers. The speakers shared memories of family members battling against structural racism, prayers from multiple faiths, and calls for the RIT community to move beyond words of support toward tangible antiracism actions.
"Today we are here together and witness the call to justice," said the Rev. Monica Sanford, assistant director for Campus Life, Spirituality and Religious Life during the event. "This is a call to RIT from members of the RIT community— from students, leaders, faculty, staff and alumni. We are calling each other to account to come together as a community, grieve together, make amends and take action."
Sanford said there will be forthcoming information about other events and actions by the university, including more interactive opportunities for the RIT community to speak with campus leaders about social justice.
Topics