'Bra fairy' helps support homeless women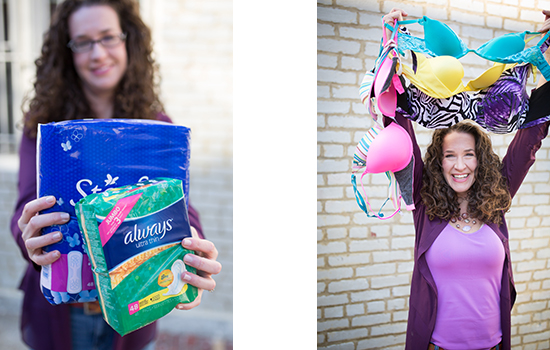 Emily Goodstein
Twenty years ago when Dana Marlowe was a student at RIT, she studied women who took off their clothes in strip clubs. Today, she devotes her free time to helping women get dressed.
Both projects have opened doors for Marlowe '96, '98 (sign language interpreting, professional and technical communication). Her senior thesis on exotic entertainers and strip club audiences got the attention of The Chicago Tribune, which asked her to write about her work.
Support the Girls, an organization that provides bras and feminine hygiene products to homeless women and girls, in the last year has attracted media coverage and donations from around the world. "The irony is ridiculous," said Marlowe, who by day is principal partner and co-founder of Accessibility Partners, a consulting firm that works with businesses and government agencies to help make technology available to all, especially people with disabilities.
Marlowe didn't set out to spend her evenings and weekends as a bra fairy. She began exercising in the fall of 2014 and by July 2015 she had lost 35 pounds. Marlowe needed a new bra so she went to a boutique where she could be professionally measured. She asked the store clerk if there was any place she could donate the bras that no longer fit. The clerk told her that homeless women were desperately in need of bras because most women don't donate them.
She called a nearby shelter in Washington, D.C., and the director there told her women also need feminine hygiene products.
"I went on a walk the next day with a friend and recounted the story. My friend said, 'I have bras in the back of my drawer. Take my bras,'" Marlowe said. "I told more people and everyone says, 'Take my bras.' I put it on Facebook and people started sharing it and messaging me. My 16 bras became 100 bras, which became 500 bras."
By late October, she had created a Facebook group called Support the Girls and had collected 1,051 bras and about 7,100 packages of tampons and pads.
She dropped them off at a shelter and thought she was done. Then The Washington Post published a story about her efforts. "My inbox blew up," she said. "I'm talking hundreds and hundreds of messages."
Organizations contacted her about becoming drop-off sites. Her two sons began coming home with their backpacks stuffed with tampons, pads and bras. And donations were piled on her doorstep.
She asked her husband, Preston Blay '96 (mechanical engineering), to create a website, iSupportTheGirls.org, to answer frequently asked questions. She set up a post office box to collect donations. And she did follow-up interviews with The Today Show, Yahoo!, The Huffington Post and others.
Today, there are Support the Girls groups across the U.S. and in Costa Rica, Hong Kong, Thailand, with more on the way. They have collected more than 11,000 bras and 55,000 menstrual hygiene products.
She hopes to one day raise enough money to hire a team to run the organization.
"It is a remarkable feeling," she said. "It really is making a huge difference by providing support and dignity to thousands and thousands of women."
Topics