Brick City weekend features RIT Alumni Oktoberfest Oct. 14
Taste beer, cider, and wine from alumni-owned businesses during homecoming weekend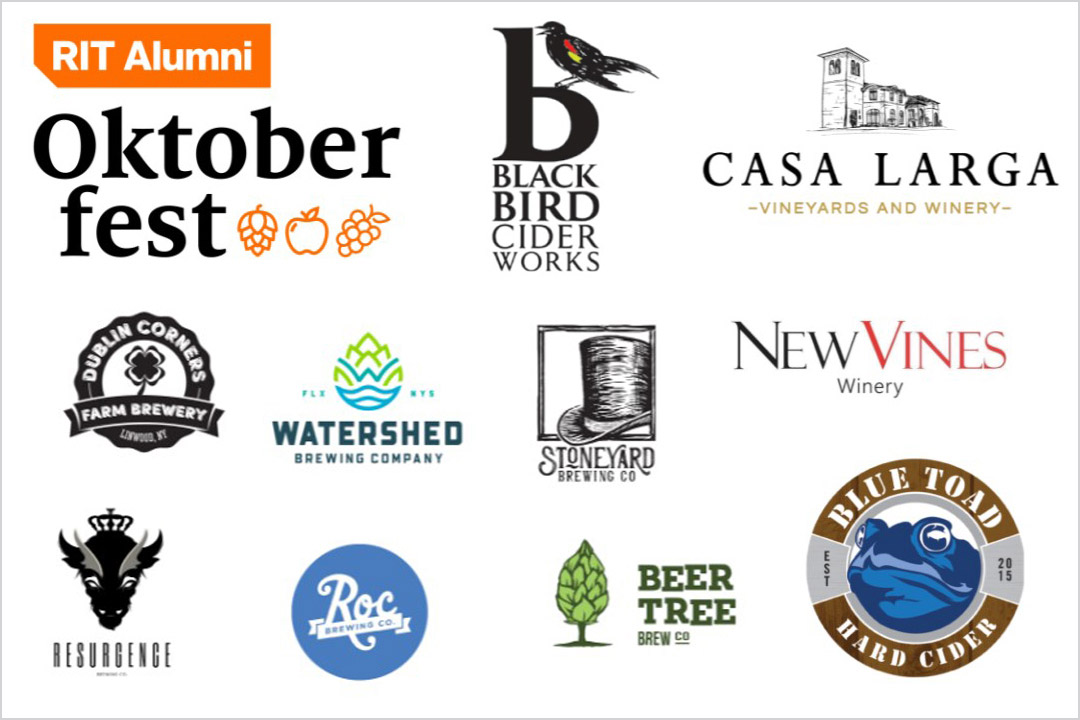 Brick City Homecoming and Family Weekend attendees will get the chance to try some top-notch beverages and support alumni-owned businesses at the second annual RIT Alumni Oktoberfest on Oct. 14.
At this year's event, alumni brewers, winemakers, and cidermakers from 10 businesses will be on hand to answer questions and provide samples. Attendees will also receive two drink tickets for full cans or bottles, redeemable at the main bar.
The Alumni Oktoberfest takes place from 3:30 to 5:30 p.m. in the Gene Polisseni Center main lobby. The 10 alumni-owned businesses include:
Breweries
     • Beer Tree Brew
     • Dublin Corners Farm Brewery
     • Resurgence Brewing
     • ROC Brewing Co.
     • Stoneyard Brewing Co.
     • Watershed Brewing Company
Cideries
     • BlackBird Cider Works
     • Blue Toad Hard Cider
Wineries
     • Casa Larga Vineyards
     • New Vines Winery
Justin Grant '00 (mechanical engineering), '04 MS (manu­facturing management and leadership) said he's excited to be a part of the Alumni Oktoberfest. He and his wife, Heather, started Dublin Corners Farm Brewery on his family farm after several years of growing hops. They have also opened a taproom in Geneseo, N.Y.
"We look forward to sharing our story about building a brewery and the business that has evolved over seven years," said Grant. "What's even better is we will also be attending other Brick City events along with our son Francis, who is now a freshman in RIT's software engineering major."
After the event, a free shuttle to Blue Cross Arena will be provided for those attending the men's hockey game versus Notre Dame. Shuttles depart from parking lot S on campus beginning at 5 p.m.
Tickets for the Alumni Oktoberfest are $25 per person. Tickets include samples, two drink tickets, soft drinks, and a selection of hors d'oeuvres infused with beer/cider/wine. Additional drink tickets will be available for purchase. All attendees must be at least 21 years old to enter the beer garden.
"These aren't just a couple of alumni making beer in their garage, these are award-winning beverage producers who are representing some of our best and brightest alumni in the field," said Jon Rodibaugh, executive director of RIT Alumni Relations. "I would challenge any university to match up against RIT when it comes to the quality of our alumni breweries, cideries, and wineries."
Go to the Brick City Homecoming and Family Weekend website for Oktoberfest tickets and for more activities, registration, and ticketing information.
Related News
Topics