RIT alumni hop on the craft-beer boom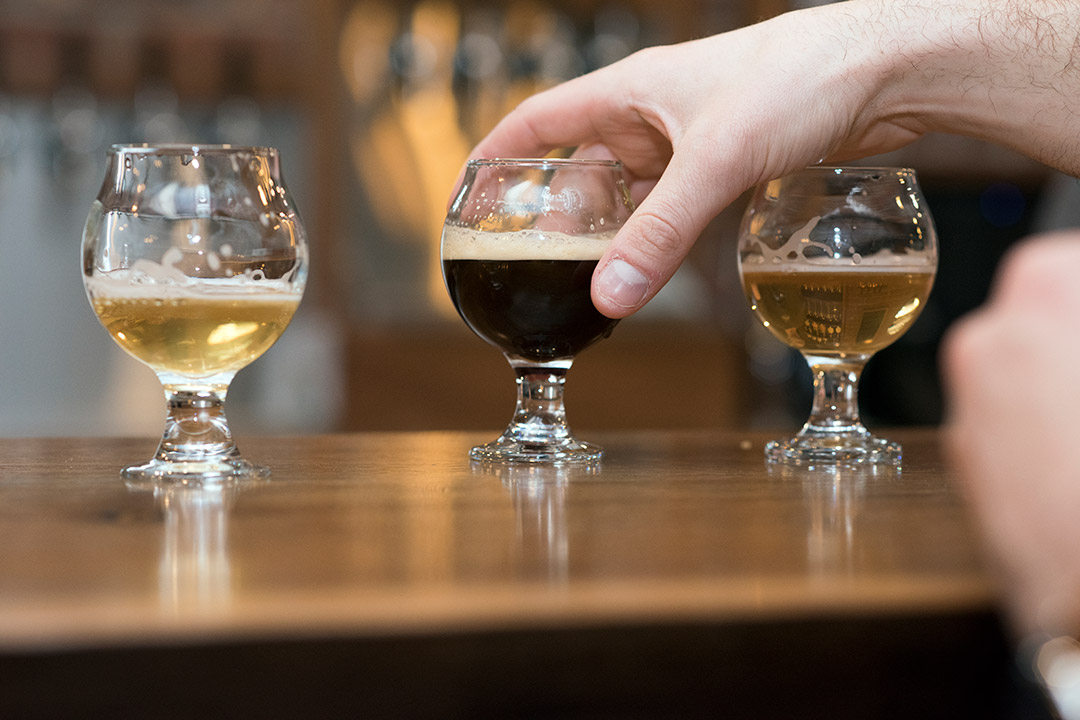 While dating in college, Aaren Simoncini '09 (finance) and Precious Putnam '09 (ASL-English interpretation) wanted to take a class together. They settled on Wines of the World, which then led to Simoncini taking a Beers of the World elective.
"It was like a great awakening for me," said Simoncini.
"Beer pong was never the same for us," Putnam said. "We became the odd couple that brought craft beer to a keg party and asked for a glass, instead of a Solo cup."
Today, Simoncini and Putnam live and breathe craft beer as owners of Beer'd Brewing in Stonington, Conn.
They are just two of many RIT alumni who have tapped into the craft-beer boom that has swept across the country in the past 10 years.
In the U.S., the number of craft breweries grew from fewer than 1,600 in 2009 to 7,346 in 2018, according to the Brewers Association.
This growth can be attributed to the legalization of home-brewing in the late 1970s and recent policy changes on how craft breweries can sell their beer.
Even more, consumer tastes have changed, stressed Genesee Brewmaster Steve Kaplan '05 (mechanical engineering).
"People are more educated about beer now than ever and realize that traditional lagers, while still representing the majority of beer sold in the world, really only represent one of thousands of styles of beer out there," said Kaplan. "People want to experience new flavors and go to a local brewpub to interact with the brewers themselves.
"And they are willing to pay more for something special."
That's good news for the RIT alumni who have founded their own breweries.
Some never imagined managing a company, while others are fulfilling a lifelong dream of being an entrepreneur. Through brewing, these Tigers get to flex their scientific and technical backgrounds, while showing off a little creativity.
Beer'd Brewing
Not many couples approach each other with a business proposal. That's what Simoncini did to tell Putnam about his idea for what would become Beer'd Brewing Co.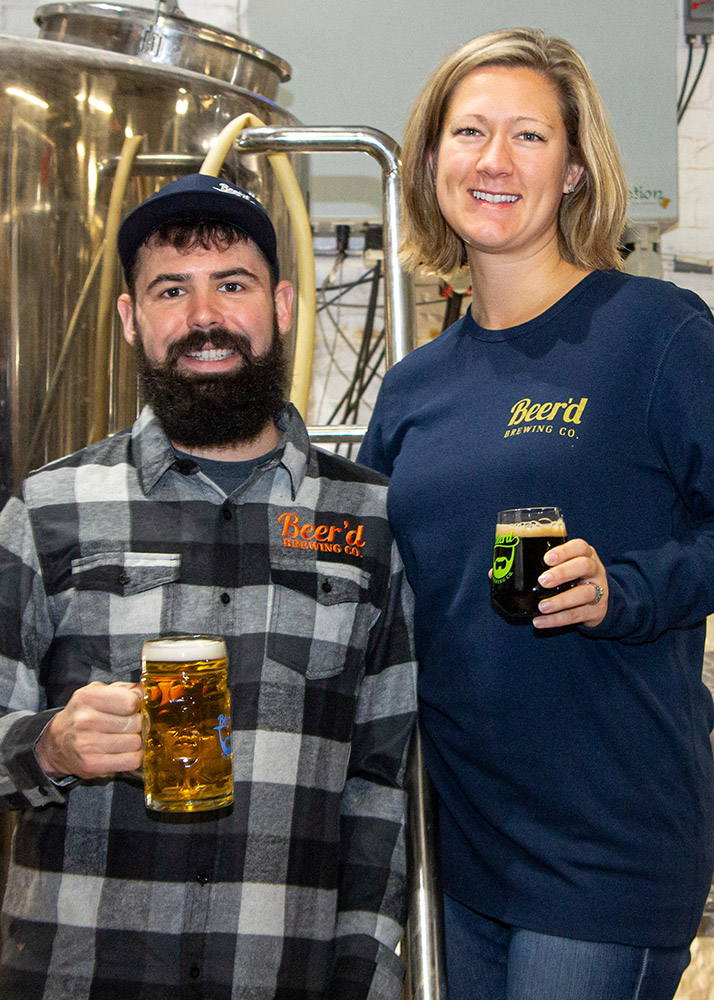 The founders recently celebrated "Seven Years of Beers," after opening their Stonington, Conn., brewery in 2012. Beer'd now is known for its clear double IPAs, has 30 employees, and opened a second taproom in Groton, Conn., earlier this year.
After meeting at RIT, the couple moved to Simoncini's hometown of Mystic, Conn., where he got a job in accounting.
"I was raised in a family that has a history of entrepreneurship, and that job just wasn't scratching my itch," said Simoncini.
Simoncini's mother and Putnam knew what would cheer him up.
"We bought him a homebrewing kit," said Putnam. "We figured, since he was spending so much on craft beers, why not save some money and make the brews himself."
Simoncini calls brewing an artistic expression and a practice in science. He was so into it that he thought about starting his own brewery. To gain some more experience, he began volunteering at a local brewery. "At that point, I knew this was the life for me," said Simoncini. "It meant I could be my own boss, that the sky was the limit, and I could climb the ladder as high as I wanted to. But we would also have to bare the risk of falling off."
His initial business plan called for a 15-barrel system. They agreed on three barrels. Financing it themselves, the couple built the taproom and brewhouse over seven months.
"We don't want a middleman, so we do all of our own manufacturing, distribution, and sales," said Putnam, who worked for several years in disability services before committing full time to the brewery. "When I started my interpretation degree, I never thought I'd be managing people and controlling a business."
The Beer'd Brewing name was inspired by the beard that Simoncini grew in college and still has to this day.
"And it all started at RIT," said Putnam. "Not only is it the place where we met, but it's the place that gave us the knowledge and skills needed to run a successful business as a team."
Next Chapter
Scott DeLap '88 (computer science) spent 30 years doing information systems work. Now, as owner of Next Chapter Brewpub in Auburn, N.Y., he has the chance to get in front of his customers and see how they enjoy his products.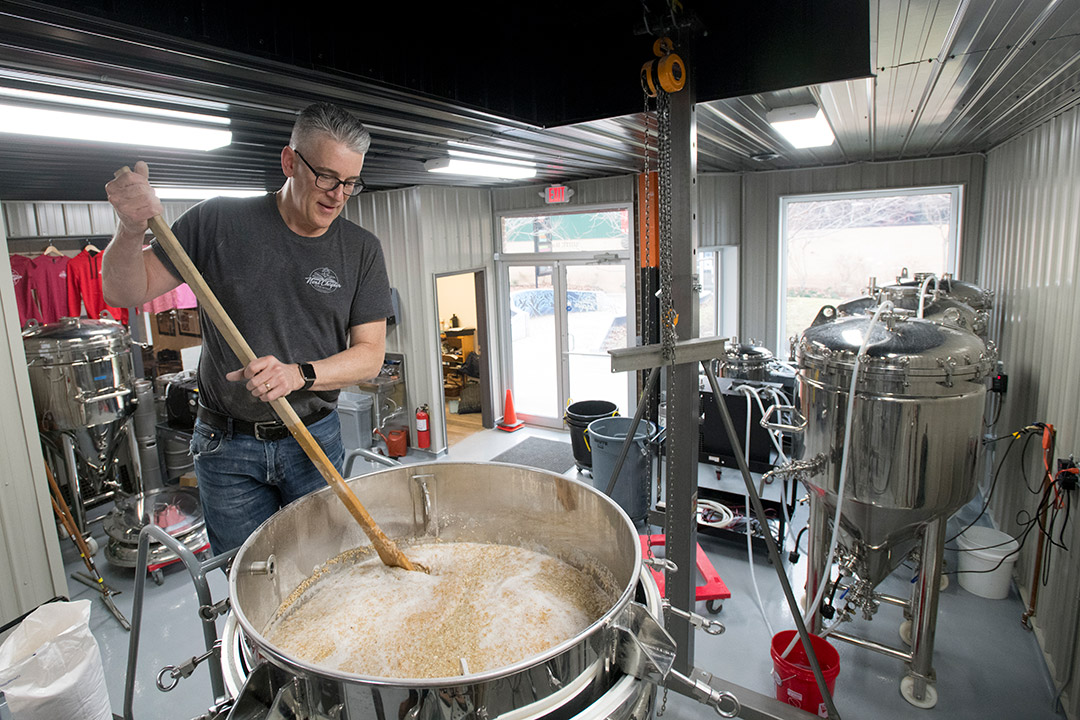 A. Sue Weisler
"It's a lot of work, but it's quite rewarding," said DeLap, who opened the brewpub in 2018 with his wife, Michelle.
The DeLaps moved to Rochester from their hometown of Auburn in 1985—one week after getting married—so Scott DeLap could get his bachelor's degree from RIT. After graduating, he went on to work for Kodak and then Frontier Communications, where he helped create some of the company's first data warehouses. The couple started a family and moved around the northeast.
When they ultimately decided to make their way back home to Auburn, DeLap had a choice.
"I asked myself, 'do I want to go back to IT or try something new?'" he said. "We were both passionate about beer and we already had some practice with home­brewing."
The Next Chapter Brewpub has a relaxed atmosphere, where elements of the DeLaps' past are showcased around the building. The pub is known for its wood-fired pizza and "sessionable beers," which DeLap said are lower in alcohol. For DeLap, a brew day is about 12-hours long.
"You can relate brewing to computer science because it's analytical and you need to be able to follow a process and repeat beers that people really like," he said. "At the same time, there is really no limit on what you can put together, so I get to experiment and create things that people enjoy."
Well Crafted
It wasn't until after college that the group of five packaging science majors really started getting together as a group.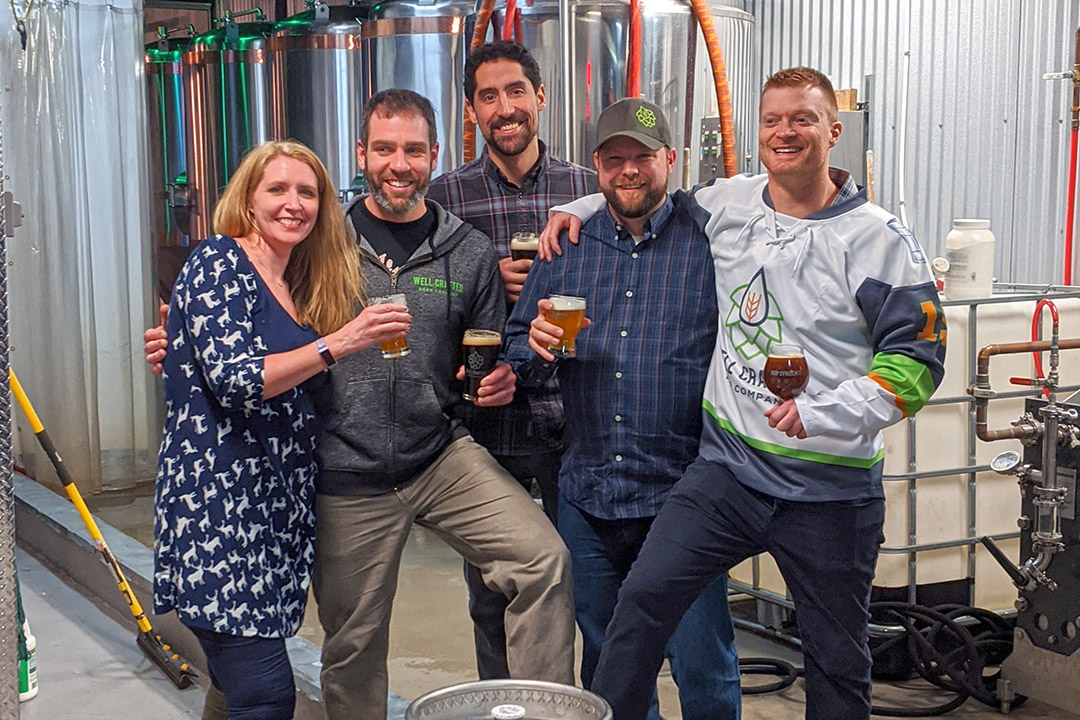 Rick Solomon '05, Doug Bellenger '04, Joe Provo '04, Matt Bolton '02, and Nica (Crowley) Bellenger '03 each took jobs in the Philadelphia area and started reconnecting over a few craft beers. What started as a homebrewing collaboration turned into an efficient assembly line where the team could experiment with different hops, malts, and yeasts.
Today, the RIT group meets up at their own brewery, Well Crafted Beer Co. in Lansdale, Pa.—just outside of Philadelphia.
"Rick, Doug, and Joe had been homebrewing separately, but in 2007 realized that if they brewed together it would be more efficient," said Nica Bellenger. "Everyone was assigned a specific job."
It was Solomon, now the head brewer, who took it to the next level by getting a brewer's degree and part-time commercial brewing job. Along with the business development expertise of the Bellengers, Bolton, and Provo, the company began to form in 2017.
"The name was inspired by the well water that we used to make our homebrew beer," said Nica Bellenger. "We think it's a great starting point for beer, and although we don't have a well water source at our commercial brewery, we replicate that same well water with filtration and minerals in today's brew process."
Well Crafted is housed in a 100-year-old building that used to be a Masonic Temple. The brewpub normally has 15-20 different beers on tap, along with live music, events, and food.
Solomon and Nica Bellenger now work at the beer company full time, while Bolton, Provo and Doug Bellenger split their time between jobs in the pharmaceutical and home automation industries. When it came time to start packaging their beer for distribution, the group said they felt pretty well prepared.
Well Crafted has also held two RIT alumni nights, where the group gets to socialize with many alumni and parents of current students.
"It's nice to reminisce and hear stories about how RIT has changed over the years," Nica Bellenger said.
Tiger Beer Trail
RIT alumni around the world get to flex their entrepreneurship, creativity and scientific skills as brewery owners. Here's the story behind 10 other establishments with RIT roots.
Crafty Dee's Brewing Co.
Dar Es Salaam, Tanzania
Chintu Patel '02 (management information systems) gained a love for craft beer while living in the U.S. He then moved back home to open the first craft brewery in Tanzania.
St. Pete Brewing Co.
Saint Petersburg, Fla.
Michele Conklin Williams '94 (food marketing and distribution) started a brewery with her husband in 2014. She also serves as vice president of sales for Taylor Farms Florida.
Sabaja Craft Brewery
Prishtina, Kosovo
Alex Butler '11 (MBA) and Etida Zeka '09 (applied arts and sciences), '10 (MBA) introduced American-style craft beer to Kosovo in 2013.
Dublin Corners Farm Brewery
York, N.Y.
Justin Grant '00 (mechanical engineering), '04 MS (manu­facturing management and leadership) and his wife started a brewery on his family farm after several years of growing hops. They recently opened a taproom in Geneseo, N.Y. Grant also works as a plant manager at Dolco Packaging.
Resurgence Brewing
Buffalo, N.Y.
Orchard Park native Jeff Ware '04 (business management) saw the need for an indoor/outdoor beer garden that celebrated his beloved Buffalo, N.Y. He has opened two locations and hosted a free Intro to Beer webinar with RIT Alumni Relations. Watch the webinar at rit.edu/alumni/node/85547.
Deep River Brewing Co.
Clayton, N.C.
Paul Auclair '02 (civil engineering technology) and his wife used their engineering backgrounds to design the first legal brewery in Johnston County, N.C.
Fifth Frame Brewing Co.
Rochester, N.Y.
Jon Mervine '07 (economics) and Noah Morgenstern '07 (finance) opened a micro­brewery and scratch kitchen in 2017.
Element Brewing & Distilling
Millers Falls, Mass.
Daniel Kramer '86 (printing manage­ment) co-founded Element Brewing in 2009, after more than 20 years in the brewing industry. In 2015, the company added a distillery to the operation.
ROC Brewing Co.
Rochester, N.Y.
When Chris Spinelli's mother bought him a homebrewing kit in 2009, she was just trying to give him something to do. Since then, Spinelli '08 (economics), '09 (MBA) co-founded a brewery in downtown Rochester that has won national awards. Nick Mesrobian '08 (photojournalism) serves as head brewer for the company.
Stoneyard Brewing Co.
Brockport, N.Y.
Jeff "Oz" Osborne '08 (mechanical engineering) went from being an aspiring homebrewer to starting a new career as head brewer at Stoneyard. Today, as part-owner, he enjoys crafting many Rochester-themed brews.