Business incubator grows companies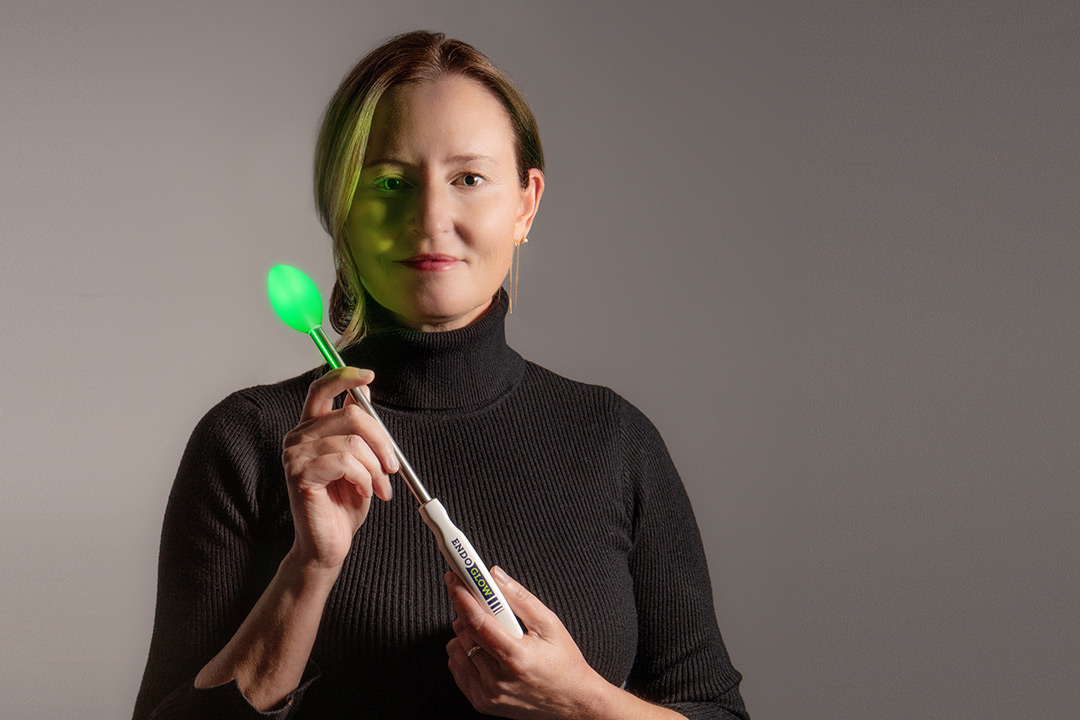 The ability to see through body tissue may sound like something from a science fiction movie, but a start-up company in RIT's Venture Creations business incubator has developed a device that makes this possible.
EndoGlow, founded by Dr. Paula Doyle, provides fluorescent medical tools for surgeons to help increase their ability to make safe and effective decisions for their patients. Its patented polymer, which makes up the head of a specially designed manipulator tool, glows without power or batteries when viewed through the near infrared camera system that is already used with most surgeries.
"EndoGlow's surgical instruments illuminate anatomic boundaries, subsurface pathology, and relative tissue depth. These features allow the surgeon to make better real-time decisions and, in effect, decrease surgical errors," said Doyle, the company's chief medical officer.
EndoGlow is one of several companies utilizing the services of Venture Creations, located in Rochester's Downtown Innovation Zone. Founded in 2003, Venture Creations provides resources to client companies, including coaching from experts, educational events, office space, and a variety of connections to help with legal affairs, human resources, accounting, sales, and marketing.
Companies in the incubator also have the opportunity to network with each other, with other entrepreneurs in the region, and with companies that have since graduated from the incubator. In total, 47 companies have launched from the incubator, creating more than 600 new jobs and raising over $250 million dollars in capital. 
"Being affiliated with RIT has been a huge benefit," said Doyle. "Specifically, working with the university's packaging department has been great. Medical devices have very specific packaging requirements and testing guidelines. RIT helped us establish contacts within the MedDevice packaging industry and has helped with testing."
Venture Creations' connection to the university also allows it to use RIT's resources to enhance the technology industry in Monroe County and New York state. 
"The benefits of an incubator affiliated with a major university are many," added Johan Klarin, incubator director. "Not only are our companies able to work with expert faculty, they also have access to cutting-edge technology, expensive machinery and labs, as well as a community of students who are actively looking for opportunities to enhance their research portfolios and even gaining employment with some of the world's newest and most innovative companies."
This story is part of the 2023 President's Annual Report. Read more stories from the report.
Topics