Camp explores 'Chemistry in My Cookies?'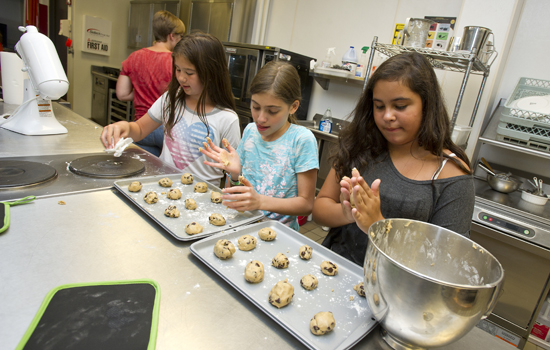 A. Sue Weisler
A dozen Rochester-area students in sixth to ninth grade enrolled in RIT's "Chemistry in My Cookies?" with their stomachs in mind.
Instructor Lisa Zeller, a middle-school science teacher at the World of Inquiry, School 58, taught the Bioscience Camp for Kids from July 20 to 24 at RIT's Center for Bioscience Education and Technology in the Institute for Health Sciences and Technology.
Before launching into baking, Zeller introduced the campers to the finer points of the digestive system. They modeled the digestive track and learned how the body processes the nutrients in their cookies.
On the second day, the campers got a little closer to the test kitchen. They explored the chemical properties of common ingredients used in baking—flour, baking soda versus baking powder, eggs, fats and oils.
"What people don't think about with baking is that it's all about air pockets that you're creating," said Zeller.
Proteins in flour and egg whites form the scaffolding for fats and sugars to create those pockets, she explains.
To prevent the potential chaos of 12 cooks in a kitchen, Zeller split the campers into four groups of three, with a cookie leader (or project manager), an ingredients master and a batter specialist.
Two campers with food allergies added an extra dimension to the camp, and students were challenged to make cookies that everyone could eat. Each group made two batches of chocolate chip cookies. The students followed their chosen recipes on Wednesday and modified them on Thursday. They learned how to substitute applesauce for eggs, coconut oil for butter and gluten-free flour for all-purpose flour. They also used dairy-free chocolate chips in place of the milk-chocolate variety.
Zeller reworked her curriculum to include talks about food allergies and the immune system by Rachel Chaffee, director of the RIT University Writing Program, and Sandi Connelly, assistant professor in RIT's Thomas H. Gosnell School of Life Sciences.
Sixth-grader Tessa Brown, who attends home school in Brighton, is new to baking and enjoys recipes. She asked her friend, Lia Donahue, a sixth-grader from Brighton, to join her for the RIT camp.
Lia was excited by the thought of baking—and eating—cookies, and was a little surprised when, Jasmine Nichols, a seventh-grader who attends Our Lady of Mercy School for Young Women, professed a dislike for cookies.
"I like chemistry," she said.
An interest in chemistry also led Kiernan Boland, a sixth-grader from Bloomfield, to sign up for the camp. "I thought it would be fun and tasty."
Zeller used food science to capture the campers' attention and to give them confidence as scientists from the new experience. On the last day of camp, the students presented their research in a symposium and held a taste testing.
"The No. 1 thing I want students to take away from this camp is that science is fun and they are scientists," Zeller said. "Secondly, I want them to learn about the science behind baking and eating food, and share that information with their families and friends."