Celebrating 50 Years at the Henrietta campus
The sixties turned sour in 1968.
A decade that began with optimism suddenly saw an escalating Vietnam War, two assassinations and a nation in civil unrest.
Yet, at RIT, the future was looking a little sweeter.
The campus was moving from downtown Rochester—where it had been since 1885— to fields in the town of Henrietta. After seven years of planning, RIT had transformed 1,300 acres of farmland into a modern university. It was affectionately referred to as "Brick City" and became a place for bright minds to come together to learn and grow.
Fifty years later, that transformation hasn't stopped.
Throughout 2018-2019, RIT is celebrating this milestone with a year of activities. Highlighting the 50th anniversary is a Henrietta campus re-dedication ceremony and downtown campus ceremony during Brick City Homecoming & Family Weekend Oct. 19–21.
"In the middle of the 20th century, RIT was already making an indelible mark in higher education, shaping careers for its students, providing the workforce that served as the economic backbone for the Rochester region and acting as an invaluable partner to companies and industries across the country," said Bill Buckingham '64 (business administration), honorary chair of the 50th anniversary. "In the last 50 years, RIT has expanded its reach and reputation around the globe and deepened its impact on the lives of our students and alumni."
The story of how RIT transformed from a downtown college to a top-100 doctoral university coincides with a changing nation in the 1950s and '60s. Like many Americans, RIT was looking toward the future when it moved to the suburbs.
Choosing Henrietta
One year before President John F. Kennedy gave his impassioned speech persuading the American people to land on the moon, the RIT community was preparing to make its own giant leap.
It was 1961 and suburbanization was sweeping the nation, as more than 41,000 miles of new expressways were being built.
Unfortunately, one of the miles that would help connect Rochester's new Inner Loop was going to divide RIT's downtown campus in half. The question—should RIT stay or should it go?
"It was really a push and pull situation," said Becky Simmons, RIT archivist. "With a growing student population and the fact that they were literally running out of space, RIT was already looking to expand."
In Rochester, the skilled technical economy was booming, with Kodak, Xerox and Bausch and Lomb at their peaks. Helping to supply that economy was a growing number of people in higher education, fueled by the flourishing population and threat of a Cold War.
After World War II, "higher education, especially scientific and technical education, was regarded as the answer to almost all national and personal hopes and ambitions," wrote Dane Gordon, RIT Professor Emeritus, in his book about RIT history.
To meet the demand, RIT began offering bachelor's degrees in the 1950s. The disjointed downtown campus adapted too—turning an old house into the Student Union, redesigning a bakery into the school library and converting the old Manger Rochester Hotel into the men's dormitory.
As a member of the 1955-1956 undefeated basketball team, Fred Moss '58 (graphic arts) remembers practicing and playing home games in RIT's new athletics complex, the Ritter-Clark Memorial Building. The gym and ice rink were just a short walk from his dorm on Spring Street.
"At the time, half of my fellow students were veterans attending school under the GI Bill; the other half were recent high school graduates, such as myself," said Moss, who ran his own graphics and printing company in New Jersey for more than 50 years. "This mix of ages and experiences was a very special grouping for our college life."
For many of the school's working part-time students, parking was a major problem. But students fondly remember the close-knit urban campus, area bars and hangouts, the end of the Rochester Subway and the opening of Midtown Plaza.
Nevertheless, the incoming Interstate 490 gave RIT leaders a deadline. When considering to move RIT's more than 8,000 students, one of the strongest proponents for getting plenty of land was James Gleason, a longtime chairman of the Board of Trustees.
"Don't get 100 acres," he would say. "Buy enough land for the next 100 years."
After some vigorous debate by trustee members and a surprise $3.27 million donation (which would be $27 million today) from Grace Watson—a Rochester resident who had taken some courses downtown—the move was decided in November of 1961.
When RIT President Mark Ellingson made the announcement, an excited group of students took an impromptu trip to the farmland. They also began raising money for a student union on the new campus and even printed a special edition of the Reporter.
The headline read: "We're Coming, Henrietta!"
Building the future
Right away, President Ellingson and RIT's board set out to fulfill their vision for a modern and functional campus.
"Most universities start in one place and grow outward," said Simmons. "Here is President Ellingson with the opportunity to start something brand new."
He stated that the school should look like a technical institution, not a traditional Ivy League university. He dreamed of monumental buildings that were strongly unified, as opposed to the disparate collection of old buildings downtown.
Five architecture firms were hired to construct the Brutalist-style buildings located on two small hills above the flood level of the property. The separated academic and residential sides would be connected by a causeway, later named the Quarter Mile.
But while RIT was preparing to break ground on Eastman Hall in 1964, tension was building near the downtown campus.
Over the course of three days in July, Rochester was shaken by unrest and riots that resulted in the National Guard being called into the city and nearly 1,000 people being arrested. The 1964 Rochester race riot was a backlash against institutionalized discrimination and overcrowding that was happening in the Third Ward—which today is known as the Corn Hill area.
"The Institute was at the heart of one of the most badly disturbed areas," wrote Gordon. "Yet nothing happened to it, not a window smashed."
Still, campus safety became a debated topic.
The moving plans went on. Each academic department had to think about the needs of its students and supplies. Where will the printing presses and materials testing machines go?
In 1968, the campus was ready for move-in—just one year later than scheduled.
Diana (DeSio) Hauman '69 (retail management), who had lived her first three years downtown, remembers thinking that the move was less than ideal. Nevertheless, during her resident adviser orientation she volunteered to be part of a crew moving furniture from downtown to the new campus to make sure everything was ready in time.
"We wanted to help because we were excited," said Hauman, who ran her own performance management company for 25 years and now serves on the city council in her hometown of Bloomington, Ill.
"The campus wasn't really finished yet, but hey, it was new."
Transferring to a new campus
One year before the Woodstock music festival produced a 10-mile-long traffic jam on the New York State Thruway, the first day of classes at RIT's new campus was creating its own bottleneck on Jefferson Road.
Newspapers congratulated RIT on its "Warm bricks" and "Glass that doesn't scream at you." Students played Jimi Hendrix from the balconies of their two-story lounges, outfitted with spiral staircases. The campus was officially dedicated at a ceremony during homecoming weekend.
In addition to a new landscape, a new freshman class had arrived, entering the newly formed National Technical Institute for the Deaf.
"NTID students would put big signs in their windows saying 'Deaf Power,' a play on the popular 'Flower Power' phrase," said Hauman. "We learned some sign language and the students helped us integrate into their world—I thought it was pretty cool."
However, there were growing pains.
Greg Evans '69 (art and design) had to drive back to the downtown campus for classes during the first quarter, because parts of the art building weren't ready yet.
"I also remember that President Ellingson waited until spring to put some of the sidewalks in, because he said, 'Let's wait and see where the students actually walk,'" said Evans, who was student body president at the time. "We trudged through a lot of mud and grass that year."
At times, the campus seemed less than welcoming with its sparse trees and lackluster landscaping. Jim Booth '71 (business administration) remembers having to triple up in his dorm room for the first three months, serious problems with a lack of heat in some of the buildings and one friend who became quite skilled at catching field mice in Kate Gleason Hall.
But in the back of everyone's minds was something far more disconcerting than unfinished buildings—the ongoing Vietnam War. Many young men were attending RIT to further their education but also to postpone being drafted.
"It loomed over everything and you were just hoping the war would end before you graduated," said Evans, who eventually joined the Navy and later worked as vice president for Development at the College of Charleston. "We weren't holding demonstrations on campus like University of Rochester, but several of us went to Washington, D.C., and we discussed the news every single night."
For some alumni, the move to Henrietta was like transferring to a new school—it was difficult to grow attached to the new campus. However, the relationship with their alma mater never seemed to falter.
"I've always paid attention to how RIT has been developing into a world-class university over the years," said Evans. "It makes you feel proud."
For Booth, that relationship has gone one step further. In 2016, after 24 years working in logistics at Xerox and subsequently his own business in Rochester, he came back to campus for the second time in nearly 50 years. He watched his grandson move into Kate Gleason Hall, the same residence hall Booth lived in when he first arrived in 1968.
"I got to campus and I must have looked like an owl, with my head spinning around everywhere," said Booth. "Everything is so exciting here and the campus has grown so much."
Since Booth graduated, RIT has added more than 50 buildings, eight Ph.D. programs and international locations in China, Croatia, Dubai and Kosovo. For the first time, the university is now ranked among the top 100 national research universities by U.S. News and World Report.
For AJ Nagashima, who will start his third year as a computer science major this fall, his grandfather's legacy wasn't the reason he chose RIT.
Although he does admit that he was coerced into taking his first campus tour.
"RIT was just the best option for the program that I wanted to do, and I knew the culture was the right fit for me," said Nagashima, who is from Valhalla, N.Y. "Although, I was a little disappointed when I got here and I couldn't find the two-story lounges that my grandfather had raved about."
Today, nearly 19,000 students are taking advantage of the land that Gleason urged RIT to buy. Researchers in the Golisano Institute for Sustainability are finding ways to make manufacturing more efficient, while students in the Simone Center for Innovation and Entrepreneurship learn how to create and commercialize their ideas.
After classes, members of the RIT community can be found relaxing outside at Global Village plaza, coasting down designated bike paths and cheering on the Division I hockey teams in the Gene Polisseni Center.
"Over the past 50 years, RIT has transformed and Brick City has become a beacon of knowledge and innovation," said Buckingham. "However, I think we are only at the beginning of RIT's story."
Join the celebration
Throughout the 2018-2019 academic year, RIT will celebrate the 50-year milestone with many events, including:
Brick City Homecoming & Family Weekend, Oct. 19-21: The annual bash includes a special Henrietta campus re-dedication ceremony and downtown campus ceremony. Register at rit.edu/brickcity.
Futurists Symposium: Held at the Imagine RIT: Innovation and Creativity Festival on April 27, 2019, the event will showcase the future of technology and innovtion, including what's next at RIT.
Share your memories of RIT, view historical yearbooks, read stories, watch videos and stay up-to-date on the latest anniversary events at rit.edu/henrietta50.
Campus architecture
The buildings of RIT's Henrietta campus are unified by Brutalist-style architecture, which is known for being massive in character. The term Brutalism originates from "brut," the French word for "raw," and refers to its typical building material: raw concrete. Today, new buildings on campus incorporate more glass, open spaces and sustainable design.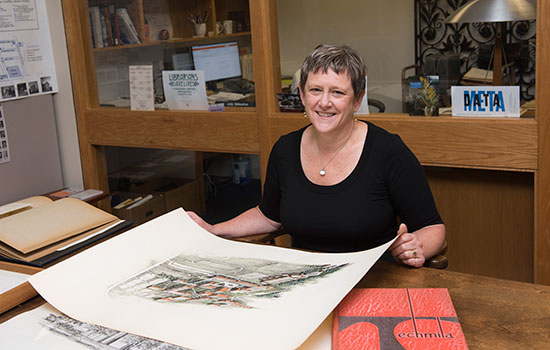 A. Sue Weisler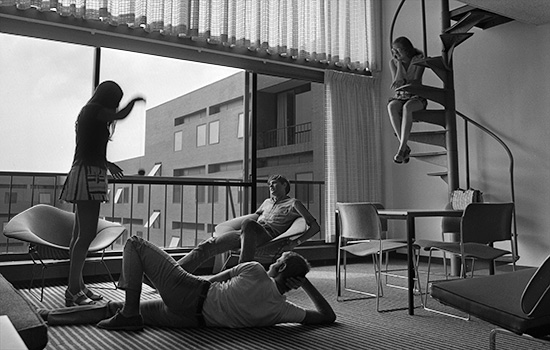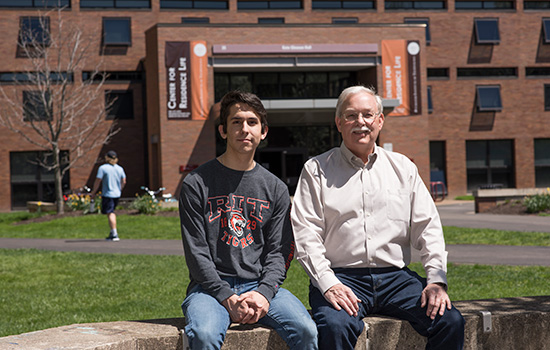 A. Sue Weisler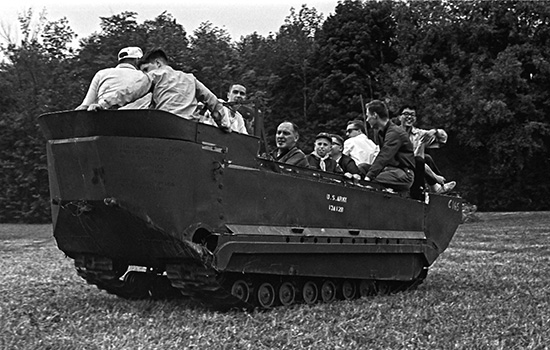 Don Eddy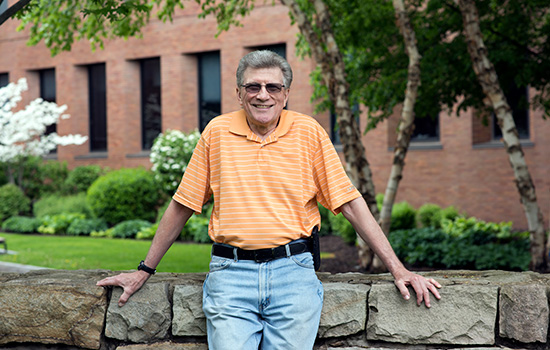 A. Sue Weisler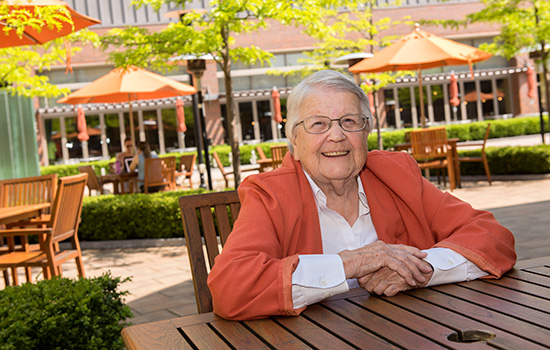 A. Sue Weisler
Related News
Topics