Celebrating 50 years at RIT's Henrietta campus
RIT will commemorate the 50th anniversary of its modern campus with a year of events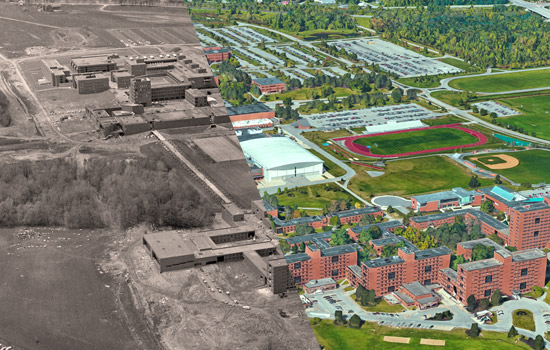 Throughout the 2018-19 academic year, Rochester Institute of Technology will celebrate the growth of the campus we affectionately refer to as "Brick City."
In 1968, the university moved from downtown Rochester – where it had been since 1885 – to farmland in the town of Henrietta.
Fifty years later, RIT is celebrating this milestone with a year of activities. Highlighting the anniversary year is:
Explore the history at rit.edu/henrietta50: Share your memories of RIT, view historical yearbooks, read stories, watch videos and stay-up-to-date on the latest anniversary events.
NTID 50th Anniversary Reunion: The anniversary marks 50 years since the first cohort of students matriculated at the National Technical Institute for the Deaf, one of the nine colleges of RIT, in 1968. A reunion will be hosted on campus June 28 through July 1. Learn more at ntid.rit.edu/50reunion.
Brick City Homecoming & Family Weekend, Oct. 19–21: The annual bash includes a special Henrietta campus rededication ceremony and downtown campus rededication ceremony.
50 Acts of Kindness: This series of programs and events will demonstrate how RIT Tigers give back to the Rochester and Henrietta community.
Futurists Symposium: Held at the Imagine RIT: Innovation and Creativity Festival, April 27, 2019, the event will showcase the future of technology and innovation, including what's next at RIT.
For more information on the 50th anniversary celebration of RIT's Henrietta campus, go to rit.edu/henrietta50.