CHAIRity auction to benefit United Way now open
A total of 30 chairs will be sold to the highest bidders; fundraiser open to the public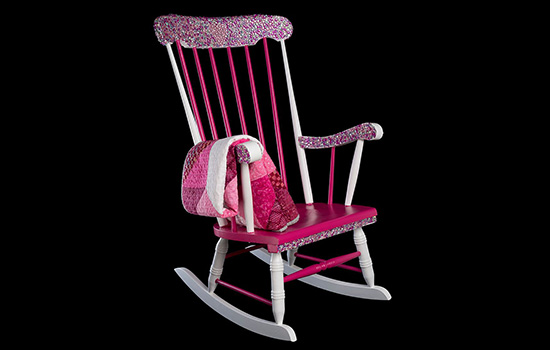 RIT Production Services
Please take a seat! Thirty ordinary chairs have been transformed into beautiful works of art and are available to the highest bidder—in support of the 2017 United Way of Greater Rochester campaign.
The third annual CHAIRity Auction to benefit Rochester Institute of Technology's 2017 United Way Campaign runs March 7-17, and the public is welcome to participate. Bidding starts at $50 a chair.
RIT's United Way Steering Committee collected the auction chairs from across campus, and during the past few weeks, volunteer artists have transformed and repurposed them into usable keepsakes. Last year RIT's CHAIRity fundraiser raised $4,000 according to Carol Reed, senior associate director/manager of Campus Center Facilities who helps organize the auction.
"We have some very unique and interesting submissions from RIT such as the Hiawatha Chair from the Native American Student Association and the King Arthur's Chair from the House of General Science," said Reed. "All the artists have the opportunity to choose United Way agencies in the Rochester area that they want to support—and they range from Lollypop Farm and the Wilmot Cancer Institute to Food Link, Make A Wish, the Breast Cancer Coalition of Rochester, Kirkhaven Nursing Home and Children Awaiting Parents."
One highly original submission is a chair from the RIT Beekeepers Club. According to club president Austin Quinlan of Marcellus, N.Y., who will graduate this May with a degree from the School of Film and Animation, the members call it "A Bee-utiful Chair."
"We wanted it to be simple in its design but then we wanted the surprise details of the honeycomb and honey drips," said Quinlan. "The comb is made out of plastic that we molded from our actual hive frames and the honey is glue that we colored in.
"We chose to support United Way's Dimitri House because I volunteer for the organization every winter and I wanted to give back in a bigger way. The money raised from this chair will help with getting more food for the shelter and offset many of the costs the shelter has."
Chairs will be on display in the RIT Student Alumni Lobby on March 8 and the Campus Center Lobby March 9-17. Online bidding starts at 10 a.m. Tuesday, March 7, and ends at 2:30 p.m. Friday, March 17. Payment can be made via credit card online. For additional information, contact RIT United Way Campaign Coordinator Denise Acton at 585-475-6169 or dmagrl@rit.edu.