ClearCove Systems accepted into START-UP NY
Renewable energy company born in RIT's Venture Creations plans to double workforce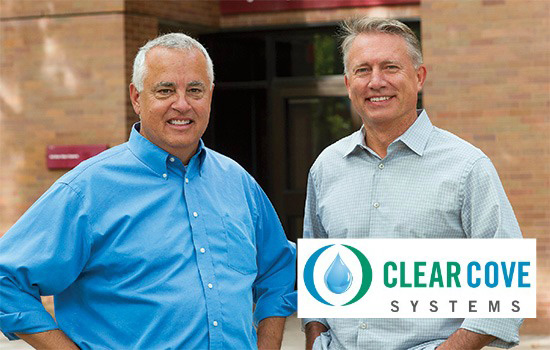 A. Sue Weisler
ClearCove Systems, a renewable energy company founded by Rochester Institute of Technology alumni that got its start in RIT's Venture Creations business incubator, has been accepted into the state's START-UP NY business development program, Gov. Andrew M. Cuomo announced today.
ClearCove Systems will move into RIT space approved for the START-UP NY program.
"The START-UP NY program offers a great value to entrepreneurial businesses that are driving the future of New York state. RIT has been a tremendous advocate for ClearCove Systems' candidacy for this award," said Greg Westbrook, ClearCove Systems CEO, who founded the company with his fellow RIT civil engineering technology classmate Terry Wright. "We appreciate the honor of being selected and we look forward to bringing our technology to communities across the state."
Businesses accepted into START-UP NY and create new jobs will pay no state or local taxes for 10 years. State officials say the tax benefits will help accelerate entrepreneurialism and job creation across the state on a large scale.
ClearCove Systems will create 23 new jobs and create $5 million to $10 million in economic benefit in 2015.
Empire State Development Acting President, CEO & Commissioner Howard Zemsky said, "START-UP NY is a game-changing initiative that is attracting thousands of jobs and millions in investment to New York state. We are growing our economy and training a highly skilled workforce to fill the great jobs that are being created by START-UP NY companies, like ClearCove Systems, in a range of high-growth industries such as life sciences, biotechnology and advance manufacturing, among many others."
RIT President Bill Destler called ClearCove Systems a great role model for aspiring entrepreneurs at RIT.
"ClearCove Systems represents everything that is right about the START-UP NY program," Destler said. "You have two former RIT roommates and alumni who are revolutionizing the wastewater treatment process. They are using their experience to bring new technologies to New York, where they can build their business, prosper and create additional jobs for the region."
ClearCove Systems' patented technology significantly reduces energy consumption, substantially improves energy production and reduces the installation and operating costs of a municipal or industrial wastewater treatment facility. By transforming wastewater plants into resource recovery "factories" for energy, water and by-products, ClearCove Systems' solution creates an economic development opportunity for local communities and industries.
ClearCove Systems was awarded two New York State Energy Research and Development Authority (NYSERDA) grants, enabling it to pilot their technology at the Ithaca Wastewater Treatment Facility and at the Nott Road Wastewater Treatment Plant in Guilderland, near Albany. A full-scale operation at the Bath, N.Y., wastewater treatment plant will be installed by early summer.
RIT was the first private university admitted to START-UP NY, and ClearCove Systems is the second business with RIT ties to be accepted into the program. In September, Datto Inc., an information backup and disaster recovery firm, was accepted in the program and opened an office in RIT's START-UP NY space at 40 Franklin St. downtown. That building also houses RIT's Center for Urban Entrepreneurship.
Interested businesses can get more information at www.rit.edu/startup.
About ClearCove Systems:
ClearCove Systems, headquartered in Rochester, N.Y., is a renewable energy company that provides disruptive technologies that change the economics of wastewater treatment for municipal and industrial applications. By reducing the capital costs, lowering energy consumption and enabling higher volumes of energy production, ClearCove Systems' patent-protected solutions drive system performance to a higher level.
For more information: http://clearcovesystems.com
About Venture Creations:
Rochester Institute of Technology opened Venture Creations in 2003 as its business incubator, focusing on opportunities that leveraged the university's core technical competencies.
Its mission is to create high-growth companies in the Rochester region, provide experiential learning in entrepreneurship to RIT students and to commercialize RIT innovations and intellectual property.
The incubator, at 125 Tech Park Drive, off John Street, just south of the main RIT campus, is supporting 22 companies in various technologies and stages of development. Since 2003, it has graduated 26 companies, created over 400 new jobs, and helped its member companies secure over $36 million in investments.
For more information: https://www.rit.edu/research/vc