Computer Vision Helps RIT Graduate Student See the World
Tommy Keane attends program in Sicily, wins essay contest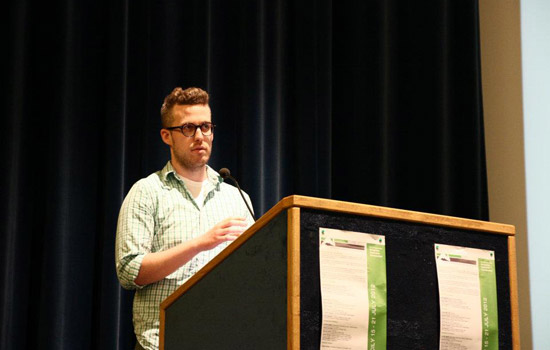 From Death Valley to Sicily, Tommy Keane's adventures in computer vision take him to unexpected places.
Keane, originally from East Walpole, Mass., is a doctoral student in the Chester F. Carlson Center for Imaging Science at Rochester Institute of Technology. This summer, he joined doctoral students from around the world for the International Computer Vision Summer School held in Ragusa, Sicily, July 15–July 21.
During the program, Keane was awarded the inaugural "Brady Prize" and 600 euros (about $730) for an essay discussing the moral implications of automated vehicle monitoring systems, such as the red-light cameras installed in Rochester. The contest honors the contributions of scientist Sir Michael Brady to computer vision.
Keane traces his academic lineage to Brady, who taught at Massachusetts Institute of Technology and Oxford University. Brady was a doctoral adviser to the adviser of RIT professor Nathan Cahill, who is one of Keane's advisers. "In academic genealogy, Brady would be my great-grandfather," Keane says.
The Brady Prize stresses the social impact of technology alongside the fundamental goals of research and development. Keane's essay considers the ethical traffic jam when surveillance and privacy rights collide.
"As technology advances, individuals in publicly surveilled areas could potentially have a large amount of information about their identity, habits, location and intentions presupposed through computer vision technologies, and these could be used to pass, without questions, judicial or financial judgment on them," Keane says. "Roadway surveillance for tracking and monitoring individuals seems to be band-aids put on the problem of reckless driving. These techniques should be used as aids, not replacements."
Keane, who earned his B.S./M.S. in electrical engineering at RIT in 2011, is conducting his doctoral research in computer vision under Cahill, associate professor in the Center for Applied and Computational Mathematics in the School of Mathematical Sciences at RIT and a graduate faculty member in the Center for Imaging Science, and Jeff Pelz, professor in the Multidisciplinary Vision Research Lab in the Center for Imaging Science.
A project in Pelz's lab took Keane to Death Valley National Park in California last March. Pelz and his other assistants collected eye-tracking data of University of Rochester students on a geological field trip as part of an RIT-UR collaboration investigating the way novices learn visual cues from experts. The study tracks how students gain knowledge by focusing on important features and blocking out unnecessary information in their surroundings. Keane captured panoramic and still imagery of the vistas the students looked at during the trip.
Back in the laboratory, Keane projects the eye-tracking data onto the landscape imagery and builds three-dimensional surface models registering, or lining up, the data into seamless and deep images that track the students' progress from novice to initiated student. The technology has potential applications as teaching tools and in distance learning.
After finishing his doctoral degree, Keane plans to let his computer-vision skills take him further afield. He plans to pursue a career in industry developing algorithms for three-dimensional technology for film or television productions.
Topics