Constellation Brands' gift funds global learning
Constellation Brands' $1 million commitment includes support of study abroad programs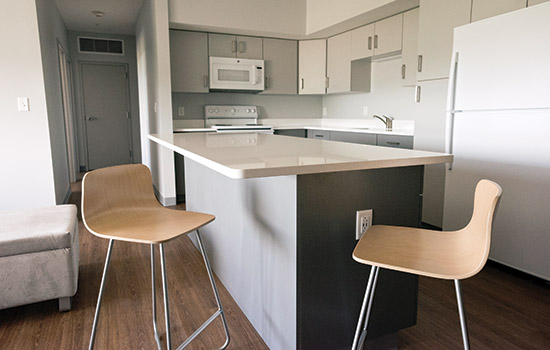 A. Sue Weisler
Capitalizing on an expanding portfolio of international education resources, Rochester Institute of Technology announced today the creation of the Constellation Commons for Global Learning. The new facility is being funded by a $1 million commitment from Constellation Brands Inc., the world's leading wine company.
The Constellation Commons for Global Learning is housed in RIT's Global Village, a new residential complex and retail marketplace on campus, which officially opened last month. The commons is intended to serve students and faculty as a touch point and clearinghouse for all aspects of global education at RIT including study abroad support, faculty exchange opportunities and multicultural programs such as the Future Stewards Initiative for Native American students.
"In business today, it is imperative to have a workforce that is knowledgeable about diverse and international cultures," says Rob Sands, president and chief executive officer of Constellation Brands. "We are proud to partner with RIT for this new center to prepare the next generation of entrepreneurs and business leaders."
RIT is host to approximately 1,630 international students who are pursuing undergraduate or graduate studies. In addition, the university has built a network of campuses outside the U.S. that includes the American College of Management and Technology in Croatia, American University in Kosovo, and RIT Dubai. RIT also maintains educational alliances with more than 60 countries while participating in various international research partnerships.
According to RIT President Bill Destler, the Constellation Commons for Global Learning will further enrich and expand the international experiences available to the university's students, faculty and staff.
"Opportunities exist to broaden and creatively develop new study abroad programs, leverage our partnerships and campuses abroad, enhance international dimensions of our curriculum, foster international cooperative education programs and develop international service learning, research and outreach projects," explains Destler. "We are better positioned to exploit these opportunities as a result of Constellation Brands generous support."
"RIT is rapidly growing its reputation as a world-class institution of higher learning," states Constellation Brands Chairman Richard Sands, who also serves on RIT's Board of Trustee. "We are very pleased to support the university with this new international endeavor."
Ties between RIT and Constellation Brands were formed prior to the 2006 opening of the New York Wine and Culinary Center in Canandaigua. Constellation and the university were among the center's founding partners, which has heightened the development of RIT's programs in wine and culinary education.
As part of its commitment to global education at RIT, Constellation Brands has also agreed to enhance its support of wine and culinary education through $250,000 in in-kind gifts. Donations of wine will be presented over the next several years for use in the university's popular Wines of the World seminar series.
##
About RIT
Rochester Institute of Technology is internationally recognized for academic leadership in computing, engineering, imaging technology, sustainability, and fine and applied arts, in addition to unparalleled support services for students with hearing loss. RIT enrolls 17,000 full- and part-time students in more than 200 career-oriented and professional programs, and its cooperative education program is one of the oldest and largest in the nation.
For two decades, U.S. News & World Report has ranked RIT among the nation's leading comprehensive universities. RIT is featured in The Princeton Review's 2011 edition of The Best 373 Colleges, as well as its Guide to 286 Green Colleges. The Fiske Guide to Colleges 2011 includes RIT among more than 300 of the country's most interesting colleges and universities.
About Constellation Brands
Constellation Brands is the world's leading wine company that achieves success through an unmatched knowledge of wine consumers, storied brands that suit varied lives and tastes, and talented employees worldwide. With a broad portfolio of widely admired premium products across the wine, beer and spirits categories, Constellation's brand portfolio includes Robert Mondavi, Hardys, Clos du Bois, Blackstone, Arbor Mist, Estancia, Ravenswood, Jackson-Triggs, Kim Crawford, Corona Extra, Black Velvet Canadian Whisky and SVEDKA Vodka.
Constellation Brands is an S&P 500 Index and Fortune 1000 company with more than 100 brands in our portfolio, sales in about 150 countries and operations at more than 40 facilities. The company believes that industry leadership involves a commitment to our brands, to the trade, to the land, to investors and to different people around the world who turn to our products when celebrating big moments or enjoying quiet ones. We express this commitment through our vision: to elevate life with every glass raised. To learn more about Constellation, visit the company's website at www.cbrands.com.
Additional Contact:
Angela Blackwell, Constellation
585-678-7141, angie.blackwell@cbrands.com