Couple takes big step with tiny house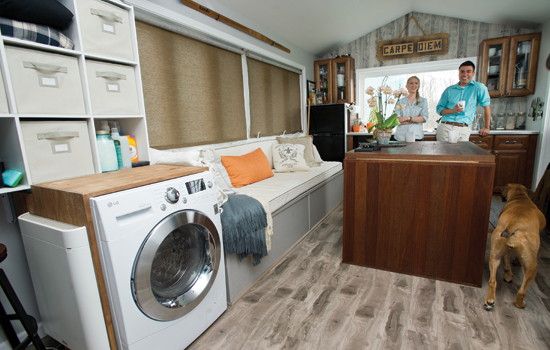 A. Sue Weisler
Tim and Shannon Soine graduated from college, bought a 1,600-square-foot home, got married and filled it with stuff. But Shannon always thought about taking a nontraditional approach to the American dream.
First, she suggested to Tim '07, '13 (telecommunications engineering technology, MBA) that they sell their three-bedroom house and build a yurt, which is a portable, round tent.
"I looked at a picture and was like, 'You are insane,'" Tim said. "I'm not going to do that, that's crazy."
Then Shannon, a State University of New York at Geneseo and University of Rochester graduate, stumbled across the tiny house movement. The idea of downsizing intrigued Tim. It could be a way to pay off their student loans and free up some money to travel internationally. But they had to find the right house.
After six months of searching, Shannon, who teaches English to speakers of other languages in a Rochester elementary school, found what they were looking for on the social media site Pinterest. The house was in Washington, D.C.
Tim, a product line manager for Harris RF Communications, happened to be in the area on business a short time later so he stopped by to take a look. "As soon as I walked in the door, I fell in love with it," he said. "It's such a cozy open space."
This summer, the couple and their two 70-pound pit bulls celebrated one year of living in their own 210-square-foot house. Their only regret is that they didn't build it sooner.
"We could have avoided so much debt and saved so much money," Shannon said. "We probably could have had our student loans paid off by now."
The move, though, wasn't without its challenges.
The first one came after they purchased the plans to their tiny home, which is called a Minim House. They were contacted by the reality television series Tiny House Nation. The show used the couple's budget to hire contractors and build the house in four days—filming it all. The episode aired in July 2014.
The couple had to quickly downsize. They donated more than 20 garbage bags of clothing as well as thousands of dollars of household goods. They gave furniture and dishes to their family and friends. Saying goodbye to the kitchen supplies was particularly hard for Tim, who loves to cook.
Then they had to adjust to living in 210 square feet. Everything inside their new home has more than one purpose. Their kitchen island is also a dog crate big enough to hold both dogs and can extend into a dining room table. The seat in their office doubles as a laundry bin. The washing machine will also dry clothes. They keep their off-season clothes, snowboarding gear and Tim's homebrewing supplies in space under the couch.
The bed pulls out from under their office/closet area, which is unique for a tiny home and why they liked this floor plan. Most are built with lofts.
The biggest adjustment, they said, was getting used to the small bathroom and the five minutes of hot water that comes with having a 6-gallon tank. And they had to rebuild the closet to maximize the space with drawers and compartments.
But there are perks to the new home as well. They have a 100-inch projection screen that pulls down over the windows with Surround Sound. The walls, ceiling and floor are made out of structurally insulated panels, keeping the little house warmer in the winter than their big one. The bathroom has an incinerating toilet so they don't need sewer hookups. And Tim said he likes cooking on the gas stove in the small kitchen. With two burners, he just has to be more creative with how he positions pots and pans.
Another perk is that their house stays clean. Before, it was easy to leave the dishes and go into another room, Shannon said. Now they are forced to pick up as they go, which includes making the bed each morning.
Their dogs, Juno and Adam, also seem to like the new living arrangements. They are never more than a few feet from their people when they are home.
They are still tweaking inside. For example, they have to figure out what to do about the bathroom, which is separated from the rest of the house with a curtain. That can be uncomfortable for company.
Tim said he hasn't been surprised that they adjusted so quickly to tiny house living because in their big house they were always in the same room together. "It's an inexpensive and interesting way of life."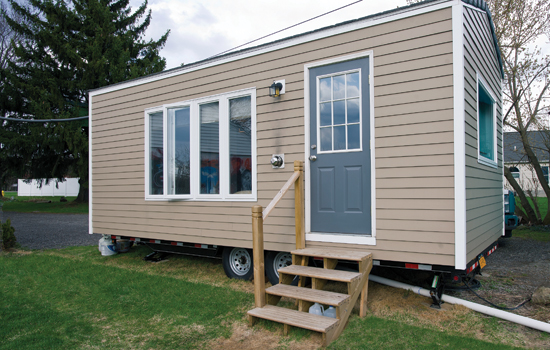 A. Sue Weisler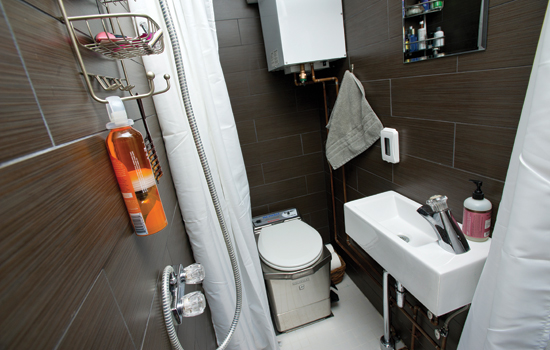 A. Sue Weisler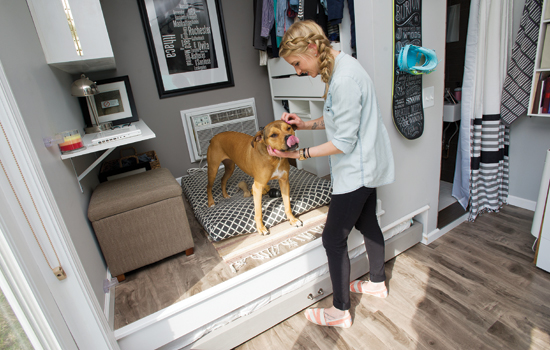 A. Sue Weisler
Topics