COVID protocols in place for Saturday's Imagine RIT: Creativity and Innovation Festival
Public event requires proof of vaccinations and IDs; masks encouraged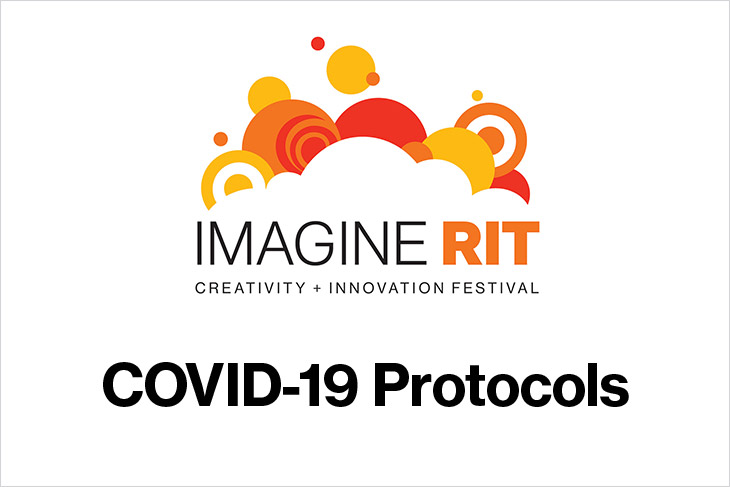 People planning to attend Saturday's Imagine RIT: Creativity and Innovation Festival are going to be asked for proof of COVID-19 vaccination and identification. Masks are strongly encouraged but are optional except on shuttle buses, where they are required.
Following current RIT protocols, all campus visitors ages 5 and over are required to be vaccinated. Those 4 and younger are welcome. Minors under 18 will not need to show identification as long as they are with an adult.
Upon arrival, visitors will first go to one of several welcome centers to provide proof of vaccination and photo identification—either their actual cards, a photo of them, a New York Excelsior Pass or the SpiRIT Pass for RIT students, faculty, and staff. Once documentation is shown, they will receive a wristband, which will clear them to enter facilities on campus.
The festival will run from 10 a.m. to 5 p.m. and feature more than 250 creative exhibits. More than 90 percent of the exhibits are indoors.
Those unable to attend in person may still participate. There are 77 virtual exhibits this year, and three events will be live-streamed from RIT's Imagine webpage. A one-hour show at 10 a.m., hosted by television personality Scott Hetsko, a meteorologist on 13WHAM News, and radio personality Kimmy Coffey from WCMF's "The Break Room," will help kick off the festival with interviews and exhibits.
The Futurists Symposium with distinguished RIT alumni is planned at 11 a.m., with Erin Sarofsky '98 (graphic design), '00 (computer graphic design), executive creative director and owner of Sarofsky Corp.; Franklyn Athias '85 (computer science), CTO and senior vice president for Xfinity Mobil Retail Convergence – XMRC; and Aaron Gordon, '13, (film and animation), founder and CEO of Optic Sky Productions. The symposium will also be streamed live on the Imagine RIT webpage. No registration is necessary.
And new this year will be the TAD competition for students with exhibits showcasing the intersection of technology, the arts, and design. Three $5,000 prizes will be awarded to top exhibits at 2 p.m. in the Gene Polisseni Center. It will also be streamed live.
The festival's premier sponsor this year is Rochester Regional Health.
Topics