Creating educational opportunities for all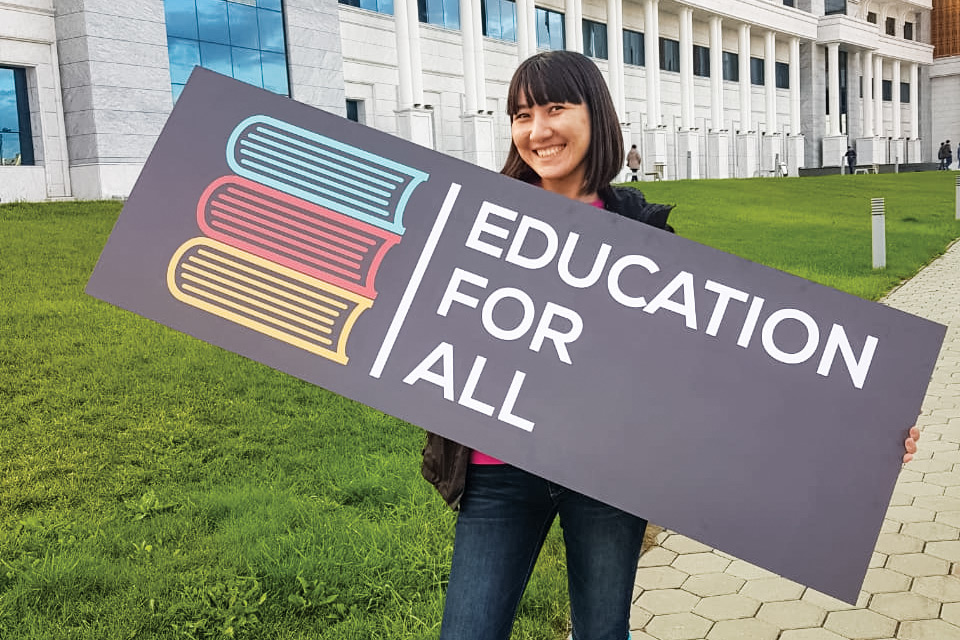 Sabina Ismailova '13 (telecommunications engineering technology) was working as a telecom engineer at a prominent global company in Kazakhstan when she realized something was missing.
"I liked my work, but I wasn't making any contribution to my society," said the Kazakhstan native.
She changed that in 2017 by creating Education for All, a growing nonprofit organization for children with developmental disabilities.  
 "In our country, kids with special education needs and with disabilities are segregated. They study in special schools, which in our country are called correctional schools," said Ismailova, now executive director of Education for All. "They have a completely different curriculum, which is not individualized, and there are extremely low standards."
Her organization began three programs to balance the scales—an after-school program for 8-to-12-year-olds to learn English, math, sports and arts for academic and social inclusion; an inclusive theater created to increase socialization opportunities for teens and young adults with special needs; and professional orientation courses, such as food preparation and cooking, for older participants. Most of the programs are conducted with volunteer help.
Before starting Education for All, Ismailova participated in the Global Solutions Program, a nonprofit called Singularity University based in Silicon Valley that helps people use technology to create social change.
 Ismailova saw an opportunity to combine her degree and technical skills to help build a distance learning initiative for people with low incomes or disabilities so they could study at universities in Kazakhstan. Although it did not come to fruition at that time, she retained her focus on helping people with disabilities.
 "Having come back and studying issues of education of people with disabilities, I understood that the project wasn't going to work, at least not right now. I am not abandoning my technical education though—we are preparing to open the first assistive technologies library soon in our center. Later, we have plans to start developing apps to help people with different disabilities with their day-to-day life as well as education."
Kazakhstan is home to more than 18 million. Nearly 10 percent of the population is made up of people with disabilities.
 "My goal is that every child, no matter their background, ability, need or social status, gets a quality education and an opportunity to enroll in an elite school or college, and to get a job they love," she said.
Related News
Topics