Crowdfunding fuels innovation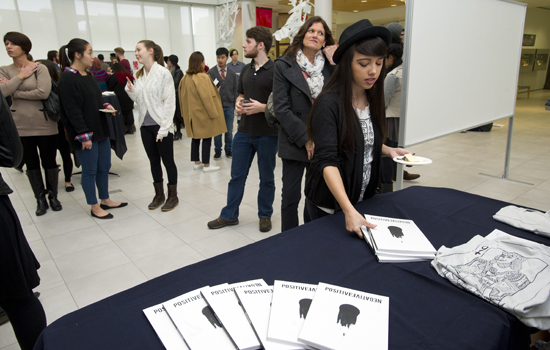 A. Sue Weisler
The editorial design and photography class that produces Positive/Negative magazine each year relies on crowdfunding to cover the cost of printing the magazine. For the past three years, the class used Kickstarter, which collects administrative fees for using the service. This academic year, designers and photographers turned to RIT's new crowdfunding platform.
"We raised more in a week than we did in a month—almost twice as much in a week than we did with Kickstarter," said Denis Defibaugh, the photography professor who co-teaches the class of 36 seniors with graphic design professor Lorrie Frear.
Jerome Jackson, assistant director of crowdfunding and social media at RIT, said about two years ago, administrators formed a committee to see how students were using crowdfunding to pay for their projects. They counted more than 117 projects that attracted 1,700 supporters, who were not always being thanked or receiving a tax benefit.
RIT contracted with the online platform USEED and launched its first campaign in the spring of 2015 with the Hot Wheelz racing team. The team raised more than $11,200 —112 percent of its goal.
Since then, a half dozen campaigns have been launched, including one to support Women of Color, Honor and Ambition (WOCHA), a program to develop leadership skills, healthy lifestyles, self-esteem, empowerment and community engagement for women who are in their second through fifth years.
Sandra Whitmore '05, '09, '12, senior director of operations for the Office for Diversity and Inclusion, and Devon Watters '14, graphic designer and social media specialist, said they are part of eight founding RIT staff members who created WOCHA after the success of a similar program for men was created in 2013.
They raised almost $12,000 to support the program, which has eight students who participate in everything from wellness activities such as yoga to Dale Carnegie Leadership courses. After completing the program, each participant receives a custom-made suit from Adrian Jules. They also are assigned professional mentors at RIT and in the community.
"These young ladies are just so impressive," Whitmore said, adding that they hope to increase the number of participants in the next class if they can continue to raise funds.
Jackson said students, faculty and staff are eligible to apply to crowdfund through RIT, but projects have to be driven by students and directly benefit the RIT community. A committee of six reviews applications.
Team members are mentored throughout the process and are required to thank all of their supporters as well as provide updates on their projects.
"Students begin to learn philanthropy, so when they graduate from RIT, they understand the importance of giving back," Jackson said.
For RIT, crowdfunding is another way to engage alumni and parents, who can make a difference by giving just a few dollars to projects, he said. For students, they can tackle projects that wouldn't have been possible.
The 18 graphic design students and 18 photographers involved with Positive/Negative magazine raised more than $6,000, which allowed them to print 425 magazines, pay production costs and use foil stamping on the cover. Last year, they printed 300. The students, who produce all of the content in the magazines, can now use them as part of their portfolios.
Jenna Hebeler, a graphic design student from Buffalo, N.Y., who hopes to work in fashion advertising after she graduates, said she learned a lot going through the process of putting out a magazine.
"It is great to have a product in our hands," she said. "It will be great in interviews to show something printed."
To learn more
To support ongoing campaigns, go to rit.edu/CrowdfundingatRIT.