CUE helps entrepreneurs reach goals
Six local businesses spent the last six months in a customized training program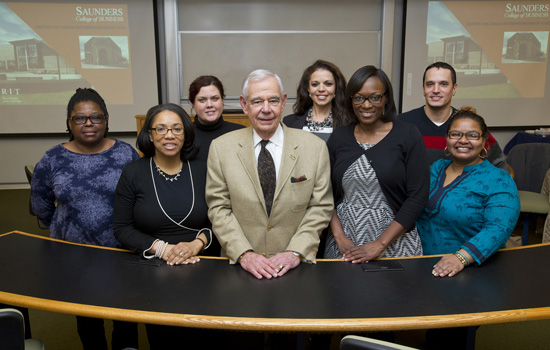 A. Sue Weisler
The second cohort of graduates of RIT's Center for Urban Entrepreneurship (CUE) at Saunders College of Business are six local entrepreneurs who have spent the last six months in a customized training program to grow their business.
"Many small businesses in the urban sectors are owned and operated by minorities who are trying to eke out a living," said CUE Interim Director Carlos Carballada. "CUE works with the smaller of the small businesses in the city of Rochester—the ones that are dedicated, hardworking and committed."
Recent graduates of the Capacity Training Program are:
Jonathan Taylor, owner of Home Town Brew Distillery
Kelly Bush, owner of Marshall Street Bar and Grill
Tess Padmore, owner of Wolf Clan LLC, Egghead Soque protective headgear
Jaira Santiago, owner of Beads and Bangles by Jaira
LaQuanna Sparkman, owner of Quanna Gourmet LLC
Tara Springfield, owner of Black Girly Girl Beauty
CUE Program Manager Ebony Miller said the Capacity Building Program is designed for urban businesses that are looking for growth stimulation. "We define urban businesses as businesses located within the city limits or doing business within city limits. Our program is offered twice per year and Cohort III is scheduled to start in late August."
The step-by-step components of the certificate-based program include specialized courses taught by RIT professors and local business entrepreneurs. Classes include negotiation in entrepreneurial settings, leadership, finance and credit worthiness, sales, marketing and branding, social entrepreneurship, social capital, developing growth plans and human resources.
"One of the great functions of the modern university—specifically the modern technological institute—is that it has the power to reach out into the community and really bring about a big change to the people in it," said Joseph Miller, assistant professor of marketing at RIT's Saunders College who volunteered his efforts at CUE.
"The CUE program represents only the beginning of the sustained effort that RIT/Saunders is committing to bring about change in the city of Rochester and the region at large. The second cohort of CUE participants will hopefully be able to see that their early participation in this program was the beginning of great things, not just them, but for all of the stakeholders involved."