Cyborgs, magic, and wine among unique courses this semester at RIT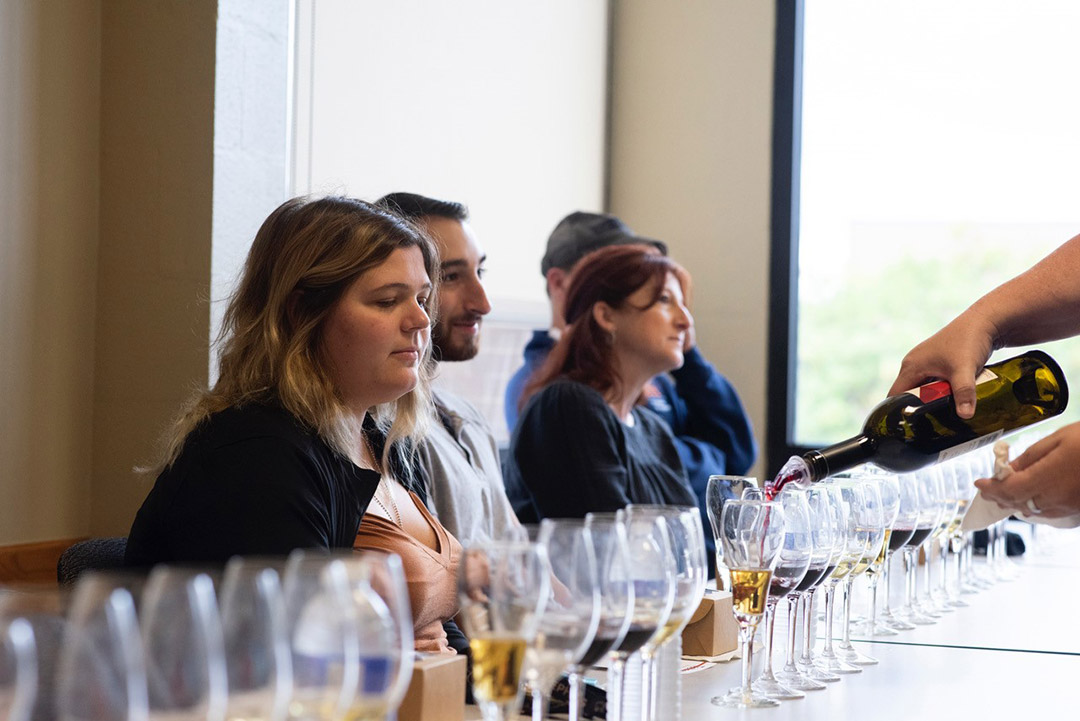 College courses are intended to be a bit brainy and thought provoking. But there's nothing that says they can't be fun, too.
Take, for example, courses this semester at Rochester Institute of Technology that lets students taste alcohol, make things appear or disappear, or do some critical thinking by contemplating a world where humans and technology intersect.
The Art of Astonishment
Taught for the first time this fall, the Art of Astonishment will not only give students the opportunity to learn magic tricks throughout the semester, they will also focus on magic history, theory, methodology, and how principles of magic intersect with other fields.
"Students will be exploring what the concept of astonishment is all about, and they will think about their earliest experiences of astonishment," said Professor of Practice Joel Gallegos Greenwich, who is teaching the course in RIT's School of Individualized Study. "We'll look at the history of magic and different ways to frame magic, and think about how we can put these methods to use to create magical moments in intersections with math, science, and technology."
The magic tricks taught in class will focus mostly on close-up magic, which utilizes smaller props like coins, cards, Rubik's cubes, and dice. There will be no stage illusions such as cutting people in half.
"My hope is that students will have fun as they think about the concept of awe," Gallegos Greenwich said. "We all have mental folders that help us to categorize and make sense of our daily lived experiences. However, magicians seek to create moments of astonishment that can't be easily processed or categorized, which invites their spectators to marvel in the moment—or at least be forced to reckon with it. At its best, magic is about giving another person the gift of a moment." 
Cyborg Theory: (Re)thinking the Human Experience in the 21st Century
Taught for more than a decade in the Department of Science, Technology, and Society within the College of Liberal Arts, Cyborg Theory examines the intersection of the human endeavor, science, and technology with a great deal of critical thinking exercises.
"The examples change with time, but the concept behind it and the theory within it remain stable," said Professor Deborah Blizzard, who teaches the course.
"We can see how humans and humanoids with some mechanical interaction act, and work to stabilize or enhance our activities, and we see how we emulate them and how they emulate us, how we design them, what we want them to do, and how they live in their world," she said. "Those worlds we used to think are very separate are coming together."
Blizzard said any foreign device we interact with could apply, including our clothing, fillings in our teeth, or contact lenses. Athletes who take the class can consider cyborg technology to be the swing of a golf club or artificial legs designed to enable the user to run faster or climb rocks easier.
"There's no one definition of a cyborg," she said. "We tell the students on the first day that at the end of the course, you won't have an answer, but you will have better questions."
Wines of the World I
This course has been taught for more than 20 years by Lorraine Hems, senior lecturer in the Department of International Hospitality and Service Innovation in the Saunders College of Business.
Always quick to fill, about 100 students are taking the course this fall in three elective classes for two credits.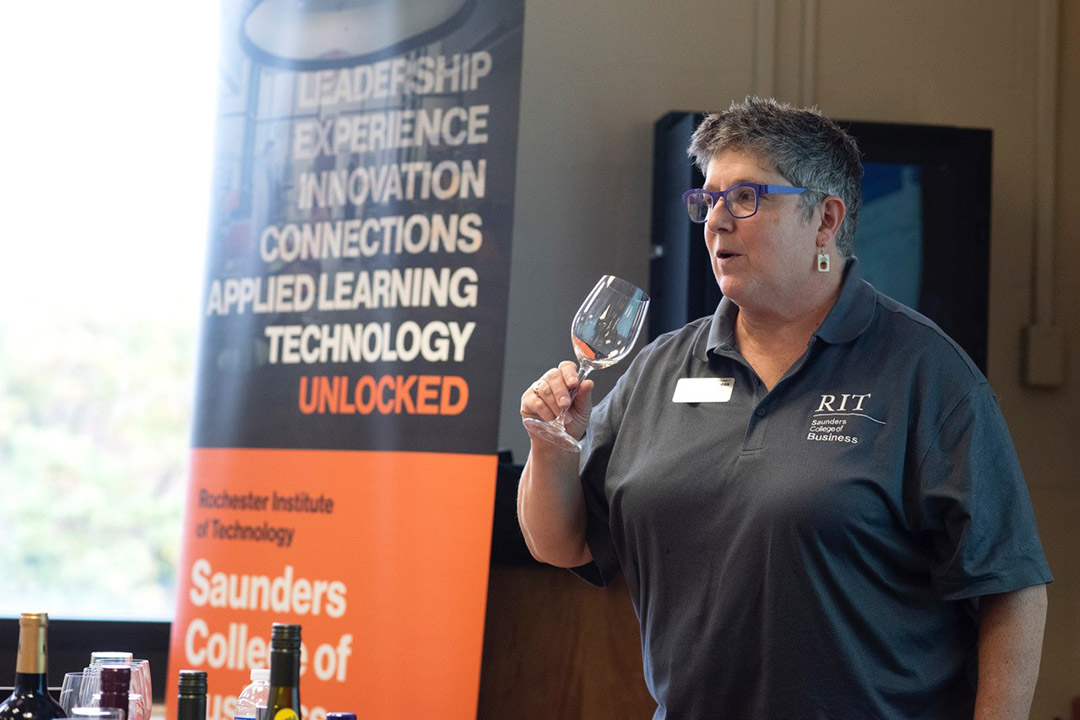 A. Sue Weisler
"We have tastings in every class," Hems said. "We go around the world with our wines, from Spain, France, Italy, South Africa, Australia, New Zealand, Chile, Argentina, and domestic wines from California, Washington, Oregon, and New York."
The tastes are roughly six sips per three-quarters of an ounce of wine. Her students don't have to be 21 years old to participate, due to a special provision with the New York State Liquor Authority which allows underage students to consume alcohol in educational situations.
"It's just fascinating to have the variety of students in the classes and to see their individual projects," she said. "We've had students building wine racks out of carburetors, and art students blow their own wine glasses."
Hems also teaches an equally popular course, Wines and Food Pairing. The class meets each week to discuss what the best wines are for certain foods. During their last week of class, the students present their own courses and say which wines would best go with it and why.
"It's always really fun to see students focus on their heritage as well," she said. "We've had students come up with a kosher menu, or Asian. It's a good opportunity for all of us to learn about their cultures, and their choices for wine pairings."
Hems said her classes next year may be able to accommodate up to 100 students at a time, when an expansion is completed in Lowenthal Hall.
"I think it's a good diversion from some of the serious classes students have to take," she said.
Students who have taken her course say it was worth more than their two credits. One student impressed her new bosses while in a restaurant, as she identified wines without looking at the labels.
And several RIT alumni are wine makers or own their own breweries.
"Wine can be something that can open up the door to other possibilities," Hems said.
Topics