March 12, 2008
by Kathy Lindsley
D-PAN music videos open 'World' to deaf viewers
Hearing loss hasn't kept Sean Forbes out of the music industry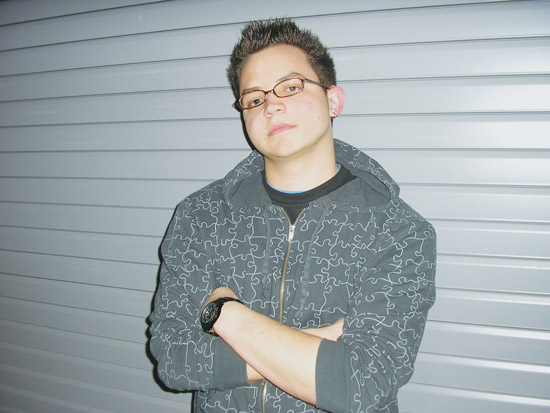 Sean Forbes isn't waiting for the world to change. He's making it happen.
Forbes '07 (multidisciplinary studies) launched D-PAN, the Deaf Performing Artists Network, in fall 2006 to showcase the talents of deaf actors, writers, performing artists, directors and producers and to create works of interest to the deaf and hard of hearing community.
D-PAN is already having an impact. Its video interpretation of John Mayer's Grammy-winning song, Waiting on the World to Change, has been embraced by the deaf community.
"This song has become the deaf community anthem," Forbes says. "We have been able to say in four minutes what people have been trying to say for ages. Many thanks to John for letting us do this and to take his art and create our own message. It has just been amazing."
A native of Detroit, Forbes, became hard-of-hearing at age 1. Nonetheless, he has a life-long interest in music. Both of his parents are musicians, and Forbes performs and records his own music in addition to his work on D-PAN.
"I came up with the idea after signing songs to friends for many years," he says. "I was always trying to find a way into the music business as an artist, but I knew I had to do something really different to grab attention and I figured this was the best way to do it." D-PAN's first video, Where'd You Go, features Forbes in an evocative interpretation of the Fort Minor hit.
Forbes persuaded industry veteran Joel Martin, a Detroit-area studio owner and hip-hopper Eminem's publisher, to join the project, and they recruited other music professionals and deaf community leaders to form the non-profit organization's board of directors. Martin's reputation helped open doors to artists such as Mayer, who grant permission for the D-PAN videos under standard licensing contracts.
D-PAN doesn't simply add captions or insert an ASL interpreter into a previously produced music video. D-PAN creates an entirely new visual performance over the original artist's audio. In the case of Waiting on the World to Change, footage of 15 diverse performers are interwoven with compelling clips and quotes related to the deaf experience. In a July 2007 feature article on D-PAN in the Detroit News, pop music writer Adam Graham called the video "striking on many levels . . . it acts to not only empower the deaf community but to educate the hearing on the struggles the deaf have faced throughout history."
Two of the performers have RIT connections: Kriston Pumphrey, the first performer in the video, is a fourth-year advertising and public relations major.
Katelyn Moran-Pearlman, the adorable toddler in the piece, is the daughter of Michael Pearlman '05 (criminal justice) and Nicole Moran, who also attended RIT.
In the works is a DVD with eight to 10 videos. Fans can expect a wide variety of material: Forbes says they are open to all genres, styles and themes.
And, while opening the world of music videos to the deaf and hard of hearing community, D-PAN is also providing a way for hearing audiences to experience music in a new way.
"Keep in mind that we are trying to aim at creating a product that everyone can enjoy. 'It's everybody's music' after all," he says, citing the D-PAN slogan.
People can view the videos and keep posted on D-PAN's projects or through the D-PAN page on MySpace. Forbes says the Internet has been an effective way to reach their audience. The company has also been featured in the news media
"Word of mouth is pretty much a big thing for us," says Forbes. "People will tell their friends, friends tell their family, friends, etc. The reaction has been tremendous. I cannot wait to see what happens with the next video we do."