Deposit Deadline Extended for Fall 2020 and Virtual Classroom Resources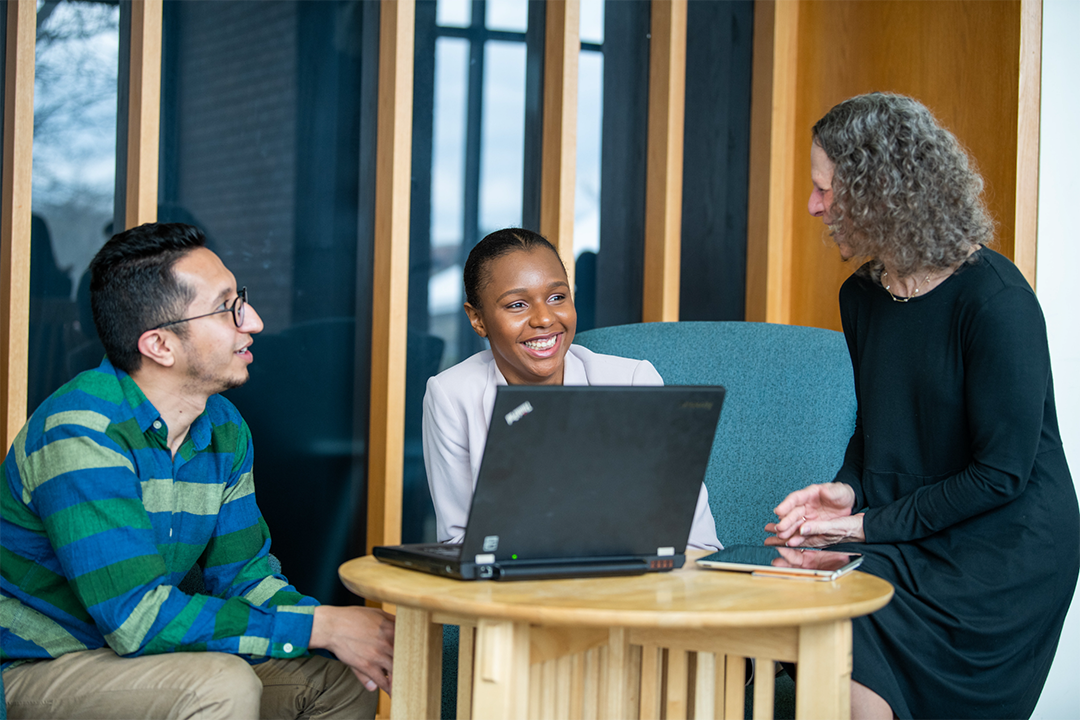 As the impact of COVID-19 has led to secondary school closures and SAT/ACT cancellations, Rochester Institute of Technology (RIT) has extended the deposit deadline for accepted students to June 1. Saunders College of Business and RIT recognize that giving families more time to make the major decision of financing student's educational futures is the right thing to do. Saunders encourages those who have applied to ask about additional financial aid options at this time.
To date, RIT has its largest applicant pool in the university's history, and more than 1,000 students have already committed for fall 2020. Students and families are encouraged to go to the RIT Freshman Admissions webpage to stay current on the news related to the high school class of 2020.
Zoom in the Classroom
Bring Saunders virtually into your classroom for a customizable experience meeting the interests of your students. Our faculty and staff can talk about preparing for a successful career in business and technology while teaching your students emerging topics in business. Request a virtual classroom visit and decide what topics you want us to cover. They can range from admissions, entrepreneurship pitch tips, specialized business topics, etc. Now that most school activities are virtual this is an excellent time to consider this option!
Classroom Resources:
Now more than ever, Saunders College wants to help you help your students. Feel free to use our resources below on our undergraduate programs.
Accounting is one of the fundamental components of business. With a background in evolving technology and a strong business core curriculum, Saunders accounting students are able to take one of the oldest and most respected business positions and give it a modern twist.
The business exploration program offers the opportunity to experience a variety of fundamental business courses to help your students decide which major makes the most sense for them. It's targeted towards those who want a business degree but aren't sure where to start.
It's the science and art of managing cash flows, risk, and ultimately- value. Add in-depth knowledge of precision digital tools to the mix, and you have yourself a cutting-edge finance degree program.
The hospitality and tourism management degree gives students the knowledge and experience to provide quality service management for an array of careers in food marketing and distribution, travel and hotel management, or event planning.
An international business degree is limitless as students can travel the world to gain perspective that's essential for their career. Students can take their skills with them anywhere in the world.
Prepare your students for management roles leading to C-suite positions such as consultant, director and president. The management program prepares students to confidently lead and help employees through critical problems in any field for optimal productivity and performance.
People, processes, and information technology- it's how the world functions. MIS is an interdisciplinary, high-demand major that harnesses data for business decisions and processes.
Develop marketing skills in a program that is ahead of the curve. We understand how to integrate business and technology and how marketing strengthens creative and strategic thinking.
Turn raw materials into consumer goods and services. Manage business to business operations from product creation to consumer purchase! Supply Chain Management (SCM) implements technology-based options for operational improvement, providing students with a solid background in areas commonly needed to support SCM roles.
Topics