Destler, Johnson honored for diversity efforts
Award given by RIT's Office of Faculty Recruitment honors the couple's campus and community diversity initiatives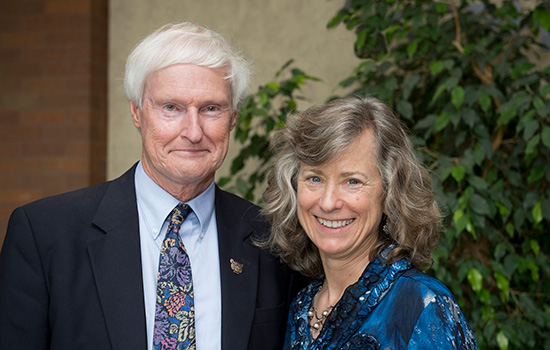 RIT President Bill Destler and his spouse, Rebecca Johnson, were presented the 2016 Changing Hearts and Minds Award from the Office of Faculty Recruitment for their commitment to furthering diversity and inclusion, particularly in support of recruiting and retaining diverse faculty.
"The award is a way to recognize acts of true commitment and understanding of what it means to develop and model inclusive behavior," said Renee Baker, executive director of RIT's Office of Faculty Recruitment during a ceremony on Sept. 30. "Dr. Destler and Dr. Johnson exemplify the spirit of inclusion and truly advance the vision of RIT's commitment to diversity.
"They support and encourage each member of the institute to accept personal responsibility to become an 'agent of change' and they both have been examples of how individuals can 'change hearts and minds' one relationship at a time."
Both Destler and Johnson have been active on campus and in the Rochester community in support of many diversity initiatives. Destler has announced he would retire at the end of the current academic year, but during his tenure, RIT's enrollment reached record levels and its selectivity and diversity have improved.
On campus, Destler helped lead AdvanceRIT, a National Science Foundation program to increase representation and advancement of women in academic STEM careers. He has been instrumental in efforts to improve campus policies related to hiring practices, improving workplace environment and expanding leadership opportunities for RIT's female STEM faculty, with an emphasis on women of color and women who are deaf and hard-of-hearing at the university.
Over the past 10 years, the Rochester City Scholars program he and Johnson launched has grown considerably, giving Rochester City School District graduates who meet academic requirements, free full tuition to attend RIT. The first class of scholars graduated in 2014; the seventh class entered this fall. More than 120 students from the district have enrolled at the university.
Destler was also recognized by INSIGHT Into Diversity magazine with its Giving Back Award this past spring. Presented annually, the award is given to university presidents and chancellors in recognition of their social responsibility, both on campus and in their communities, for their commitment to serving underrepresented populations and for philanthropic achievements. Destler was nominated for his dedication to RIT's student-centered programs, his leadership and participation in faculty and staff equity projects, and for his contributions to the Greater Rochester community.
Johnson's many connections with students across the university, and especially with students of color, have helped to put a human face on RIT and reassured all within the community that their voices can be heard. Among her many diversity-related activities, Johnson has served as a mentor to Rochester City Scholars and to students in the Multicultural Center for Academic Success (MCAS), as a member of the RIT Implicit Bias Task Force, and as a participant in RIT's Diversity Theater group. She sits on the advisory boards of MCAS, WOCHA (Women of Color, Honor, and Achievement), and DIVAS (Determined Individuals Victoriously Achieving Success). She regularly facilitates dialogues on race, both at RIT and in the broader Rochester community.
The Changing Hearts and Minds Award was given at the recent Future Faculty Career Exploration Program hosted by RIT's Office of Faculty Recruitment. Fifteen prospective faculty met with campus administrators, deans and student leaders over the weekend to learn more about opportunities to work at the university. A $2,500 stipend was given to the awardees, and it will be donated to the Rochester City Scholars Textbook Fund.
Topics