Doreen Edwards appointed dean of KGCOE
Energy and materials science expert will be the first female dean of the only U.S. engineering college named after a woman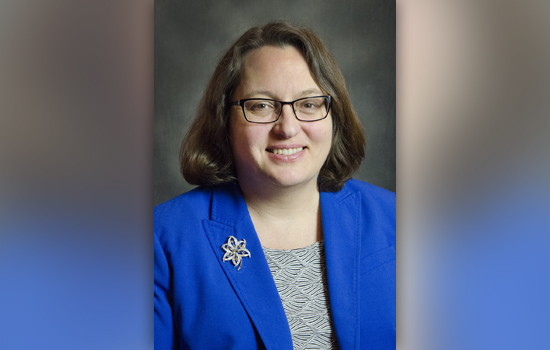 Doreen Edwards has been named dean of the Kate Gleason College of Engineering at Rochester Institute of Technology.
Edwards, who is currently dean of the Kazuo Inamori School of Engineering at Alfred University and acting vice president of Statutory Affairs for the university, will join RIT on July 1. She will be the first female dean of the university's engineering college, which is the only one in the United States that is named after a woman.
"We looked at many impressive candidates during our national search for a new dean for our engineering college, and Dr. Edwards was just a standout," said RIT Provost and Senior Vice President for Academic Affairs Jeremy Haefner. "She brings to RIT a wide array of academic, research and personal experiences that will help her lead our nationally recognized college to even greater prominence."
Edwards, who has published more than 60 papers and holds two patents, brings more than 20 years of experience in academia and industry as a researcher, educator and administrator to the new position.
"I am thrilled to be joining RIT," Edwards said. "I look forward to working with the faculty, staff, and students of the Kate Gleason College of Engineering to grow its research programs and build upon its reputation for educating world-class engineers."
Edwards holds a Bachelor of Science degree in chemistry from the South Dakota School of Mines and Technology and a Ph.D. in materials science and engineering from Northwestern University. Prior to attending graduate school, Edwards worked for eight years as a research scientist at BIRL (a contract research lab at Northwestern University) and at the Gould Research Center.
After earning her doctorate, Edwards joined Alfred University in 1997 as an assistant professor of materials science and has received numerous faculty awards there, as well as the Chancellor's Award for Excellence in Teaching, one of the State University of New York's highest honors. In 2001, she received a CAREER Award from the National Science Foundation. She has served as the principal investigator on fundamental and applied research projects, focusing on oxide materials for fuel cells, batteries, thermoelectric devices, environmental remediation, and solar energy applications. Edward is a fellow of the American Ceramic Society, and Vice Chair of the Board of Directors of Incubator Works – a business incubator network located in Corning and Alfred, N.Y.
Edwards held several key positions within the Alfred engineering school, including directing its graduate program before becoming associate dean in 2007. She became dean two years later, leading a school with 25 faculty and 15 staff members, 400 undergraduates and 50 graduate students and post-doctoral researchers. As acting vice president, she is the chief administrative officer for the New York State College of Ceramics. The Inamori School of Engineering is renowned for its doctoral programs in glass and ceramic science and its undergraduate renewable energy engineering program.
At RIT, Edwards will lead the Kate Gleason College of Engineering, which was ranked 27th globally by Business Insider as one of "The World's Best Engineering Schools," based on surveys with technology companies that hire its graduates. The college, with more than 100 faculty and some 700 graduates and 2,800 undergraduate students, ranks third nationally as one of the schools companies prefer when recruiting and hiring for positions in the aerospace and defense industries, according to Aviation Week's annual workforce study.
Edwards succeeds Harvey Palmer, who is retiring in June after serving as the Gleason College dean for 15 years. Under Palmer's leadership, the college developed into one of the top undergraduate and graduate engineering programs in the country, adding several new programs and degrees to already recognized programs in nanotechnology, 3D printing and sustainable engineering.
Topics